Side Hustle: 16 Artists Looking Outside The Box
For reasons we probably don't need to explain, 2020 was a rough year for the electronic music scene, and 2021 isn't looking much better. But from the rubble of our once buzzing scene came some moments of creativity and innovation like we had never witnessed before. In some areas, competition, excess and one-upmanship gave out to humility, a willingness to share knowledge and a need to check ourselves."
The lop-sided business model of the DJ economy, where a one-hour gig could earn you more money than a year of record sales, was brutally exposed. Artists were forced to get creative, whether that be sharing their production secrets, doing live streams, starting subscription labels or writing books of dad jokes.
Even as the world continues to bear the strain of the pandemic, we need to support our community, especially as our roadblock raves will be the last thing to come back. For as little as 2€ a month, fans can support their favourite creators, receiving exclusive content and good karma in return. This isn't a new idea—a leading service for creative subscriptions, Patreon, has been running since 2013—but the amount of users surged from 150,000 to 200,000 in March of 2020 alone.
Below are some of our favourite creators using the subscription model, or similar means of e-commerce, in interesting and exciting ways. So, until we can get back to a hopefully-better version of what we had before, consider them for your subscription. For the cost of a beer or a packet of smokes, you can help keep a creative spirit afloat until the dance floors reopen.
Madam X
Garage/grime DJ and founder of the Kaizen label, Madam X, is leading Wednesday and Sunday exercise classes, soundtracked by a host of her top-tier DJ mates. The next three weeks welcome Bakonga (AKA Roska) for a full body set, Sherelle on legs, bums n' tums and Hudson Mohawke setting the tone for your abs and arms workout. Even her name is perfect for the rebrand – check Madam Xercise on Instagram.
Holly Herndon and Mat Dryhurst
Experimental artist Holly Herndon and music academic Mat Dryhurst run the Interdependence podcast, featuring insightful conversations on topics such as AI, co-operative music communities or possible futures of the club economy. Not exactly light and breezy fare to switch off to, but if you're after something a bit more challenging, Interdependence is a good bet.
Saffron
Saffron is connecting womxn in music tech. As well as a monthly workshop, they are running a resource library, mix nights and one-to-one sessions. Saffron has a limited number of bursary memberships sponsored by the likes of Ableton and Abbey Road Studios. Though participation is only open to womxn, they accept contributions from anyone interested in breaking down the patriarchy of music technology.
Mixmaster Morris
An exception on this list, Mixmaster Morris uses Mixcloud Selects to supply his online community with a seemingly endless stream of artist profile mixes. He puts together 60-minute introductions to artists' discographies, giving an easy and well-curated entry point. They are available to access for free but when you see the amount of work he has gone to on the page, hopefully you'll feel inspired to help support a master selector who relies solely on his work as a DJ to survive.
Fred P
This list is generally meant for artists who are doing something outside of their usual music-making to engage their audience, but Fred P's Private Society Bandcamp subscription deserves a mention. He has been prolific in supplying patrons with his signature lush house music, electronic jazz and some restorative ambient albums too. Private Society is now also a radio show on Refuge Worldwide and there is merch on the way.
Tess Redburn
This one isn't a subscription, but it's an online shop well worth your time. Tess Redburn, the designer of Livity Sound's striking artworks, sells her prints or original paintings. A perfect gift for a Bristol, bass music head, or anyone partial to radiant, abstract and often geometrical art.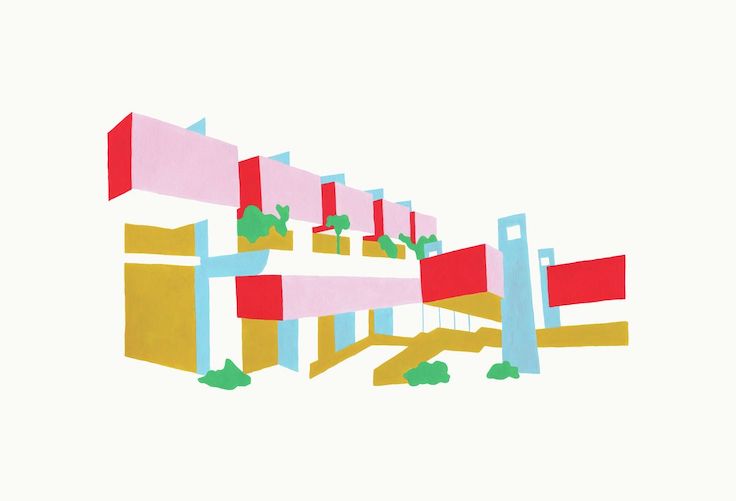 Jordan GCZ
Half of Juju and Jordash, one third of Magic Mountain High and solo as Jordan GCZ, the Amsterdam-based analogue whizz is "teaching improv tools to unblock and unf*ck your music." Jordan's Patreon has three levels, aimed at heads, musicians or one-on-one students, in which patrons get a look into his synth-filled studio and techno-jazz filled headspace.
Nadia Struiwigh
Dutch-born, Sydney-residing artist Nadia Struiwigh is the founder of IAMbient, where fans can pay for a personal concert of sound healing ambience, spiritual coaching or Tarot reading. Nadia has also started a Twitch channel for nerdy gear chat if that's your thing – we'll have more information on this for you soon.
Martyn
As ever, Martyn is pushing things forward with his label 3024. It's now a subscription mentoring program which includes monthly interviews with the likes of Darwin, Pinch, James Holden and mastering engineer Daddy Kev, as well as all the usual feedback sessions, personal classes and Slack community. It's a holistic approach which also includes talks on how to navigate the music industry and protect your mental health while doing so.
60 Sounds / Peter Van Hoesen
In August of 2020, Peter Van Hoesen started a boutique sound and preset library called 60 Sounds. It so far includes license free content from the likes of dBridge, DJ Nobu, Wata Igarashi and Minor Science. Van Hoesen also has his own Patreon where he shares mixes, tracks and production advice. If you want to make psychedelic techno like the best, both these resources are a good place to start.
Queen Tangerine
Much-loved DJ and owner of the Peach Discs label Shanti Celeste is selling prints and commissioning bespoke pieces of her fun and vibrant paintings, perfect to liven up a drab wall you're most likely sick of the sight of. There is merch on the way soon, too.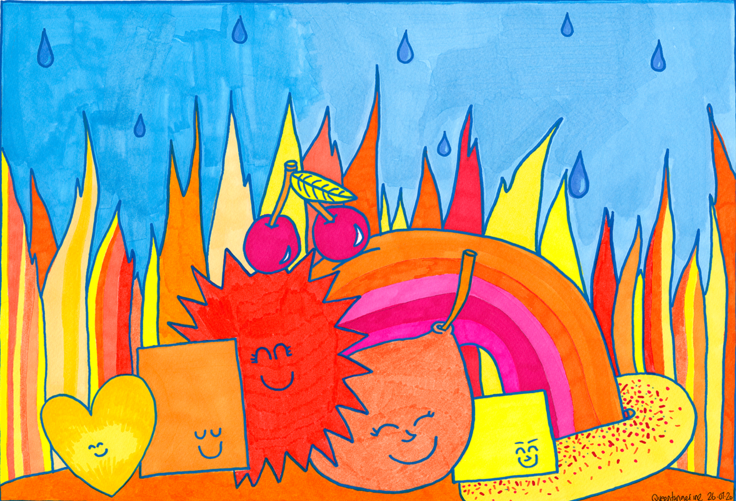 Octo Octa
As well as dropping some fire records lately, Octo Octa has been sharing the wealth of knowledge which informs those heartbreak bangers. For $47, you can access the five-day course; a deep-dive on all things studio and creative process related. There are additional places reserved for those who can't afford it, and also some free resources on the T4T LUV NRG website.
Red Rack'em
Dance music lifer Red Rack'Em is sharing pearls of wisdom via Patreon. The UK artist taught music professionally for seven years, so you can be sure your development is in good hands with his courses, which range from 6€ per month to €58.50. His mission is to help new artists on their journey, enlisting the support of fellow experienced artists like Posthuman to join in the mentoring process.
Plastician
Plastician was an unsung hero of the first lockdown. His Twitch streams and quizzes were a go-to for much needed humour and fun in those first, apocalyptic days. He also printed the dad jokes which he spews on Twitter into a book, and crowdfunded a vinyl pressing of his Beg To Differ album.
Mosca
"The name of this category is Executive Realness," says Mosca. "I talk like a human, I type like a human, I treat other humans like humans. Don't expect cloying professionalism, on-brand PR, posts from management, or cutesy influencer shite." The UK artist is releasing music through Patreon, giving insiders scoops on the stories behind his tracks and helping artists with production. Straight talking feedback for as little as 9€ per month.
Kai Alcé
In November 2020, Atlanta DJ/producer and owner of the NDATL label, Kai Alcé, launched an eyewear brand. He is well-known for rocking a bright pair of specs himself, so there's no surprise that his glasses are bold and colourful statement pieces.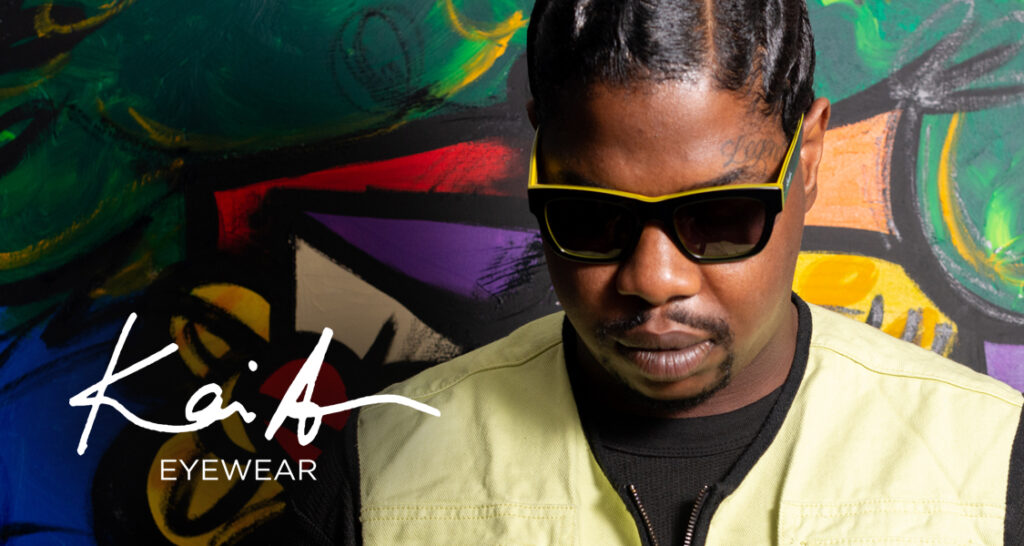 If you enjoyed this article please consider making a donation to International Orange