MARICAS: Queer freedom
In the thrum of Barcelona's nighttime soundtrack of ecstatic techno, queer house and 90s rave, MARICAS are soundwave activists, championing safe partying for the queer community in the city and beyond, as Bella Spratley finds out.
As one of the first cities to embrace gay rights in the 1970s, Barcelona has a deep and complex relationship with queer culture. It nurtured clubs and communities through times when few other places in the world did, but the financial lure of the pink pound has led to some less authentic events criticised by Barcelona's other queer activist organisers. The intensive level of tourism in Barcelona also adds to the difficulty of making spaces that have a lasting community impact.
Serving as a sharp riposte to the watering down of Barcelona's queer nightlife, MARICAS is a femme and non-binary led collective who were founded in 2018 by Eloisa Blitzer, Gina Guasch and Colombian-born ISAbella to build an authentic community experience. Having marked five years of partying this January, we reached out to the key players in the collective who continue to organise these highly distinctive parties and serve the people of Barcelona and beyond.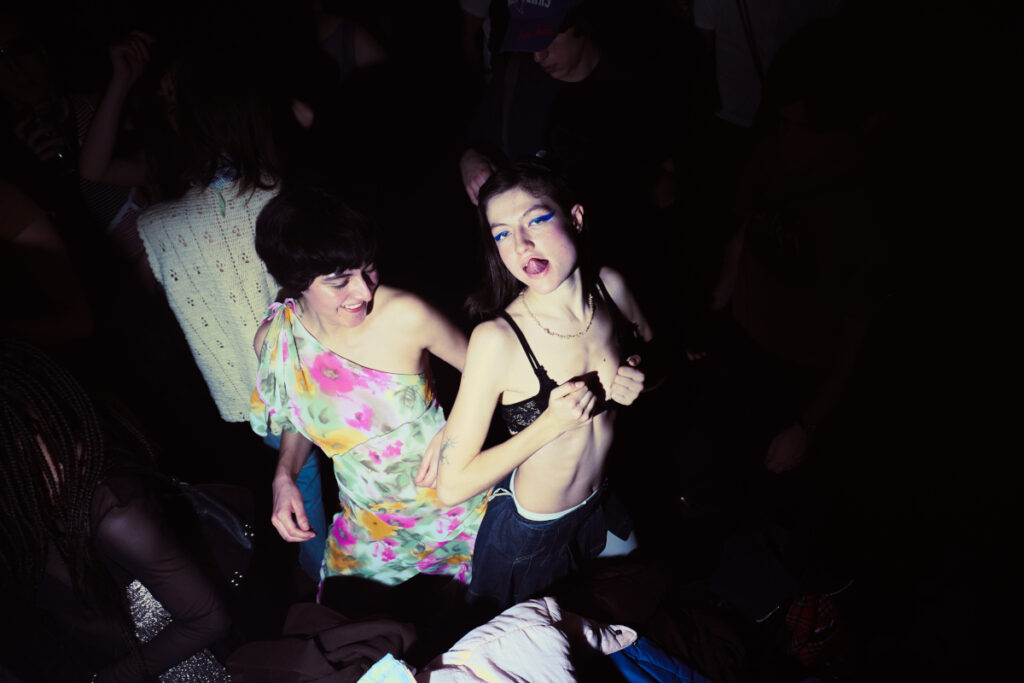 In the beginning the collective had a lot of issues with censorship over their name, which translates as queers or dykes, and was seen by social media as an offensive group until they started the #freemaricas online campaign. Queer as their name suggests, the party focused on techno at its inception – a genre that owes so much to the LGBTQ+ community. Later they began to include genres such as Italo disco and classic house, with openness as the guiding principle to what gets played.
Explaining how their sound has evolved, ISAbella divulged, "As with every project, we feel that it grows and mutates over time, I feel music has become more inclusive in MARICAS and we are even playing sometimes reggaeton at our parties. The vibe is always made by the people that come and that has changed over time, but has remained true to the queer freedom we strive for."
Their aesthetics are also as eclectic as their mixes. MARICAS have decorated a club all pink, but also cultivate a dark black and yellow aesthetic on their social media. Founder member Bella dresses in classically butch wide-leg trousers and vest when in the booth, attendees simply wear their best fits. One dancer sports a top that has scrawled across it "Quiero besar a un chico hoy" [I want to kiss a boy tonight]. As in any subculture, fashion becomes a vital tool for signposting your identity, whether it's as overt as a message emblazoned on your chest or a simple bit of cross-dressing, but what everyone is truly there for is what's spinning on the decks.
MARICAS have been celebrated in the media for their break from the norm of cis male-led parties, ramping up the sense of uniqueness to their events with side attractions ranging from a priest dishing out kisses from a confessional booth to a live-streamed toilet stall for the exhibitionists amongst the crowd.
Eloisa, one of the founders explains, "Our party has a very special and unique way of communicating with our artworks, campaigns and art direction, experimenting with analogue techniques and collaborating with artists all over the world."
At their five-year celebration in Barcelona, party goers described the energy as "intense" and "thrilling". There was installation art called MARICAS Play and music from Joven de la Perla, Octo Octa b2b with ISAbella, Selectya Glossy, DJ Saliva, Toccororo and Bashkka.
Joven de la Perla fuses electronic music with poetry, aiming to reach a place beyond linear time, normativity and capitalism. Their highly escapist Boiler Room Primavera Sound 2022 set opens with synthetic distortion of the word 'tranquila' ('calm'), descending into experimental bleeps and wails that inspire a swirling, melting sort of sensation which is anything but calm. They sail the soundwaves into uncharted techno and electronica waters to beguile the MARICAS collective too. Joven de La Perla disorientates the binary and the dancefloor with great elegance.
Meanwhile Selectya Glossy channels a hybridised kind of experimental Latinx club sound which bridges into pop, reggaeton, dancehall, gqom and kuduro – essentially championing sounds from the southern hemisphere. Each DJ brings their own flavour, and the bookings foreground female and non-binary identifying artists.
"MARICAS is a FLINT* done and run party that collides an activist focus in creating safe spaces with a very distinctive old-school rave sound," explains Eloisa. Female, Lesbian, Intersex, Non-binary and Trans people are the centre of MARICAS' audience, whose needs are prioritised. Although initially thought up as a lesbian night, the party became a wider-reaching queer event almost instantly.
From small community parties to major festivals including Glastonbury, Primavera Sound, Love International and Dekmantel Selectors, MARICAS has grown up. Their initial mission to offer quote-unquote "good music" to the queer community – namely techno – has evolved into their own imprint which they define as "Techno, 90s rave, House, Electro, Italo, Bleep, cum, sweat, blood and tears."
MARICAS' label releases online and on vinyl. Euphoric grooves celebrate the queer origins of the house genre, each rave-infused note inspires a mini-rebellion against the mainstream pop-centric queer nightlife. On the decks, ISAbella steers sets that guide her crowds towards collective ecstasy, urging the mass movement through shimmering synth lines and commanding drum patterns as she gracefully sashays through genres with an undeniably exciting flair.
For all this growth, the needs of the community to have safer spaces is still the priority. "The vibe of our party five years ago felt very raw, needed, yearning for a space like this to exist," explains Eloisa. "It collided loads of the misunderstood and misfits of Barcelona in one space, and a lot of beautiful friendships and relationships have been born there."

Whether you're in Barcelona or Glastonbury, MARICAS is a meeting point of people with similar ideals and a thirst for rave. "MARICAS is an LGBTQ+ focused party," Eloisa continues, "and our aim is to be mostly exclusively for them. We do accept allies, but still we want our space to remain mostly for queer community, since it's who it was created for and who we are. Values that represent MARICAS are inclusivity, community, activism, humour and love, and this is represented by the music and the bookings we do, that are filled with diversity, focused on FLINT* individuals, also usually we are friends or close to the people we book, creating community and creating long lasting bonds." Meaningful partying is what MARICAS represents and embodies, with a sound that is just as authentic.
If you enjoyed this article please consider making a donation to International Orange