En Masse // k means
Looking ahead to the anticipated second edition of Batu and Sam Schaeffer's week-long Bristol-based feast of leftfield audio-visual delights, we get to know one of the DJs taking control, k means.
Next Monday, September 19, the community-minded festival En Masse returns to Bristol for its second year, showcasing a full week of forward-thinking dance and experimental music from producers, DJs and performers across a range of venues that incubate the city's rich underground music culture.
Across three consecutive nights, there was a boundless array of music on offer at En Masse's maiden voyage in 2021, from the curious sound engineering of Copper Sounds in the backroom gallery at Strange Brew, to the entrancing visual and sonic display from J. Martin at The Cube, right up into the raucous festival finale brought on by Booty Bass at the Trinity Centre.
Venues as much as the music are at the heart of En Masse's curation so, rather than announcing the usual top-heavy festival line-up where bold headliners squish the up-and-coming artists into the fine print beneath them, the En Masse team have grouped each day's offerings under their respective venues. It's a way of both levelling the playing field and creating a festival environment that blends into its surroundings rather than devastates them.
Rather than skimming through every single noteworth act on the line-up (clue: they're all noteworthy), we thought it might be more interesting to zero in on a few select names you may or may not already be familiar with. Leading in, we meet the DJ who will be binding together the live sets at Loco Klub on Wednesday September 21.
Unsettling Crud with k means
To understand where k means fits in at En Masse, listen to her Noods Radio show from June this year. Despite a dynamic and hands-on set by footwork producer DJ Taye, it's k means' blend of lo-fi video game music that steals it for me. "It's so funny!" she says, reflecting on the seminal (and crude) Nintendo 64 game Banjo Kazooie, "I had the best time making that mix and going through like 10 different burp noises and weird moaning sounds."
She's been infatuated with video games for as long as she can remember. Growing up in Sweden, k means learned to play piano and performed in a handful of concerts. But soon, bored of playing classical composers like Debussy, she asked her teacher if she could swap it for video game scores like those from the revered RPG series Final Fantasy, composed by Nobuo Uematsu. The songs were considerably simpler and shorter than the classical music that her peers were playing, but they got an equally emotional response from the audience, and k means remembers people coming up to her after performances, eager to find out who she'd been playing.
Being caught off-guard is a key element that k means is looking for in music. "I like to be weirded out," she smiles. "I like it when [the music] takes you aback and maybe makes you feel like you want to go into a weird frog stance and do a weird dance." And she owes a lot to her time experimenting on radio that she was able to get comfortable with DJ'ing such an unusual slurry of music.
Avant Garbage for Hackney-based Netil Radio is her longest-standing show, which she shares with close friend DJ Ojo and where she stews together a low-slung and freaky haze of sounds. Soon after, she then started her solo Instant Yum show for Bristol's Noods Radio, honing in on her love of leftfield bass, ghetto house, juke and footwork.
Footwork and video game soundtracks share a surprising amount of parallels. Both are often raw-sounding, short tracks built for purpose, and both leave room for the sort of whacky-meets-raunchy samples that the likes of Gruntilda the Witch would be proud of. "I like to tread the line between very serious and very funny and lighthearted," says k means. "I'll play dark stuff that's hard to digest and then I'll play something with a sample that makes me feel sexy and fun."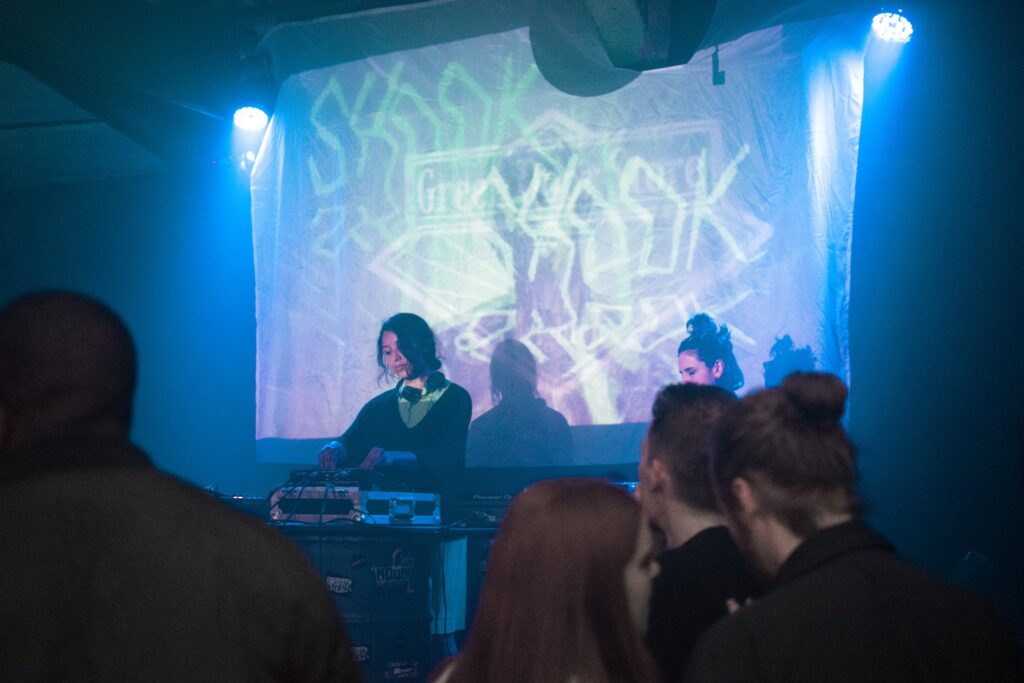 Throughout our chat, k means lands on a number of definitions and examples of what she likes to DJ. Words like stripped back, disorientating and steamy all surface along the way but she never seems completely happy with them. They're missing something. But as we move onto the subject of supporting SŌN and Scalping at the Loco Klub (tickets here, be quick!) as part of this year's En Masse, she remembers a brief she was given before warming up for a live gig at Strange Brew. "It was the best brief," she laughs. "It said, think along the lines of noise/drone/SpaceGhostPurrp/Playboi Carti — basically, unsettling crud. Please play unsettling crud." 
Unsettled and taken-aback is exactly how it felt watching one half of SŌN, J Martin, perform last year at the Cube, as he gave a live performance of the behemoth "Feythur" in front of engrossing ever-morphing visuals. With the line-up at Loko Club featuring SŌN accompanied by the industrial noise and techno of Scalping — whose latest album Void is described as sitting "somewhere between Black Sabbath-esque psychedelica and The Bug's sub-bass headfuckery" — unsettling crud is looking like it's going to be the perfect soundtrack to envelope the night.
Stay tuned for more insight into the pure delights of En Masse 22… for more information and tickets, head to the En Masse tree of links.