En Masse Festival
Joseph Francis visits Bristol for the first edition of Batu's locally minded triple-header.
Originally planned to happen on a permaculture farm in Wales in 2020, due to the pandemic, En Masse was forced to drastically reinvent itself before it could finally embark on its maiden voyage last weekend.
Curated by Timedance boss Omar McCutcheon (who produces under the name Batu) and organised by Sam Schaeffer, the pair kept the spirit of the festival (centred around community and sustainability) and turned it into an exhibition of local talent over three consecutive nights.
---
Strange Brew — 16.09.21
Walking into Strange Brew — a new cafe, bar and arts space in Bristol city centre — the lights were dimmed down to a glowing amber, the curtains closed, and a dozen or so tables encircled the space in front of the stage. Ordering a drink, I immediately found myself amongst many of the people at the heart of the city's experimental music scene. This hive of artists and fans, mingling and busying about, was soundtracked by Chris Farrell, whose shop Idle Hands has been an influential institution for the city's underground music scene over the past decade — a symbol of longevity at a time when art spaces are becoming increasingly limited.
Farrell is the sort of DJ who glides through genres and tempos you'd never have imagined side by side, moving back and forth between them. He often makes space for bassweight in his sets and here was no exception, bringing in some harder dub and roots towards the end, including one highlight — 'The Herb' by Dub Organiser — which he kindly introduced me to at his shop the next day.
When Farrell's set drew to a close, we were ushered into the gallery behind the stage to listen to Copper Sounds' installation. Dotted around the dimly lit room were ceramic objects of different shapes and sizes, all impressively engineered so that the two musicians at the front could control the pads that struck them at the press of a button. The effect was a meditative ensemble which pinged and plopped around the room, challenging the listener's concept of space within music. It became almost as much an experiment in listening: some of the crowd couldn't help but find it amusing throughout, stifling laughs as these instruments seemingly played themselves, while others sat on the floor and looked awkwardly around the room to see what everyone else was doing. By the end, the 50 or so people left had settled down to let the soothing ritual wash over them.
Back in the bar area, Birthmark couldn't contain his sheer joy at being on stage, grinning from ear to ear as he performed his verses and tinkered with his leftfield blend of electronica and techno. His infectious energy soon brought the crowd to life, drawing cheers at every interval. Although occasionally a mate of his could be heard enthusiastically reciting the end of his lines, much of Birthmark's material is unreleased as of yet, which added to a collective sense of intrigue and connection. Towards the end — after demonstrating his best snake hips, bottle of rum in hand — he joined us on the dancefloor. The strobe lights kicked in, and the set descended into a raucous knees-up with artist and audience moving as one.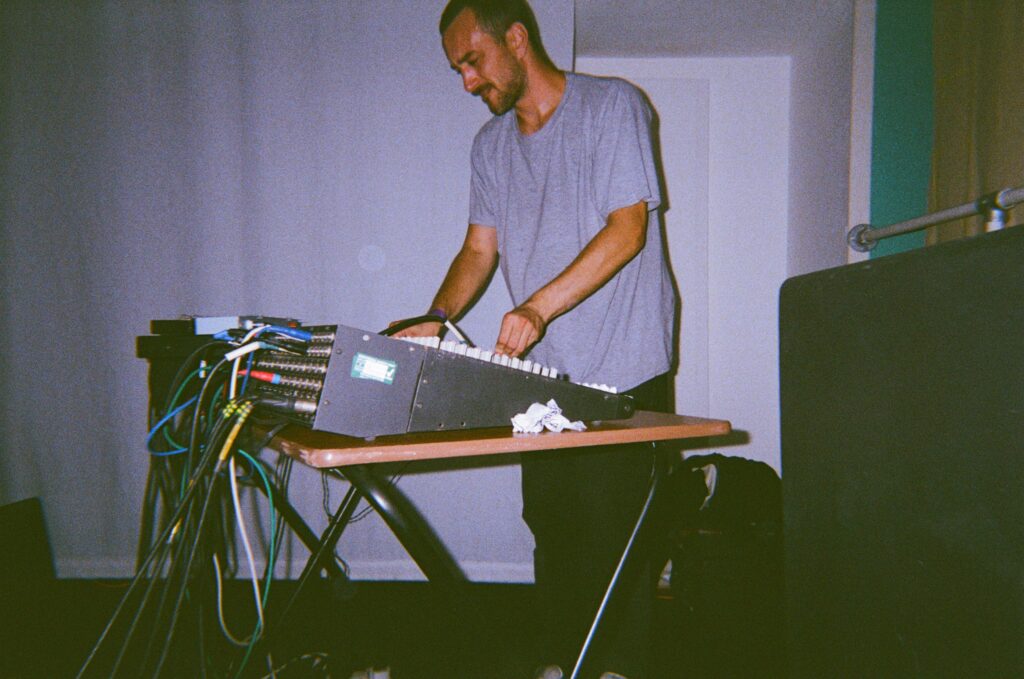 The stage was set for EP/64 and Ossia to continue this momentum. Clad in an Avon Terror Corps Resist to Exist tee and with her short, dark hair just hiding her eyes, Dali de Saint Paul barked into the two mics clasped between her fingers, which was captured on loop and hurled through the maelstrom of Ossia's mixing desk. Between them, centre-stage, was local talent Dan Johnson on the drums, whose presence grew formidably as the show progressed. The visuals by Guest — who reflected the light of a projector onto thin, twinkling strips of mirror back onto the stage — enhanced the chaos, at times reminding me of a bustling market, at others, the streaks of a sandstorm. Soon the trio's behemoth energy had enveloped the room; I couldn't resist screaming (the music was loud enough to cover it) and throwing my hands up with Dali. Now propelled into a cathartic, carefree dance, Johnson thunderously clattered the drums as Ossia unleashed almighty clangs, recalling the chest and head shattering spring reverb from his 'Red X' release.
---
The Cube Microplex — 17.09.21
Just off Stokes Croft lies the Cube Microplex, an independent cinema that often doubles up as a music venue. The Cube's demure nature gave the Friday evening a relaxed and homely feel, a welcome break from the bacchic festivities either side of it.
Once we'd settled down into our seats and enjoyed a couple more sips of our BYOB tinnies, the first exhibition by Tony Oxley started. Influenced by contemporary glitch art, much of his work explores ghostly, video-manipulated images set to the sound of drone and field recordings. It was an engaging, albeit chilling taster that set the stage for the trippy musings to come.
Surgeons Girl deftly took us through low meandering tones speckled with stellar, glistening synths. Complimenting the gradual build up was a monochrome shot that I wouldn't have thought to pair with her music: the camera drifted over a shallow body of water and finished on an ominous upturned hand. Later came a flurry of layers, squares, bold lines and symmetric work which dramatically broadened the colour palette in the process and more accurately resembled the imagery her music evokes. It was an entrancing experience and the visuals did a good job of holding our attention as we were guided through her kaleidoscopic odyssey.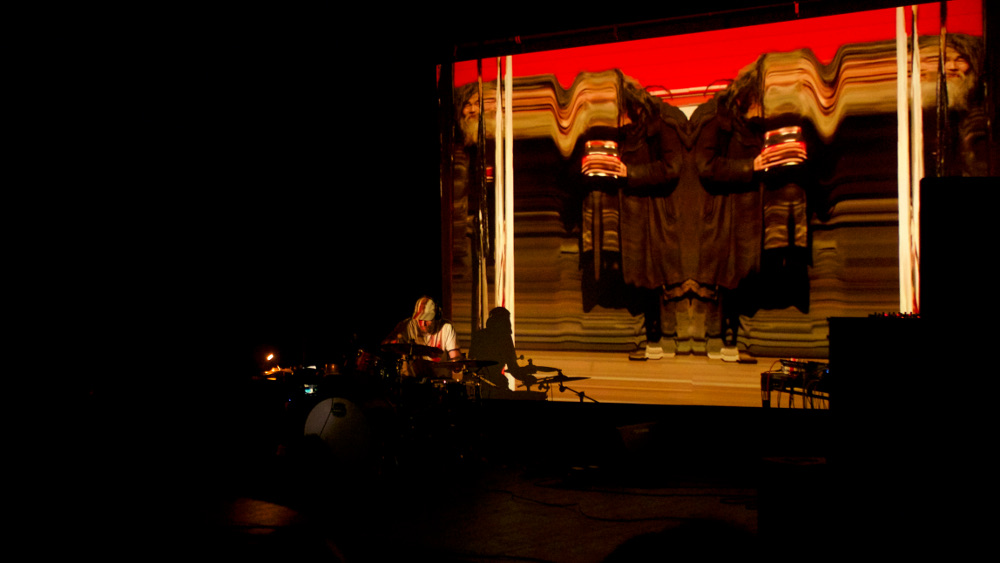 Lastly, J Martin entered, cap pulled down low and hunched over his drum kit. Immediately, we were gliding down a backstreet which, as we progressed, it became clear was segmented into various worlds, each one seamlessly blending into the next through a square portal. As we descended down this foreboding passage, Martin delicately pattered the drums, careful not to break the tension. As I became unsure whether this street had an end, an elderly man performing Tai Chi appeared through the last portal. Gradually, sequences of the man's movements were paused and stretched until he became just one undulating ribbon. Now, the performance was injected with power as Martin ramped up the intensity on the drums and a barrage of morphing images ensued. The tension of the show was palpable and it portrayed a striking perception of humans, time, age, death and (im)permanence. The raw, ritualistic nature of the drums married well with the unrelenting and overwhelming visuals, too.
---
The Trinity Centre — 18.09.21
Inside the church in St Judes, which now acts solely as a community and arts space, I entered the dance floor on Saturday night through the curtain that encased it. Along the left wall, perpendicular to the stage, Alya L was limbering up the speakers of Sinai Sound System.
Deployed by Batu back in February 2020 to celebrate the 5th birthday of his label Timedance, Sinai Sound System caters to a wide range of frequencies, bridging the gap between the traditional and the contemporary, much like the Trinity Centre hosting it. While the grade II listed building is no stranger to having its walls shaken to their core, we on the other hand were advised to take safety measures, so I picked up a pair of earplugs from the bar before diving in amongst those monoliths.
Alya L's opening set respectfully nodded to the various sounds that would be built upon for the rest of the night. Calmly wielding three CDJs, she moved between a mixture of bass-laden and entrancing techno through to militant club music — heavy on the percussion and with a touch of reggaeton/dancehall. As the crowd started to grow, teasing club edits of Ciara's 'One Two Step' and Khia's 'My Neck, My Back' came out, which emboldened the crowd ahead of what was to come.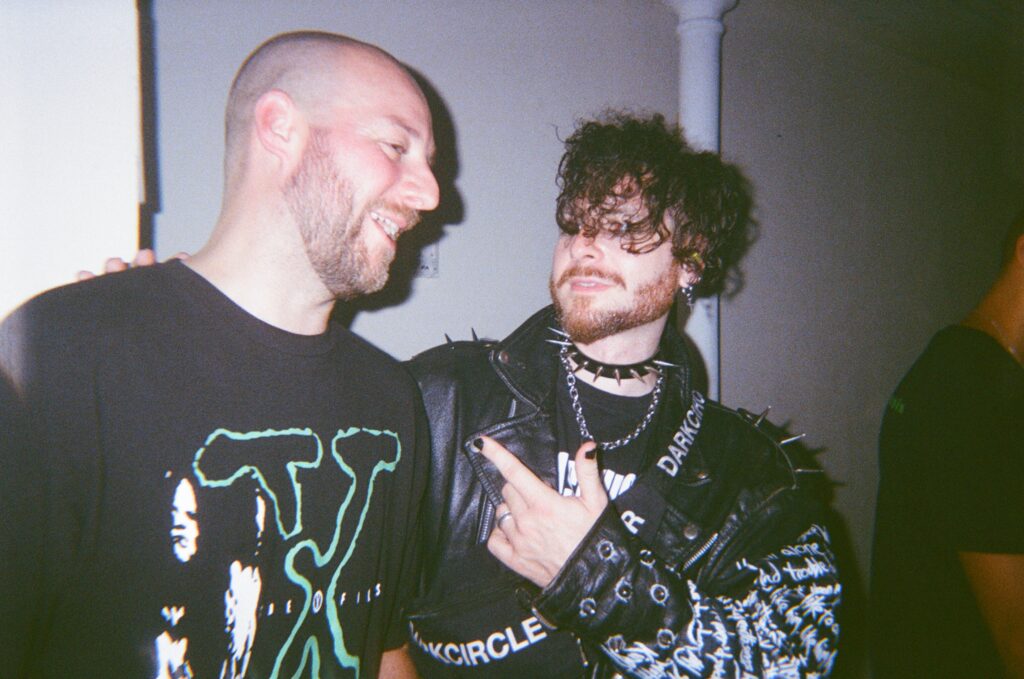 By the time it came to Kahn and Neek's set, the hall was packed and a group of fresh-faced boys dominated the front, eager to pull out many a gun-finger for the Bristol duo renowned for playing grime bangers. Perhaps not wanting to play into their hands too quickly, Kahn & Neek kicked off their set with edits of baile-funk, replacing its skittering patterns with one low-swung sub to quake the floor. Soon after, the track of the night came for me: of all the Digital Mystikz tracks that could give the sound system a proper workout, Mala's 'Misty Winter' couldn't have been a better pick. The rest of their set then settled into a familiar tussle between UK grime and Deep Medi dubstep, allowing for a healthy balance of rowdy rewinds and smooth hip-winding.
After a brief rest in the chillout room, I returned to find it was Batu's turn, welcoming me back into the dance with Miami bass by way of the late SOPHIE's remix of 'NYC2MIA'. The set then fluctuated between flurries of dancehall, gabber and Latinx club music, making it the most eclectic mix of the night, managed by someone who clearly has a keen ear for exciting new angles in electronic music. By 4am, I was thankful that the crowd had thinned out a little as it allowed the limbs to fully swing to the wild fusion on offer. When Batu finished, the crowd erupted with applause before welcoming on Booty Bass DJs (Adibah and Bungzo) who gave us exactly what their name promised: bass for the booty.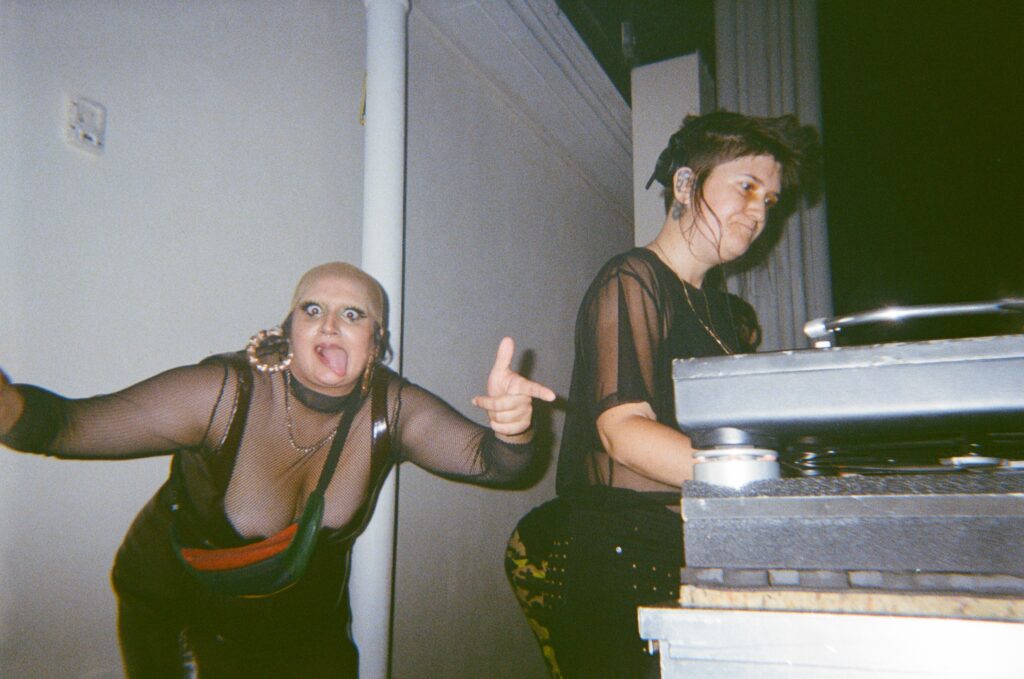 Somehow, with only an hour left, the two managed to keep the fervour aflame. After fueling the remnants of dancehall and Latinx left before them, they then bulldozed into a set of unpretentious, winding tunes that you might well expect to hear down at the harbourside. Benny Benassi's 'Satisfaction' and Major Lazer/Vybz Kartel's 'Pon de Floor' made an appearance, as well as edits of pop bangers like Beyonce's 'Baby Boy', and some shameless dubstep by way of Chase & Status' 'Eastern Jam'.
---
Condensed into three nights, En Masse used a range of mediums to cater to a plethora of artistic parameters, including radio, live performance, film and DJ sets.
My only qualm with the festival was that it sometimes didn't feel like I was taking part in one, since the events were separated by a significant amount of time. Therefore, without becoming another Unsound, there is definitely room for drawing it into something that encompasses a daily programme of events.
On Saturday evening for example, I was annoyed that I'd completely forgotten to attend the Zinezilla workshops at Strange Brew that day and I would've loved some more excuses to hang out at Mickey Zoggs (where Noods Radio is based), or even to have been there for the En Masse takeover on Wednesday. It wasn't mentioned in the lineup so I hadn't planned for it in my trip.
At the same time, however, there were many moments in the festival that suggested it was bound together by something altogether more important. For example, on the Noods Radio takeover, one of the shows was hosted by two people who are not DJs — Sam and Alisha — and it was my favourite. To me this showed that, essentially, what was most important to En Masse was showing strength in numbers, whereby well established names work together to build and create a welcoming (yet no less grandiose) environment for those who are less well established, as a community should do. You might argue that many festivals do this, but how many let new artists take main stage at a time that doesn't clash with a big name? Here, there was a sense that everyone mattered.
So after all this, did it need to take place in a permaculture farm in Wales for it to be a festival grounded in sustainability and community? I'm sure many at En Masse would agree that the answer to that question is no. Sustainability should be fought for from within the community, not outside of it.
Like the multifaceted venues that it used, En Masse was resourceful and in doing so set a precedent for other festivals, showing that, with a little bit of thought and connection with what's happening around them, they can become sustainable (and still formidable) platforms to show what tight-knit communities like Bristol's have to be proud of.