Channel Struiwigh goes live
Nadia Struiwigh is setting out to explore the live streaming format with an ambitious new programme of hardware performances, tech tutorials and more.
Artists everywhere are trying to figure out ways of existing and reaching their audience in the gaping chasm left behind by clubs and festivals. Richard Akingbehin's recent run down of side hustles shone a light on some of the enterprising ways people in our scene are branching out, but it's worth taking a spin back to look in more detail at the work of Nadia Struiwigh. The Dutch-born, Sydney-based artist had been building up a highly respectable profile in Europe thanks to a limber and expressive take on electro which landed on labels like CPU and Denovali.
After moving to the Southern Hemisphere and reflecting on the monumental shifts wrought by the pandemic, she's been developing her own concept for a live streaming channel which encompasses different dimensions of her artistry. As of this week, Struiwigh's Twitch channel went live with some interactive sessions working on aspects of production in Ableton Live 11 with input from viewers. In her own words, "Twitch went so well! It was kinda mind-blowing how many people came in the chat and joined me there."
Struiwigh has a lot of plans for the channel, which she aims to be live streaming on at least four times a week. She'll be performing live sets of original material across her expansive set up of hardware and software, giving presentations about a specific tool or process she uses in her studio and dissecting the production behind her already-released tracks. Given her strong connection to Ableton, you can expect more in-depth looks at the software, not least with the release of Live 11, and she has plans to link her channel in with regular live events in that part of the world where gigs still happen and introduce guests to various parts of the stream, too. It's a work in progress, but the potential is big. More than anything, Struiwigh's views about what role the channel serves are telling as the global electronic music community reflects on how things might be rebuilt as we move out from under the cloud of the pandemic.
What are you hoping to achieve overall with your Twitch channel?

I've been dreaming for years to create a safe space for people to connect with each other. When I was touring and playing gigs I felt there was a big piece missing in being vulnerable, and the gap between the artist and the crowd was just way too big. I always saw myself as one of the crowd, and many times I was dancing with them on the dancefloor. This is the time to reconnect in the music scene in a different way, where there is a place for everyone. We are all the same, starting all the same, learning all the same, but we can strengthen each other by sharing our knowledge and seeing each other as friends instead of competition. My Twitch channel is just a start of this whole journey. Empowering someone else is empowering yourself.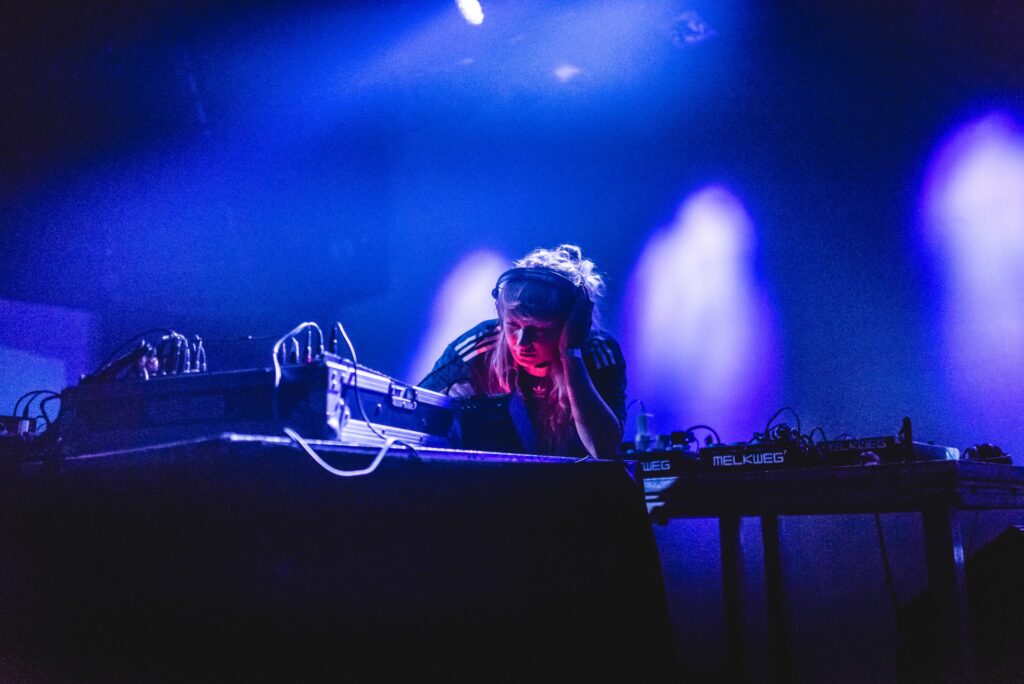 Are you concerned it might take away from your time to be creative as an artist?

This was something I was looking for, for many years. I find it quite intense to be on the road and create music on the side. I am very sensitive, so it was sometimes even overwhelming to me. My creativity comes from within, and it feels sometimes it's endless. So I am super happy I finally have more time to express myself, and show people how to express themselves with music. Streaming actually feels similar to performing – it is the exchange that drives me and makes me very excited.
What are your thoughts about the kind of people you'd like to invite to join you on the channel?

The whole idea is based on making the gap smaller between big artists, mid-level artists, smaller artists and the crowd. It should become unity. Everybody counts and everybody has a different, interesting input. The focus will definitely be on music producers and performers (electronic and acoustic), and everyone that would love to start their musical dream.
Nadia Struiwigh's new single Oooso and album Pax Aurora will be out later this Spring on Nous'klaer Audio.