Violetov General: Eastern Bloc darkwave
From when he first left Bulgaria and heard the emergent sounds of goth and post-punk, Emil Valev was set on a course which took in the best fringe music of Europe in the 1980s. Now a compilation on Osàre! Editions brings some of his archival works to a wider audience, so Hannah Pezzack dialled up Sofia to find out more.
In recent years, Elena Colombi's imprint Osàre! Editions has established itself as a bastion of wonderfully weird dance music. The label's spread of industrial groove, avant-garde ambient and gritty leftfield techno reflect the Italian DJ's penchant for playfully dark atmospheres. Released in February 2023, Violetov General's LP Gentle Reactor slots neatly in the Osàre mould, taking a slanted approach to darkwave which touches on prog rock, noise and Eastern European folk-tinged melodies merged with ritualistic percussion and a patchwork of vocal breakdowns. Assembling 25 years worth of remastered and more recent material from the artist otherwise known as Emil Valev, the album is both a fantastical feat of musical idiosyncrasy and an intriguing slice of European electronic history.
A singular character with many tall tales to tell, Valev has been prolific since the late 1980s, when he rose to acclaim on the underground circuit, touring Berlin, Austria and Eastern Europe – over the course of a conversation, he regales me with stories from the road. At the core of his compositional process is the ability to absorb inspiration everywhere, from the pagan spirituality he encountered atop Glastonbury Tor to sampling an instructional How to Shield Yourself from a Nuclear Blast film discovered in a pile of rubbish on the streets of Sofia. It's this porosity that defines Violetov General – there's a pinch of Led Zeppelin, the churning, synth-driven violence of Clan of Xymox, but also a folkloric, mystical bent in the chanted vocals which recalls traditional Slavic choral music.
"I was always drawn to sounds that were outside of the mainstream," he tells me. "I remember vividly a visit to London, it must have been around 1973. I was walking up Piccadilly Road and there was a small church where a musician was playing very experimental stuff on the organ. Even after all this time, that memory still leaves an impression on me – hearing anything that was avant-garde was so exciting."
Valev came of age in Bulgaria, behind the iron curtain, during a period of intense isolation. As an adolescent, he was one of few to leave the country, relocating to Paris to pursue painting. "While I was living in France, I could not receive any financial assistance from my parents or return to Bulgaria because it was too dangerous," he explains. "But I remember those years fondly; it was when I began seriously pursuing music. I had to look after myself and make my own way in the world, so I became a street musician."
Eventually making his way back to Bulgaria in 1986, Valev found it difficult to acclimatise to life back home, and so in the summer of 1989 he headed to Berlin. "It was incredibly difficult to go there as an immigrant. I had no money, I couldn't speak the language and had to live alongside strangers," he recalls, "yet West Berlin was a beautiful, expansive, bourgeois city. Everyone seemed calm. There were many parks where naked people lay sunbathing. I spent my time visiting the Pergamon Museum and composed the tracks for Violetov General's first album, which was strongly influenced by The Sisters of Mercy."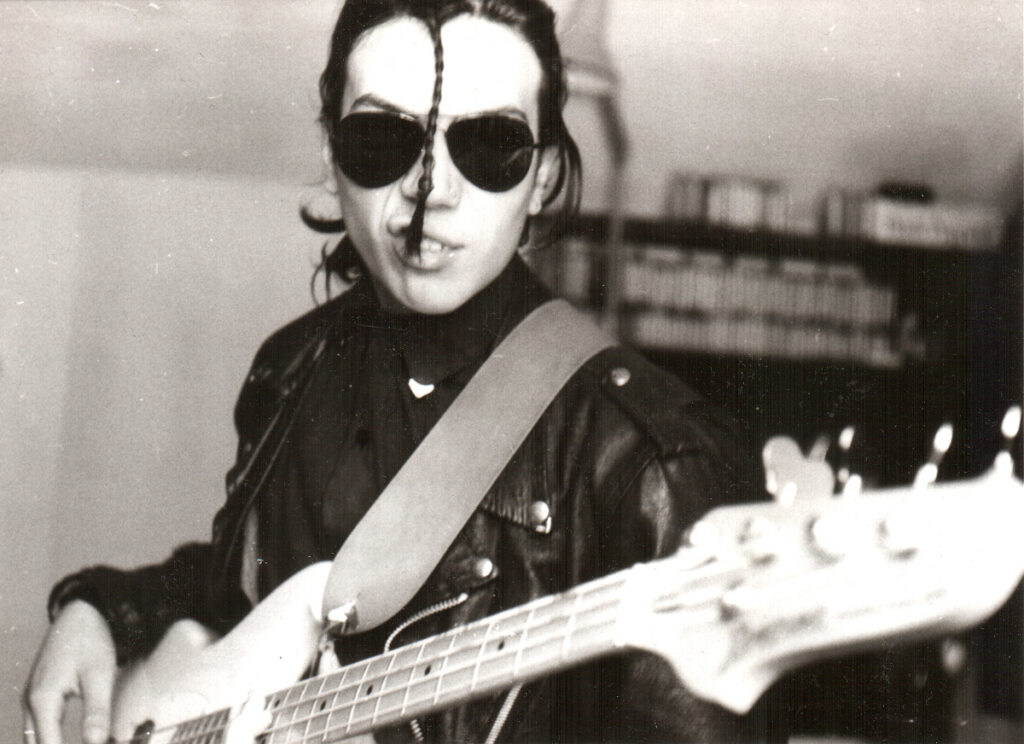 The early Violetov General demo tapes (which you can readily find on YouTube) are certainly more tilted towards gothic rock – there are shredded guitar riffs, demonically growled vocals and a drum machine that sounds as if it's been put through a tumble dryer. It's hard to avoid imbuing this angsty, punk resonance with Valev's frustration struggling to establish himself in both the Soviet Bloc and within capitalist German and French societies. However, returning to Bulgaria later in 1989 proved to be catalysing. The disintegration of the USSR led to a huge cultural shift, and Valev, filled with creative impetus, took full advantage.
"Those were indeed special years," he muses. "The streets were filled with protests and rallies. Without communists, militia and Russian influence, a positive vacuum was created. The air in Sofia felt saturated with freedom and hope. New groups and movements were immediately formed. We could do actions and activities everywhere – in concert halls, abandoned buildings, garages, and dungeons. It felt as if all the younger generation got swept up in the momentum."
The original Violetov General band was made up of six members. Their first performance, laughs Valev, was a complete disaster. "It went terribly!" he says. "They all disbanded, only the bassist – who was very young and didn't play so well – and I were left. Although he didn't yet have much skill, he did have a lot of passion and drive. That was more important to me. I did the vocals and played guitar and synth. We sampled a rhythm from a friend and began to make cassette tapes. We were successful in Sofia – no one else was playing dark wave back then. Under communism, there had been little cultural circulation with the West, so we were really at the forefront of pioneering this sound. In addition to the group, I also worked with the Swiss artists Pedro Kobler and Jörg Lenzlinger, who directed me towards musical experimentation in more extreme forms and with whom we did concerts, the recordings of which they later released on tape."
It was at this time that Valev became fascinated with utilising increasingly leftfield techniques. Drawing inspiration from the world of installation and performance art, he was especially interested in DIY instruments, recovering metal objects and refuse from the streets. Songs like 'Old Time Story', released as General Violet in 1992 on a self-titled tape album, encapsulates this avant-garde approach. The track is a near-30-minute, industrial ambient odyssey where sci-fi noises echo, unplaceable and trance-inducing.
In the mid-90s, the band was invited to the Pop Rock festival in Bratislava, Slovakia. "That was such a great event," Valev recollects. "It featured musicians such as Peter Gabriel, Le Rita Mitsuko, Whitesnake, Status Quo and many others. For three days, there were shows in every style throughout the city. We played in an anti-nuclear shelter just below the old citadel. Our appearance on the line-up led to further tours in Slovakia, as well as gigs in Austria, which was an interesting experience. We encountered strange venues and audiences, playing in the Alps at a former Nazi retreat, as well as at the country's biggest club, located in a derelict factory. To me, it was total Viennese decadence. I could talk a lot about those years, some of the most fruitful and beautiful in my life. But while we were enjoying freedom, in Bulgaria, the communists had regrouped, sold old tanks for scrap in Belgium, formed mafia groups, and returned to power through brutal politics."
While Violetov General's acclaim may have peaked at the end of the 20th Century, Valev has remained prolific as a solo producer and, in response to demand online via music bloggers and vinyl diggers, he's amassed an ever-growing archive of past material. Osàre! label boss Elena Colombi initially received over 80 songs from him, two of which appeared on the compilations Il Monte Analogo (2021) and Il Lupo Della Steppa (2020). In preparation for the release of Gentle Reactor, the pair spent two years combing through recordings, selecting the songs that would eventually form the double-sided LP. From the locked-groove beat of 'Valahoveine' to 'Poliani's sizzling industrial refrain and the slap-bass finale of 'Black Cat', the album is a wild, potent ride.
After our interview, Valev emails me a link to a new project he's been working on, financed by the Bulgarian National Culture Fund. Titled 'The Fifth Dimension,' the music video features masked dancers moving through manipulated, light-flared landscapes, their dynamic gestures accompanied by double-tracked vocals and eerie synth. The hauntingly melancholic interlude offers up a softer, more lucid side to Violetov General, yet the trademarks of his sound are unmissable, remaining unchanged since his earliest output – psychedelic strangeness, shadowy melodies and a new age reimagining of darkwave that's at once familiar and utterly otherworldly.
If you enjoyed this article please consider making a donation to International Orange