Stock Takers #1: Rewind Forward
Tapping up some of the finest independent record shops for their hottest new wares.
In this new series, we want to celebrate some of the amazing independent record shops working in a challenging environment to offer a vital and valuable service that holds true to the community spirit at the core of music culture. Rather than just letting the owners waffle on about the existential dread of the post office queue and unreliable staff though, we thought we'd let them do what they do best, put us onto some sick tunes. First up, Bristol's finest strictly online operation, Rewind Forward.
Rewind Forward was established in 2012 by Dan 'Ossia' Davies and Alex 'Tape Echo' Digard, and even as a digital entity it's the shining example of how a music outlet serves the scene beyond simple sales figures. The site feels like a creative extension of the experimental soundsystem fringe it emerged from – their own NoCorner label is one of the most reliable streams to check for the latest bass permutations from Bristol and elsewhere, while the likes of Bokeh Versions, Young Echo, Ceramics and FuckPunk are so deeply bedded into proceedings you might be forgiven for thinking it was their own DIY Bandcamp. Aesthetically, Digard's ability to retain an authentic feel in the online realm (check his Tape Echo blog for further proof) makes everything gel together like a seamlessly photocopied sheet of scrappy clippings and scrambled typewriter manuscripts.
But Rewind Forward also excels as a shop. If you're of a low-end persuasion, you'll more than likely make a valuable new discovery on the site you would struggle to cop elsewhere. From dancehall to steppas, grime to noise, roots to jungle, browsing the sections and dabbling on the previews sports the same genuine thrill you get walking into any bricks and mortar store with a specialised stock. The selections feel meaningful – there's real sincerity in what they offer and how they present it. On that note, here's Ossia with some hot n' fresh tips from the trappings of the beige cube: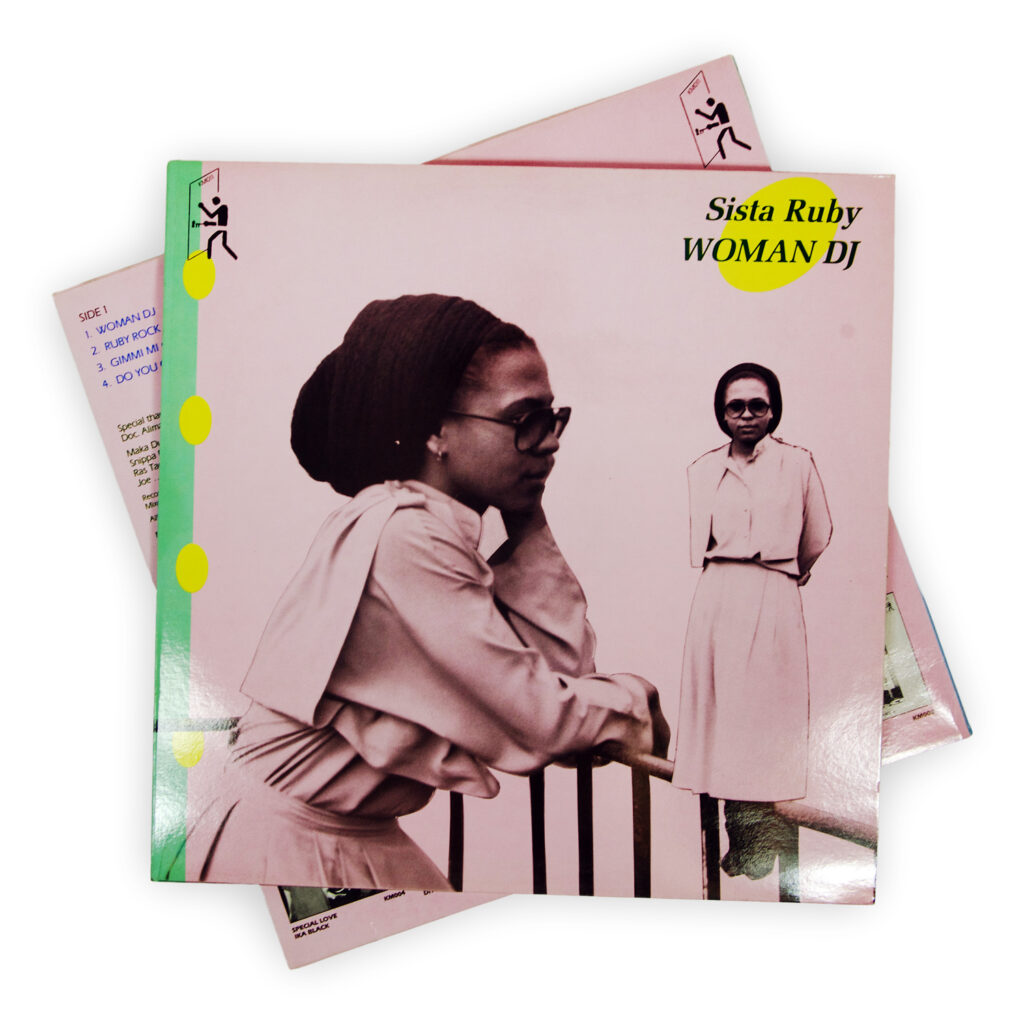 Ok, this one's not exactly new – the only LP ever released by dancehall vocalist Sista Ruby, dropped in 1999 – but it's always nice when we get our hands on some stray original press copies many years on, which was the case with this. It's also especially nice when it's a record that documents a certain mood and era, and you can give it the test of time, or see how things may have changed, or not changed, over the years… In this case, the record documents the continuation of Jamaica's dancehall explosion, but on UK shores – London, to be specific – in a very lively way. The rhythms are definitely JA inspired…. We could argue that there is a lack of originality in some of these instrumentals perhaps – no disrespect to Dr Alimantado – but either way it's not a problem, because Sista Ruby keeps the flame burning with her vocals pretty much throughout.
The big standout track here is definitely the title track 'Woman DJ'. It's full of that inimitable dancehall energy, and it sports a good, encouraging message about female power and finesse in the world of reggae, and especially on stage, when sharing the microphone with mostly male deejays. That message was surely relevant in 1999, but it certainly applies to current times too, and not just to the vocalists / deejays! Big up Sista Ruby. We just got another handful of these in from our distro, so if you want a copy, this might be the last chance.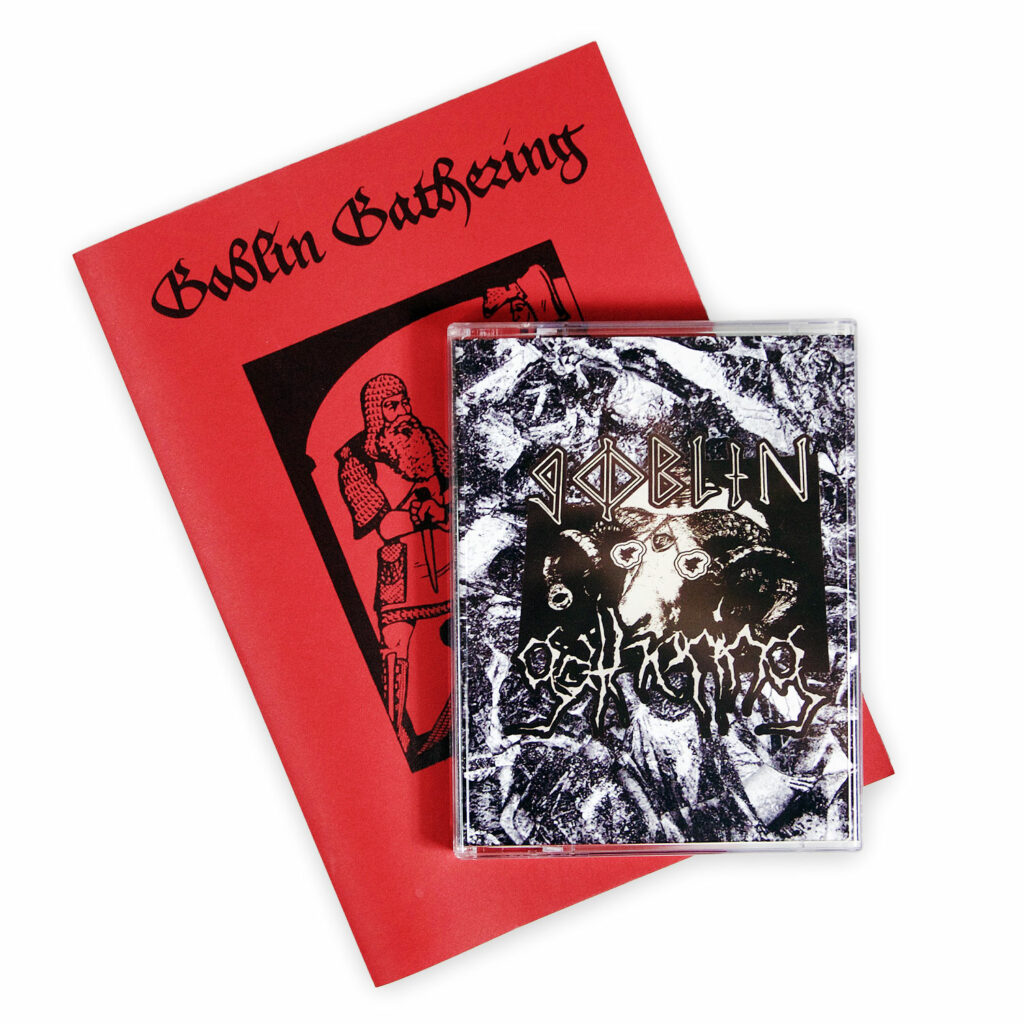 GOBLIN! What do we have here?Just another West Kennet Long Tapes manifestation on tape, that's all. This one's packed with history – get your Pheasantry hat on! – from the Middle Ages, the Rave Ages, right through to The Age Of Avon, which is rearing its head once more, and also happens to be a perfectly fruitful time for a whole heap of good crewe around Bristol and beyond who are following a path which has no end, and its only direction is one of heart and soul, beating new life into the ever-important journeys of forging new grounds.
From orkish steppers, yesteryear rave anthems, through to slurred youtube rips of doom, gloom and fanfare – this double tape pack + zine documents two very special and highly enjoyable (mustn't forget to enjoy!) Noods Radio airings of the Goblin order, and it is filled with sounds that will help you – LIVE, LOVE, LARP – in the words of Ceramics boss Kinlaw and Bokeh Versions boss Miles Opland, who, by the way, are both very tightly knit into the RWDFWD family tree by now, and who constantly provide us with food to feed with. Also make sure you check the latest BKV double drop – DJ Velkro and Felinto, and don't be sleeping on the Max Kelan poems or the bassbin carnage of Tod Daraku on Ceramics…. Oh, and why not get our (very last) CD copy of that DJ David Goblin & The Horde – Ork Muzik 20k on Belgium's PRR! PRR!, if you want to try grasp this Goblin world a little more (or less).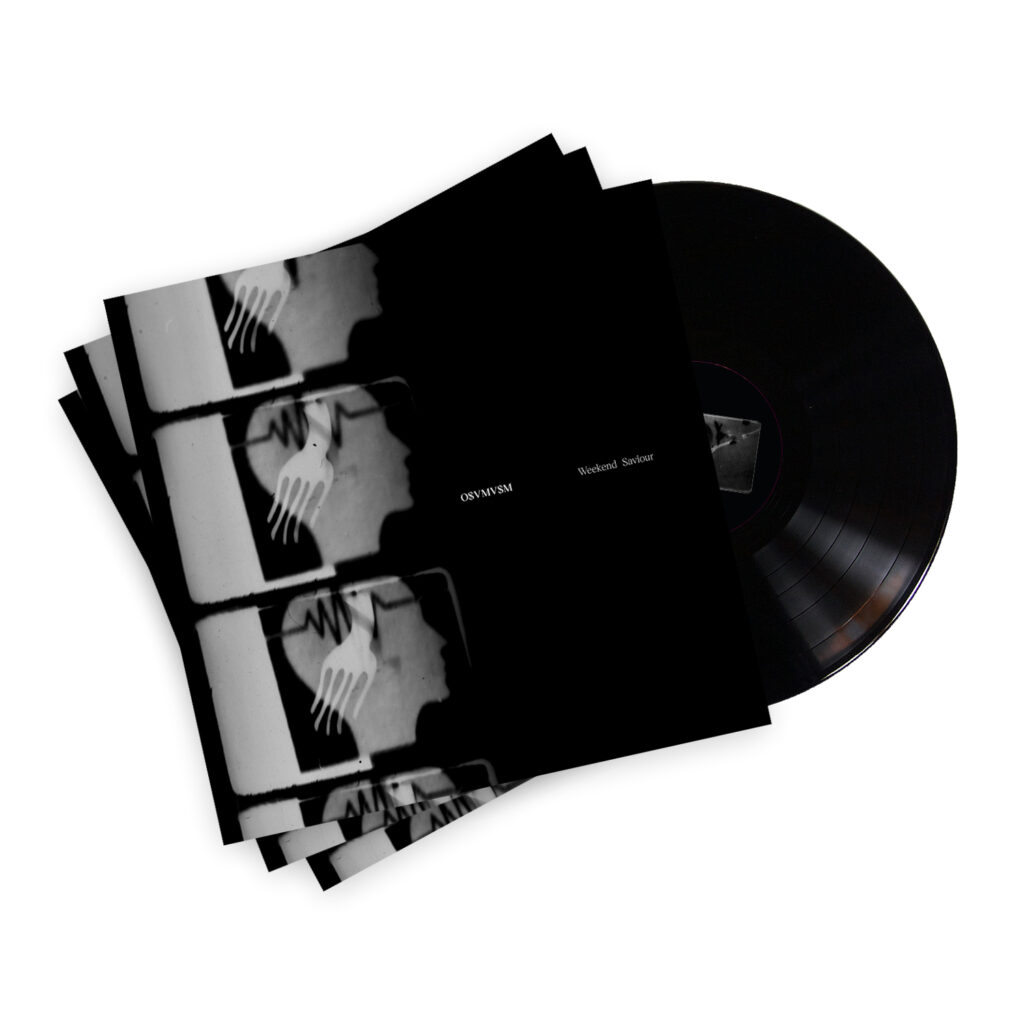 Two special records available from us on June 24… Six years after we released their debut Memoryz Ov U on tape, we're glad to say we now have a six-track 12″ from Sam 'Neek' Barrett and Amos 'Jabu' Childs' O$VMV$M project dropping on NoCorner, entitled Weekend Saviour.
There'll be a special edition with an A5 zine available via our site too, which features extra imagery from the artwork and video process, put together via paintings that Sam made, which Jasmine (Young Echo etc) then projected and re-filmed onto 16mm footage, laid out by our own Alex 'Studio Tape-Echo' Digard.
We're really proud of this release already, it feels like a 'proper package' in terms of the collaborative and interactive aspect between the music, and the artwork. Of course the tracks are pure O$-style hits as well. If you've heard their music already you'll know they don't disappoint. The record channels horror soundtracks as much as chopped & screwed grime & dancehall, and it also ends with arguably O$VMV$M's most humorous track yet…
We're also really excited to reissue our 2014 cassette release ROOTPRINCIPLE, by SKRS aka SEEKERSINTERNATIONAL, on vinyl for the first time, remastered and with re-shaped o.g MYSTERYFORMS artwork. We've had lots of people begging for copies over the years, so it felt like a good idea to get this on wax for the first time now. Little known fact – the music was mostly built around various samples of reggae intro drum rolls.
Header image by Studio Tape Echo.
If you enjoyed this article please consider making a donation to International Orange