Lakuti's celebration of Black women
On International Women's Day, Berlin-based South African DJ and scene powerhouse Lakuti gathered together a stunning ensemble of African DJs.
Yes, International Women's Day was on March 8. No, we're not quick off the mark. That there is a vital need for an International Women's Day, in the face of global patriarchy passed down through millennia, is all the more reason to amplify the message and actions after the initial moment has passed. Clichéd the phrase may be, but until women can live in a just and equal society where they're not viewed by men as inferior, or worse still objects for possession and subjugation, every day should be international women's day.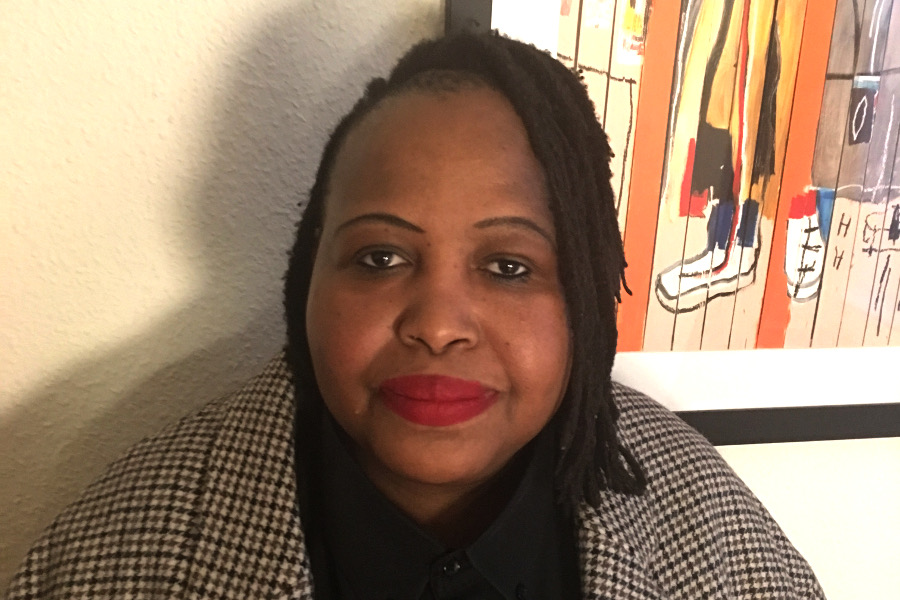 There were a lot of initiatives within the electronic music community to mark IWD 2021, many of which were rounded up here. But one show of strength stood head and shoulders above the rest for us here at IO – Lakuti's programme for female:pressure on Refuge Worldwide.
Lakuti originally hails from Johannesburg, but she spent many years in London running the fabled Süd Electronic parties before relocating to Berlin. She established the Uzuri Recordings label and booking agency, and continues to be a vital force supporting marginalised voices and uplifting incredible talent within the electronic music scene. female:pressure was founded in 1998 by Berlin techno maverick Electric Indigo, "a transnational network of database and network of women*, AFAB, transgender, transfeminine, transmasculine, intersex (+gender optional), genderqueer, gender nonconforming, a-gender or/and non-binary artists in electronic music and digital arts."
For her six-hour 'Black Womxn's Lives Matter' takeover on Refuge, Lakuti drew together a cast of DJs you might not already be familiar with, but whose unerring quality blew us away. As well as spotlighting female talent, she also felt it was important to use the opportunity to amplify Black voices. Hit play on the first session from São Paulo's Mari Boaventura and let the whole lot play through, and read on for some thoughts from Lakuti about the programme she pulled together.
"My approach to programming was very intentional. I have always strived to provide and create space for those that were not given space, whether in my personal life or within the music industry. It became glaringly obvious to me for a long time, that despite the contributions from Black folk, they were simply not being booked, so I made it my mission via [Uzuri booking agency] as well as whatever event I programmed that I would provide the space, because that was the right thing to do.
"Let's also not forget that Asian and Latino DJs and artists are not being represented within the industry as well. I'm now particularly focused on African artists and looking to start dialogues and forge alliances between African artists with their counterparts in Latin America. I think there are so many intersections within our struggles.
"For too long Africans have been left behind, in particular within electronic music, or boxed under the offensive 'world music' box, even though African music is some of the most innovative music out there. Even with recent discussions around diversity and inclusiveness in the music industry, that inclusiveness does not extend beyond a few Black Americans and some UK acts. It has been so painful to see this as an African woman who has spent 24 years of my time in Europe trying to make a difference, and feeling like those like me did not matter.
"When the opportunity came to programme Refuge for International Women's Day it was very clear to me that my focus would be to give a platform to women in Africa and Latin America, and of course in my own city [Berlin] as well. These women collectively and individually are powerhouses – not only are they fearless in their musical approach, their involvement goes beyond just playing records and the trappings that come with the industry. They want to see change, and they have been working towards that vision. These are the people I am looking to for inspiration, because inspiration to me does not come with fame and how much you earn, it is firmly rooted in everyday people who often toil without ever being credited. These are the people whom I take pointers from."
To shine a little more light on who Lakuti invited to take part, proceedings kick off with the fired up Afro house sound of Mari Boaventura, operating out of São Paulo and fiercely active in the scene as a member of the AfroHub and ComunaDeusa collectives as well as founding the Pantera Cartel agency. Berlin-based Jana Falcon, perhaps the most established on the line-up, steps up with an ascendant dose of house energy, all bumping garage styles laced with powerful vocal hooks.
Johannesburg's Sumthin' Brown is quite possibly the shock revelation of the session. A frankly exquisite selection that spans so much incredible music from the African continent, touching on jazz old and new, delicate folk inflections, ethereal neo soul, and plenty more music that transcends these hackneyed Western generic terms. She puts it better herself:
"I've put together this afro-fusion mix to highlight music by a unique breed of South African musos who told and tell jazz in the most indigenous and spiritual way imaginable, a way that is specifically unique to South African attitudes, tastes, word-play and wisdom. Some are of today and some are of then, but the main thing remains the main thing – an interesting "hard-to-box" fusion of afro folk, afroblues and afro jazz."
Cape Town resident Atiyyah Khan presents 'b.l.a.c.k.n.u.s.s', a message-charged set which digs deep and far. Khan is a journalist, researcher, event organiser and archivist, making her especially well positioned to deliver potent music from a myriad of sources.
Thuli Majozi, another vital energy hailing from Johannesburg, steps up with a beautiful set of Afrobeat in all its urgent, funky glory. Then it's left to Colombia's Madame Vacile to round things off – the Bogota-based DJ teases a simmering energy that glides between electronic club styles and high life without missing a beat, keeping the rhythm up front and bringing an infectious party energy steeped in the many sounds of Africa.
There was one pertinent question that came up when talking to Lakuti about her work on this programme – her decision to bill the programme as 'Black Womxn's Lives Matter'. I posed the question to her – should we use the term 'womxn' throughout this piece if that reflects your wishes and those of the people featured? Lakuti had this to say:
"With regards to womxn or women being appropriate or not, it recently came to my attention that even though the intention in using the word was to show inclusivity to trans women, some felt that this further othered them. Like everyone else I am learning, and the point is to listen to the trans community and every other marginalised person, respect their wishes and do everything we can to respect and fight alongside these communities. I have since asked a few trans friends. Some were happy with womxn and some were not."
Likewise, we here at IO are learning all the time too, and this particular education session was an especially illuminating one. You can find out a bit more about the DJs over at Refuge Worldwide.