IOMix009 // Dolenz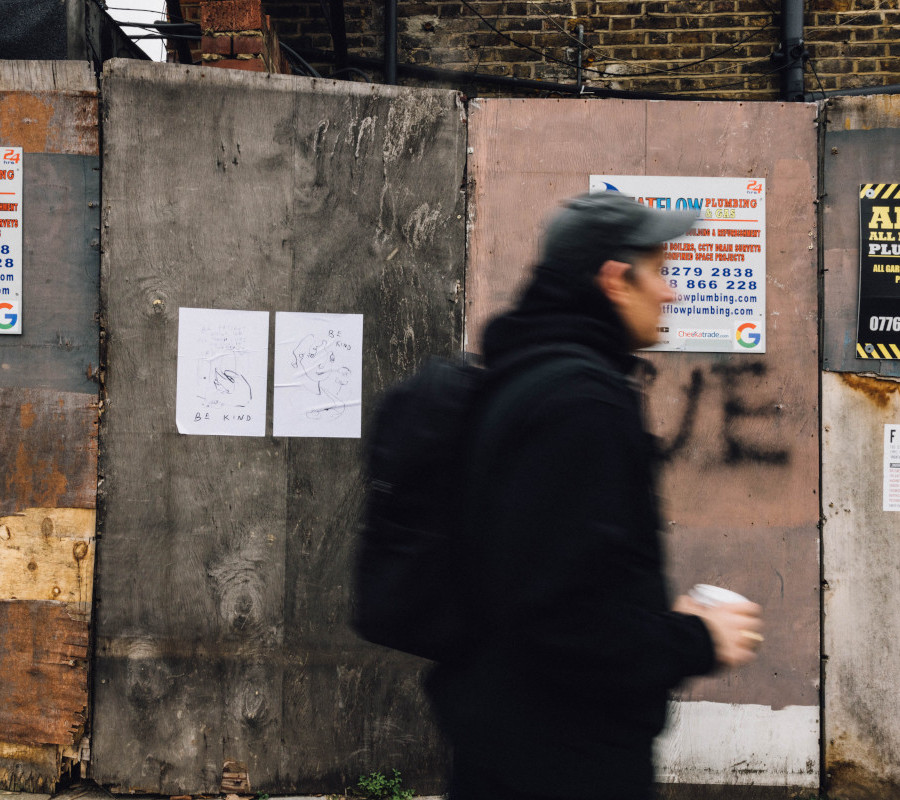 Treading the line between hip-hop, grime, dubstep, D&B and so much in between, Dolenz steps up to the IO Mix series with a masterful blend primed for your windows-down, bass-up city night drive.
Dolenz's affinity for beats pours out of what he does. It's no surprise to learn he was schooled in the days of tape trading, and that true-skool grit still carries through in his sound now. He's been dedicated for life, but Neil Andrews' own work as a producer has primarily come to light through his link up with dBridge's Exit Records, who released the debut Dolenz album Lingua Franca in 2019. There were EPs before and after, and most recently has been the arrival of the latest drop, Be Kind, a love-letter to the area of East London he lives in and the need for stronger communities in the face of globalisation and a political class who want us segregated and individualist. It's a knockout EP from a producer who keeps light on his toes, able to pivot the focus of his craft without losing that deep-rooted vibe which glues his various areas of investigation together.
Given his long-standing presence on NTS and elsewhere, we were hyped to ask Dolenz for a mix for IO and he's gone above and beyond in offering the kind of session which is destined for repeat plays. It comes across effortlessly on-point, gliding between styles with flair but never dipping in cold-crushin' energy, crying out for a car stacked out with subs but with more than enough detail to keep bringing new heat to your attention on each listen, with more than a few moments to pull out the gunfingers and shout, "oi!". Absolute class.
Hit play and read on for some insight from the man in charge of IOMix 009.
Thanks for laying down this ridiculously sick mix for us Dolenz. Like all your sets and shows it sounds way too dope to be off the cuff – do you plan these things out blend to blend or are you winging it?
Thanks for having me! If I'm recording a mix or doing a radio show I do plan it out in advance and practice if I can. When playing out I like to improv a bit more depending on where the crowd wants to go.
You manage to make the dots join between hip-hop, grime, dubstep etc in a very natural way – do you have a particular sound you're keen for which helps bind those styles together?
Er… I don't know really, some things just seem to work together. I'm a hip hop DJ at heart that plays all genres and being a hip hop DJ does force you into doing quick mixes and cuts, and that helps when mixing different genres and tempos. I also like to surprise people – I guess inspired by DJs like Kutmah and Gaslamp – throwing in random unexpected tunes, often to my detriment as no one can categorise what I play.
Are you always playing upfront or are we hearing plenty of older, deeply-dug gear in the mix here?
Depends how I feel really. I do have a good circle of producer friends who lace me with unreleased tracks, but yeah, I like to also throw in older bits for depth sometimes. Also good music is good music – it's easy to just play the latest bangers at gigs, and that's not really challenging for me.
As someone schooled on hip-hop mixtapes, how important is it to you to play things no one else has heard? Does that change with time?
I do like to dig out random psych soul, jazz and other bits but I also don't mind playing the classics that people know and love – too many DJs are in it to feed their own egos. I never meant to become a DJ, I just started collecting records and then no one in my town was playing what I liked so I kind of fell into it. Same with making beats, I always just did it for fun and then it got a bit more serious when I became part of a hip-hop crew.
The new EP on Exit is called Be Kind – a call out for communities to come together and support each other in big and small ways. It's an idea we can absolutely get behind here at IO. What's a random act of kindness you witnessed in your neighbourhood recently?
I wish I could but nothing comes to mind. A lot of people are stressed and struggling right now trying to deal with their own issues, so they're naturally wrapped up in their own existence – you can't blame them tbh.
It's nice to see you shouting out seminal rave spot Dungeons on the EP too – is it somewhere you got to experience first hand?
I did – I lived in Leyton back then and went to a couple of jungle / dnb nights. It was sick. I used to prefer those parties with the unsung hero DJs as they didn't play the predictable bangers you'd hear at the big events – something that aways stuck with me. Plus it was like £2 to get in I think.
If you were limited to your local area and could keep one dance as your weekly shockout, which one would it be? Feel free to lay down a list of residents too – no guests from out of town allowed!
It's not weekly – in fact it happens only once a year – but me and some friends throw a party called JAMuary where we invite dancers from all over Europe – mainly b-boys / b-girls but also other styles of dancing. It's honesty the best vibe with core DJs; Dolenz, Dan Jose, Emily Evans, Hector Plimmer, Rob Ricketts, Colectivo Futuro, Vesa, Ed Spoons and Mathias Linzatti. Special shout out to our resident band Smith & The Honey Badgers.
There seems to be a cat stuck in your mix around the six minute mark. Can you just confirm for us that it's alive and well and doesn't need letting out?
Ha – yeah that's actually my tune 'Howzer', not sure why I sampled a cat now. I'm more of a dog person…
Dolenz artist photo by Harvey Wallbanger.