Going back to Trip City
The world's first acid house novel, with its very own A Guy Called Gerald soundtrack, is getting reissued.
Back in 1988, the future for electronic music culture was unwritten. It was artists like Gerald Simpson that were helping push it along, largely by experimenting with new music technology and drawing on the legacy of Black American dance music. In the swirl of the nascent UK club culture, thinkers and dreamers were taking their mind-altering experiences from the weekend and channeling it into their work. Trevor Miller was one such person, who took the impetus from his rave adventures to write his first novel, Trip City. In the undefined spirit of the times, he had the idea to approach Simpson, best known as UK house pioneer A Guy Called Gerald, to produce a soundtrack which would be released alongside the book. Trip City was a DIY, cult affair with a limited run. Its launch party turned into a riot, and major film studios sniffed around options for a film version, but soon it was consigned to the annals of early UK rave history. As no stone gets left unturned in the universal quest to document and celebrate the acid house era, this unique, neo-noir novel and its accompanying soundtrack is getting a faithful reissue by Velocity Press.
Trip City came at an interesting time for Simpson – he'd just had his major breakthrough with 'Voodoo Ray', which still stands evergreen as one of the greatest house tracks of all time, and the Hot Lemonade album which followed it. Those seminal releases are now mired by Simpson's recent disclosure he never received royalties from the label, Rham Records. He's launching a legal campaign to reclaim the rights to his music, which you can support by heading here. He's not in a position to discuss the particulars of the dispute, but it's a good time to catch up with the UK house legend to reflect on this unique chapter in his career, when Simpson was looking to push his music forwards after two landmark releases.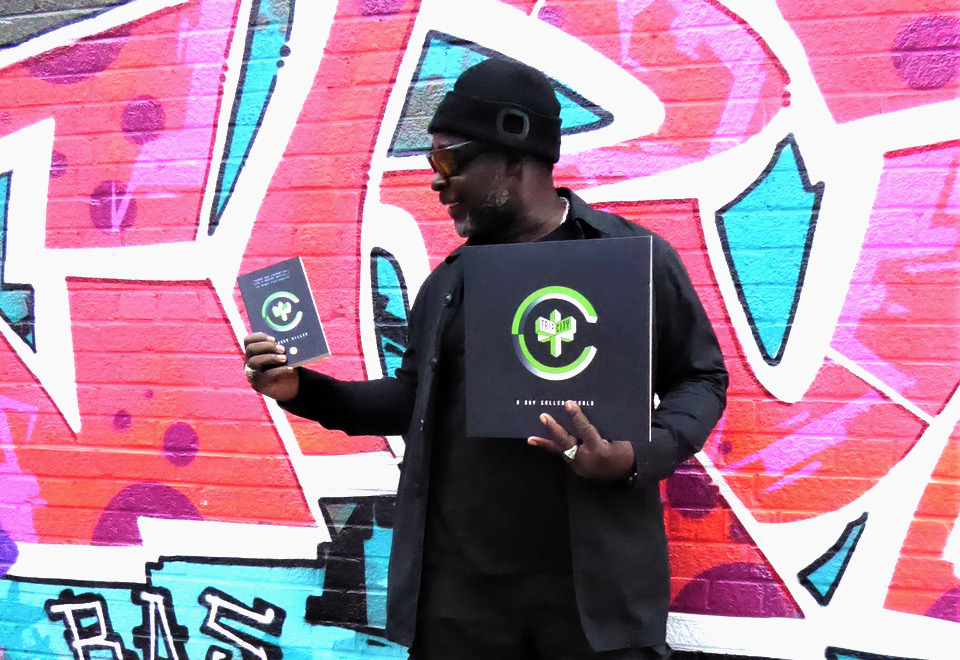 "Post 'Voodoo Ray' and Hot Lemonade, I was looking for different projects to get involved with," Simpson tells me as we catch up over Zoom. "The energy was like, 'wow, I've got a studio that I'm working with!' There wasn't much input coming from the label to go in a direction. And then Trip City appeared out of nowhere. Trevor sent me the manuscript and I just read the outlines, and I was like, 'wow, this really sounds like something I could get my teeth into.'"
Simpson's musical journey was still just beginning in 1988 – he was used to working with cheap or faulty drum machines and synths, and had only just progressed to using a sampler. On the Trip City soundtrack, on 'FX' in particular, you can hear him gleefully ripping sounds and stabs from cuts like Snap!'s 'The Power', depicting the energy of the fictional drug featured in the story. For Simpson, Trip City and the advent of sampling technology presented an opportunity to go beyond tinkering with hardware and create something with multi-layered meaning.
"Trevor [Miller] actually came to Moonraker, the studio where I was recording," Simpson recalls, "and actually that helped me see certain elements of the book through his eyes."
The limited means of the project meant Simpson was confined to making five tracks when he would have happily produced more. Alternative mixes of lead track 'Trip City' exist, and his ambition was to create more music for each scene, but there wasn't the space on the tape for it. In light of the reissue, surely there was an opportunity to revisit the project and expand on the ideas laid out the first time round?
"I think I'll have to wait for the movie!" Simpson laughs. "I was excited thinking about making new music for it, yeah, but they [Trevor Miller and Velocity Press] basically put energy on working with the original. I think if I changed anything too much, it would have taken away from their original story, and I respect that. Maybe they were scared, thinking I'd come back saying, 'Okay, this time it's jungle!'
"But if I had to expand on it now, there's so many different directions I could go in. We could totally go there. Create a virtual environment, and everything inside this world could have its own sound font, which could be sound bites from the original universe… I mean, I get lost thinking about all this stuff, I find it really exciting, just like I found doing the cassette for the book as exciting at that time."
VR experiences are but one small part of Simpson's interest in new tech – he also talks at length about the implications of blockchain in creating smart contracts to give artists greater control over the financial side of their work, and contrasts the prevailing idolization of old hardware sequencers with his desire for graphene sensors on his fingers to create beats. Still, Trip City marks an important development for an artist whose legacy has gone on to far and wide.
"Trip City, for me, was the next step in where I was going with the development of concepts in music – it put that idea into my head. Not just building tracks, but wanting to have a story behind the music."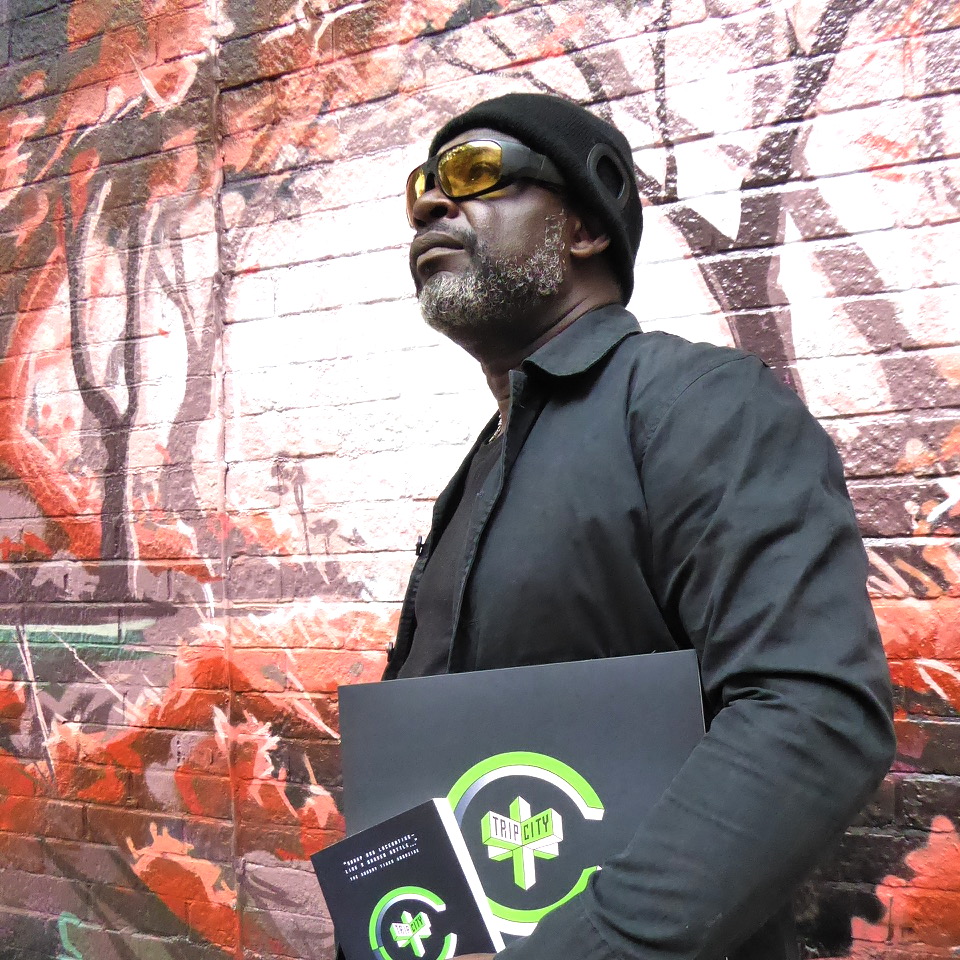 Trip City is available to order as a book and 12" vinyl single from Velocity Press.