Art of the Interlude: Scratcha DVA in conversation
Many great albums are peppered with short tangents which are easily overlooked. Most of the time, these momentary lapses only get due shine when you listen through the whole record, and even then it's easy to zone out before the next showstopper kicks in. It's worth thinking again about those skits and sketches though. Unconstrained by the creative conceit of a full-length composition, these interludes, and likewise intros and outros, can house the most interesting and personal ideas. They often contain words or field recordings – fragments of the artist's identity and surroundings.
London's grime and funky favourite Scratcha DVA – born Leon Smart – has been toying with these ideas for a while. He released an album entirely made up of interludes in 2018, and then followed up with Intro's and finally Outro's in August 2020. Scratcha explained to International Orange that he has long been a fan of these short pieces in other artists' work. They featured on his Hyperdub-signed album as DVA Hi:Emotions, NOTU_URONLINEU, as well as soundtracking the online promo videos he made for that release.
The three albums, self-released on his own DVA Music, are full of humour and an anything-goes attitude. Listening to Intro's, Interludes and Outro's feels somewhere between a series of albums and an audiobook story of Scratcha's life, with plenty of unknowing characters involved.

So, where did your interest in interludes start?
It was a mix of a few things. One of them was Kanye. He did these seven-track albums, one from himself, one from Nas, one from Teyana Taylor. People were complaining that they're not albums because they're just seven tracks. I was thinking 'these are dope, why are they not albums?' So I looked into it and the minimum requirement for an album according to the Grammys is fifteen minutes minimum, with at least five tracks. I go by the Grammys because I want a flippin' Grammy! I'm thinking 'OK!' If that's the minimum requirement, I'm gonna' make some albums.
I've always been into interludes and I like making them. My favourite album of all time is Redman's Muddy Waters, and Redman is an interlude don. In the past, I've said to artists who I've been working with 'I haven't got around to making that beat for your album but can I just make you some interludes instead?' They're always like 'What? Shut up!' So I decided to do an interlude project of my own.
How has the feedback been to them?
It's been really good, I don't think people expected it. After the good response to the first album, I wanted to do another one and it went from there. The way we've been doing release promo all these years sometimes bores the hell out of me. Going to PR, waiting, crossing your fingers, hoping DJs will play the tracks and see it on social media… I didn't wanna do that. So I made a radio station for it, a radio station which only plays interludes. I got the stream sorted, set up Interlude FM and got people to do sets on it. The music policy was that you can only play interludes, short tracks or interesting things of this nature. In between the shows, I would have adverts for my album.
Did the idea and love for interludes stem from your old Rinse FM show at all – the need to fill space with short jingles and words?
In a way, yes. I was always able to do whatever I wanted on Rinse, so what I did on Interlude FM comes from a similar place. Back in the day, I played a whole set of music backwards on Rinse. There's a correlation with being able to go on the radio and play whatever you want, but other than that it's a separate thing.
Your album Pretty Ugly was all complete songs but on the DVA Hi:Emotions album, NOTU_URONLINEU, there are more interludes. Is that because you got into interludes more over the four years in between the albums, or because of stylistic differences between the aliases?
Well the Hi:Emotions albums was a story, a concept which originally started from an idea I had for a short film. I never got the funding to make the film but that album was the soundtrack and the interludes were part of it.
Listening to Interludes, Intro's and Outro's now, it does feel like an audiobook or a story more than an album.
Yeah, right. The first one was a moment in time. Certain bits in there – skits – were literally taken from my Rinse show. If you listen to the trilogy of albums from start to finish, it goes in ages, it goes along up until the present.
It goes until 2020, the interlude of our lives.
It's sad and I feel like Outros is a lot more sad. It's just how I was feeling at the time. Obviously it wasn't a conscious decision but I liked how it ended up coming about and finishing in a year like 2020.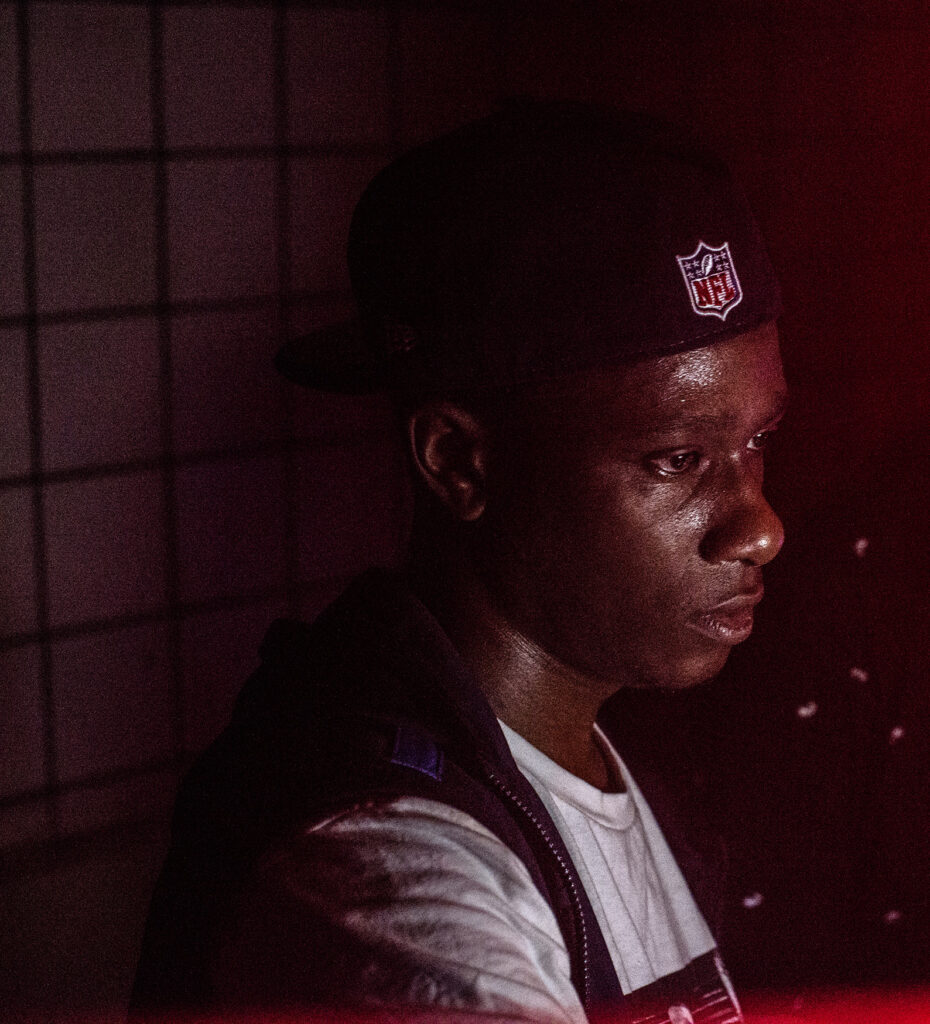 When you're making an intro, interlude or an outro, is it a different process?
No, it's just a short piece of music. Sometimes you can make a track and think "damn, this is too short, I can't use it," but you can.
I find a lot of Actress' and Dean Blunt's tracks are frustratingly short
That's another thing. Since about 2011, Dean Blunt has been very inspirational to me. Someone who will do whatever the hell he wants.
Do you get inspiration from Black Mirror as well? A couple of the track titles refer to it.
Fully. Charlie Brooker is mad, that whole series is crazy thought-provoking. I would love to know what he knows, 'cos he knows something! The track I made called 'Black Mirror', that was supposed to be my imaginary scene for the series. Hopefully it translates.
For some of the vocal interludes where you have friends or artists speaking, did they know they were being recorded or it's undercover?
None of them knew, no, but I obviously told them later. I had some other ones which didn't make it because I wasn't allowed to use them. I've actually got one with Wiley. I left the record button on when he was in the booth doing a track. He got a phone call and was arguing about the Wearing My Rolex deal. A massive argument, I've got the whole thing and I played chords on it.
I've got a recording of this phone call now so you can use it on your next album.
Haha! Nah, listen, I'm parking this one off. This is done. Not sure if it's a good or bad thing but I always do something and then leave it. You ain't getting Pretty Ugly or NOTU_URONLINEU from me again, and you're not getting Interludes from me again. The radio station was on air three times, to promote each album, but it's not coming back.
Were you using these short tracks in your sets?
Yeah a couple of times and I've been in clubs and heard DJs playing some of them, which was kinda weird.
I guess you didn't hear someone playing 'Techno Is Boring' or 'Techno Is Amazing'!
Well that is the truth. To be fair, I had already made 'Techno Is Boring' as a demo for NOTU_URONLINEU. It's techno to me and I thought I'd use it. Dunno if you saw that I did a poll on my social media, asking if people thought techno is boring or amazing. And it actually came back exactly 50/50. That's how I feel, so I had to have them on there, 'cos it's real talk.
I remember Mosca made a pisstake techno track in two hours and uploaded it to Soundcloud. There were people feeling it.
See what I mean! Crazy.
Do you have a favourite interlude ever?
Maybe Alicia Keys, the one Mala sampled, 'Feeling U, Feeling Me'. A few from Redman on Muddy Waters too. Today they are probably cancellable, but yeah.
________
Listen to Scratcha DVA Interludes, Intro's & Outro's [Trilogy] on Bandcamp here and his latest record here.
If you enjoyed this article please consider making a donation to International Orange