Avalon Means Paradise
Bertie Coyle heads to South Bermondsey to tell the story of a space dedicated to community, art and builder's breakfasts.
Starting in 1801, the Grand Surrey Canal slithered across South East London. It fell into disuse before being filled in and repurposed in the 1980s. Still, you can feel its presence – ornate bridges over Peckham back-alleys, brick Limekilns in Burgess Park, and grand viaducts over Bermondsey. Why do you think there are so many 'wharfs' in the tarmac plains of Southwark and Lewisham?
One segment was transformed into Surrey Canal Road, dotted on either side with factories and warehouses. The area came to be known as 'Surrey Canal' and since then little has changed. But now it's on the precipice of enormous change. Hanging on alongside studios, scrapyards and garages is a workers' cafe that happens to be one of London's most progressive arts and music spaces.
Named after a mystical island from the legend of King Arthur, Avalon Cafe stands on the concreted channels of London's industrial past and stares down the barrel of hypergentrification. I've been digging into what it takes to nurture such a place, and speculating on what the future might hold.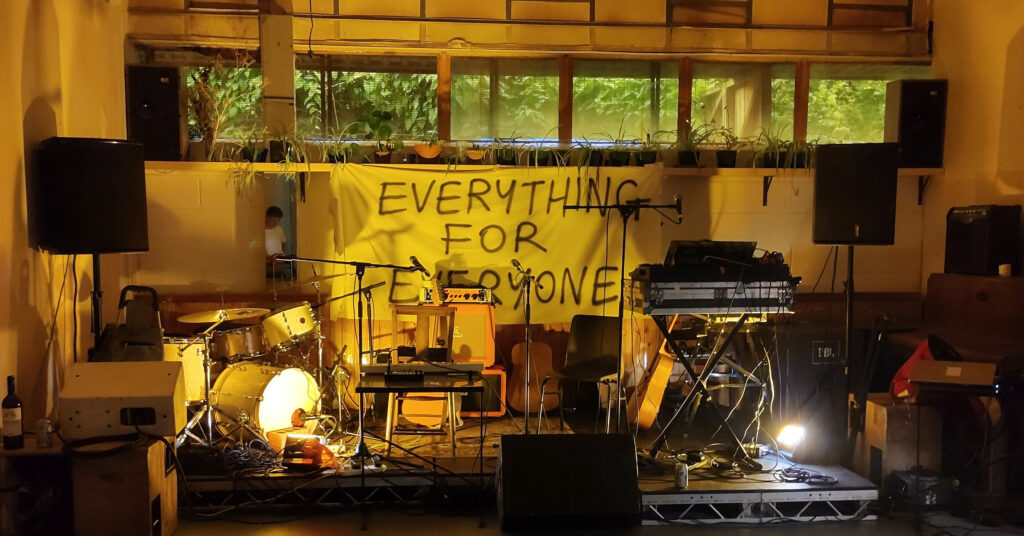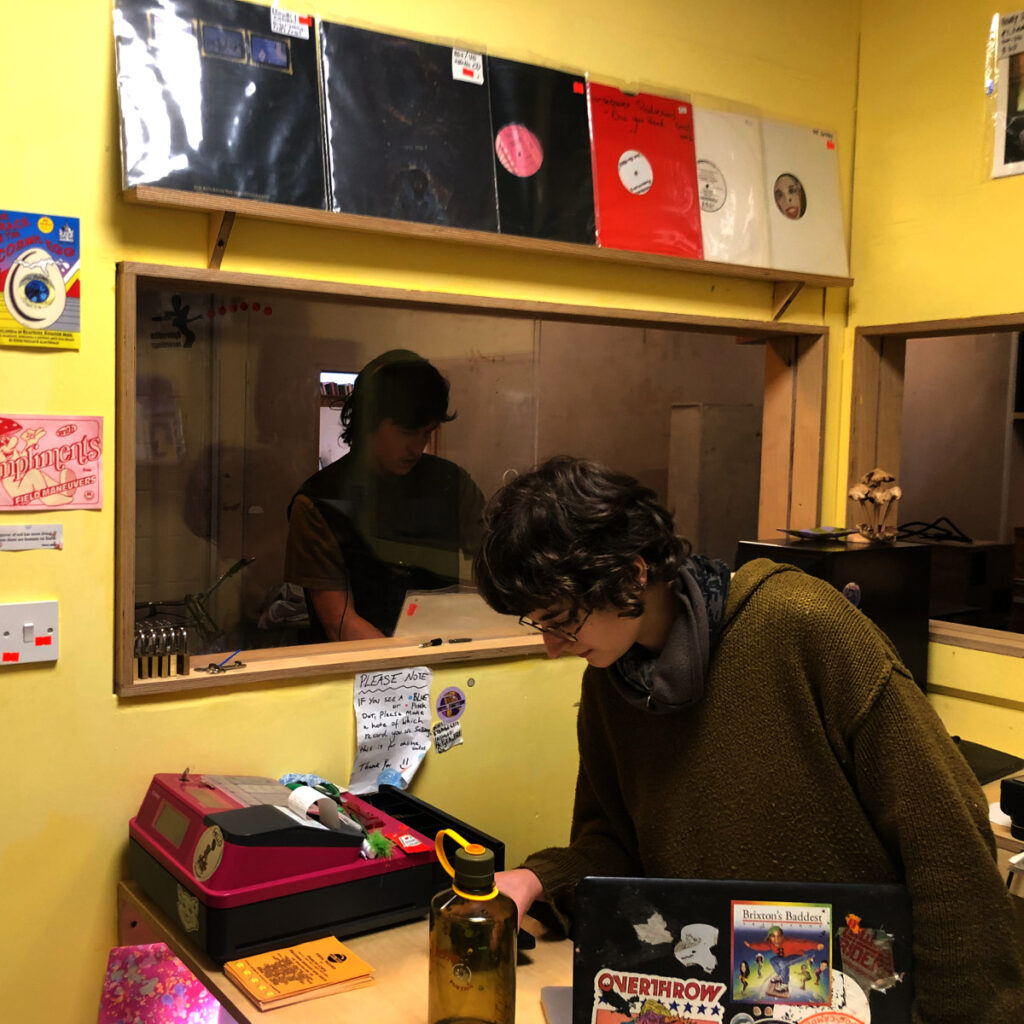 Vinyl Hunter
The first track of the day that Fizz plays will determine the scent that's mixed for the shop diffuser, using essential oils kept in a teal box beneath the counter. Today started with dub techno which called for an orange and clove mix, smoky citrus notes unfolding over the languid bassline.
We're stood in a hut hand-built into the corner of Avalon Cafe's backroom to accommodate this branch of Vinyl Hunter. At Fizz and (fellow crate digger) Luciano's encouragement, I play an Aqua remix from the £1 bin. With its wavering digi-pads and heartfelt vocals on the breakdown, we agree that it's a certified hug-your-mates tune; good material to have in the bag but best used conservatively.
Sitting down for a coffee with cafe managers Charles Stooke and Jess Curtis, they fill me in on Avalon's genesis. It was purpose-built as a workers canteen circa 1980. Preceding Avalon was Juno Cafe, a separate business but similar in many ways. It was such a beloved venue-caff, two local artists named releases after the place: Footshooter's Juno Café and Wordcolour's Juno Way EP. Sadly, Juno closed its doors during the first lockdown of 2020.
The location was squatted for a time by communist party crew Redtek. Their legacy was a stinking great rave, and an equally stinking pile of veggie sausages – Charles and Jess recall them with laughter. Once the dust had settled the Avalon team began regenerating the place. They managed to cram in a nifty kitchen, venue, studio space, and record shop. In true DIY fashion, they did much of the renovations and carpentry in-house.
The cafe opened for business in earnest in June 2021, after weathering a stressful period of lockdowns and conflicting regulations. Word got out fast – exhibitions, supper clubs, and gigs began to pop up and have been non-stop ever since. Fundraisers, benefits, and charitable projects (such as the Peckham Community Kitchen, a free meals initiative run out of Avalon by local chefs for a time) are a constant feature.
Charles tells me: "We want to just make an accessible and affordable space where people can come and realise their projects."
There's so much diversity and energy on offer that you can stop by Avalon almost any day of the week and sleepwalk into the heart of a vibrant scene you didn't even know existed.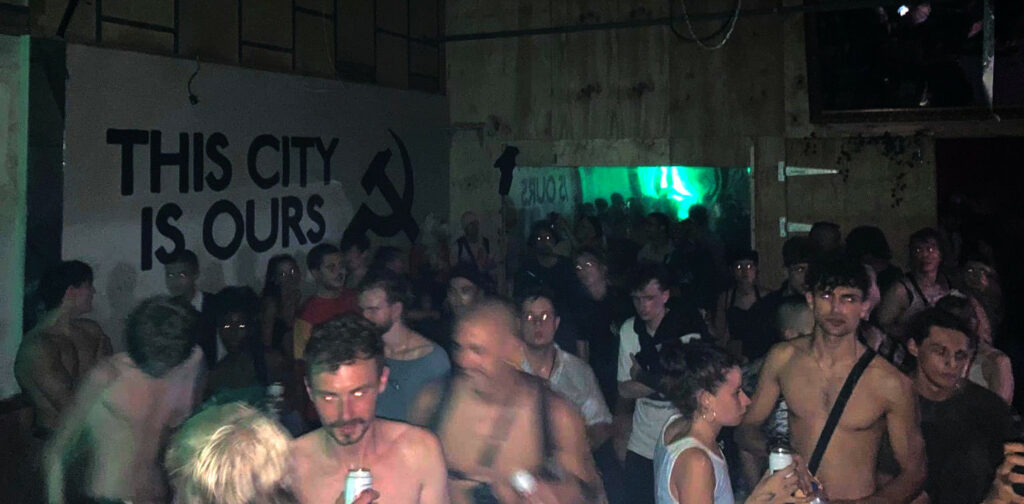 Later that day I return to the venue for a Fullpower Records EP launch, and the place is in full swing. Poet-rapper Cecil B is lying prone on the floor as if blissed-out, stoned on his bed. Soon he's on his feet for the chorus of single 'Locals', leading a chant of "We can't pay the rent! We can't pay the rent!" The sentiment resonates across the room. Between sets, the crowd spills out onto the terrace, whoops of greetings echoing into the estate as city-bound trains rattle overhead. Puffa jackets expand to fill the volume of the small venue.
OK Grow!
"The garden is a response to how difficult a city London is to live in – how hard it is to have a decent quality of life"
Paul McGann, gardener and owner of Avalon Cafe, doesn't fluff his words. London's housing market has become distorted by the state-sanctioned speculation casino, crushing renters underfoot.
He describes to me the ethos behind his community-driven projects:
"The amount that people are expected to pay for every square foot of space in London excludes activities that aren't profitable. The reason I get these temporary sites is because they come out of the market – there's this little fragment of time where you can do something that doesn't have to be driven by money."
This way of working isn't a choice, it's more like self-defence. He explains:

"I'd rather be setting up projects that could go on for years. Because the things that they're responding to aren't temporary needs – like space to grow vegetables and socialise, have exhibitions or poetry nights, screen films…"
It was an iron will that built Cafe Avalon. Charles puts it best: "Paul's amazing – he deals with these huge landowning firms, and he's just this guy… it's a David-and-Goliath sort of thing."
The spirit of the community gardens is what drives Avalon Cafe. You might call Avalon their commercial arm – the profit turned by the venue funds them. Before the cafe first opened in October 2020 (only to close immediately for another lockdown), Paul had plenty of experience in running DIY spaces, as the founder of iconic community garden-cum-events space Grow Tottenham and its predecessor Grow Elephant.
Last year, Southwark Council granted him a patch on the Aylesbury Estate off Old Kent Road. He named the new garden OK Grow. This was a great result for foodbanks and agri-curious locals. But it didn't have the capacity for the sort of on-site cafe or events space previous gardens enjoyed, which were essential to their funding.
However, passing through Surrey Canal one day he noticed that Juno Cafe had been boarded up…
Bards of Avalon
March 1 is St. David's day. This year it falls on a cold and wet Tuesday. Pitch black outside, the streetlights of suburban south London blur into myriad streaks of light, refracting in the rainwater that runs down the windows of the 343. My bus terminates on New Cross Road, and the grinding bustle here feels like a stark contrast to my destination: parallel-running Surrey Canal Road.
Avalon isn't easy to reach by public transport. However, there's no shortage of people who are happy to navigate the dimly lit backstreets and byways, arriving by bicycle or on foot. Tonight's fundraiser is run for mutual aid group Pie n Mash. True to their MO, there's a surfeit of homecooked food available – we have Welsh Cawl stew with crusty bread. Punters mill around double-parked with cups of soup and beer.
The crowd is mixed in age. Nike tech fleece hoodies are thrown over embroidered blouses and sturdy hiking boots, topped with moustaches and homespun haircuts. Trench coats, knitted balaclavas, and faded baseball caps stop the rain from getting in.
We catch some indie-folk spiked with mellifluous sax from Doggish, and Iconnia's show-stopping performance played on the fiddle, steel-string guitar, and stickered laptop. It ends with an instrumental encore that has the crowd breaking into a rowdy jig, spinning one another at the crook of arms until dizzy and bent double laughing.
Old Bermondsey becomes…
New Bermondsey is a sprawling development of luxury apartments stacked up in 40 storey towers. Or it will be, once it's been built on Surrey Canal Road. Ross McKendrick has directed a short film, Your Views Are Valuable To Us, chronicling his bureaucratic war of attrition against the project. I met with him to try and divine the neighbourhood's future.
He explains the development is a speculative project from Renewal, a private development company registered offshore to conceal its stakeholders. It was founded by the ex-Mayor of Lewisham, Dave Sullivan, and staffed by councillors. Lewisham Council has granted their colleagues state funding and promised to name a new Overground station after the project. So far they've waved through planning applications despite a raft of regulation breaches highlighted by Ross and other objectors.

Strictly speaking, Avalon Cafe isn't a part of this development. The railway embankment it backs onto is the project's border. Yet Avalon is owned by another property developer that's waiting for shadow-quango Renewal to sign off on the bulldozer hire. Avalon has the space for now, but there's no security to the lease. Once 'New Bermondsey' begins to emerge from the plans of architects and pocketbooks of developers, old Bermondsey and spaces like Avalon will be blown away like insignificant cobwebs.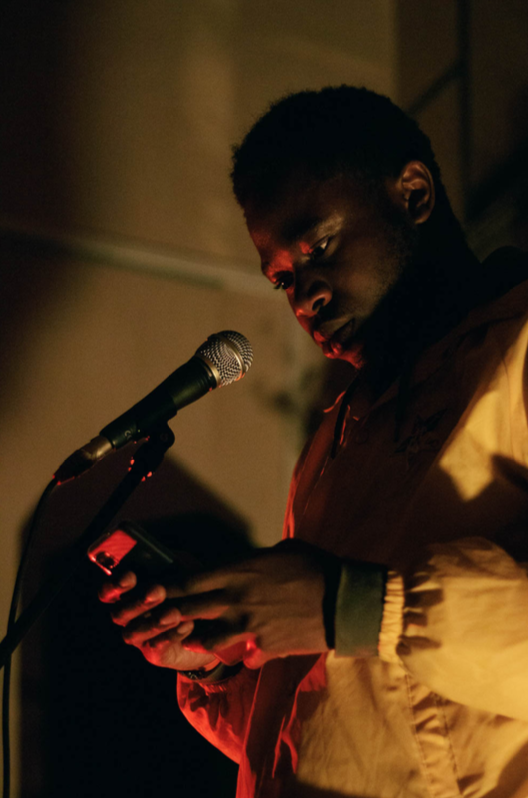 Gobjaw Poetry
Gobjaw Poetry is a companionable open-mic night offering performers publication in their riso-printed zine. The space is packed with chairs, attendees craning their necks to glimpse the readers. The poems cover greasy spoons, Peck'narm paranoia, peanuts, and goblins. They contain fragments of English, Welsh, Amharic, and Polari.
Readers and listeners are dressed to mingle rather than dance. The most prized accessory is a sleepy whippet named Rubin, whom the audience gladly holds onto while his owner steps up to perform.
Co-founder Lewie Magarshack tells me the event has exploded since moving to Avalon – "There's only so many poets you can listen to in one night," he remarks wryly. Are there other venues that could offer a space for events like Gobjaw? He shoots back – "Honestly, not as many as there should be."
The Vale of Avalon
Earlier I called Avalon's mythical namesake an island, but in the contradictory literature that makes up Arthurian legend, it's sometimes a valley. This suits Avalon Cafe, nestled into the valley cut across South East London by capitalist machinery. In medieval times, Avalon was considered a place of fruitfulness and healing; Avalon Cafe adds resilience and community to these values.
SELCHP is a suitably sexy name for the council facility over the road from Avalon. It takes London's waste and burns it to create electricity. If Avalon Cafe and its ilk are demolished for luxury flats that sit empty and drive up everyone else's rent then this process will happen in reverse – with electricity being destroyed to create waste.
Follow Avalon Cafe on Instagram and keep an eye on their listings, or swing by for a feed at Unit D, Juno Way, SE14 5RW.
Gobjaw Poetry photograph by David James McErlane.

If you enjoyed this article please consider making a donation to International Orange