Young Echo // At Strange Brew
One of Bristol's finest creative collectives stage their first proper dance in the city's freshest art and music space.
'You're free!' they told us, when we clearly weren't.
As we attempt to mentally untangle ourselves from an 18-month web of enforced social anxiety and excessive screen time, it's up to us as dancers and the venues as our guardians to navigate this weird re-entry into nightlife. There seems to be a communal understanding that we need to exercise responsibility, to minimise the risks of stepping out when the pandemic is as omnipresent as it's ever been. Praise be for Strange Brew, Bristol's own beacon of hope and care in these psychologically fraught times. The city-centre space came to life in the summer of 2020, so we've not known it as a place from the before times, and it's blossomed creatively thanks to the tireless efforts of its team while trying to cope with massively reduced capacities, table service and all that other tedious stuff. If any space deserves to fully open up and find a steady footing, it's this one, and they've not held back on implementing a forthright COVID policy. The thoughtfulness of the community around the space feels like one to trust as well – no Leisure Suit Larrys faking tests or coming out with symptoms, or at least we hope…
Then throw into the mix Young Echo – the kind of collective who can nail a vibe completely smudged between a gig and a club. Yes, there will be a live PA from Ishan Sound with Rider Shafique on the mic, but maybe Kahn will warm the night up with punk and dub or Anina & guest might throw down some jungle at the end of the night. With a line-up speckled with intrigue and a track record of moody, head-nodding sessions with ample space, Young Echo's first full-fat outing at Strange Brew felt like the right level to pitch at for a return to the dancefloor. True to form, it was a night where expectations were a little bit pointless.
In the spacious surroundings of the main room, the Young Echo sound melted across its merry spectrum, and the crowd seemed at ease with the situation. Kahn's freewheeling selections seemed like a natural port from the earliest days of the collective's radio shows. Birthmark's downcast flow sat comfortably on O$VMV$M's ghostly loops. It was a treat to hear personal favourite 'Need U' from their second LP on Idle Hands drifting out over a proper system. Shafique sounded imperious as ever toasting over Ishan's buoyant strain of modernist steppas.
But this was also a night about reconnection, and the faces emerging from the lockdown fog. It was easy to forget how much the community aspect matters around these events, and here everyone was, in a space they'd all chipped in to help get off the ground. Strange Brew is the natural home for Bristol's DIY scene now, and that's realised no more acutely than in the backroom space, where Kinlaw's medieval myth and magic gathering Pheasantry have had carte blanche to do things for a whole month. From an overhead projector staging a fairy tale quest about the untimely demise of a patriarchal knight to errant tape loops of obscure chatter, it was a rag tag array of obscure ephemera pitched perfectly between solemn fascination and irreverence. Things reached a clangourous crescendo as Miles Bokeh and friends descended on synths from behind a veil, while oversized wooden swords and metal bars passed amongst the crowd. As the bars fell to the ground, kicked, spun and scattered around, the melodious din reached fever pitch with the noise from the machines. It was chaotic, cathartic, a bit silly but also oddly profound.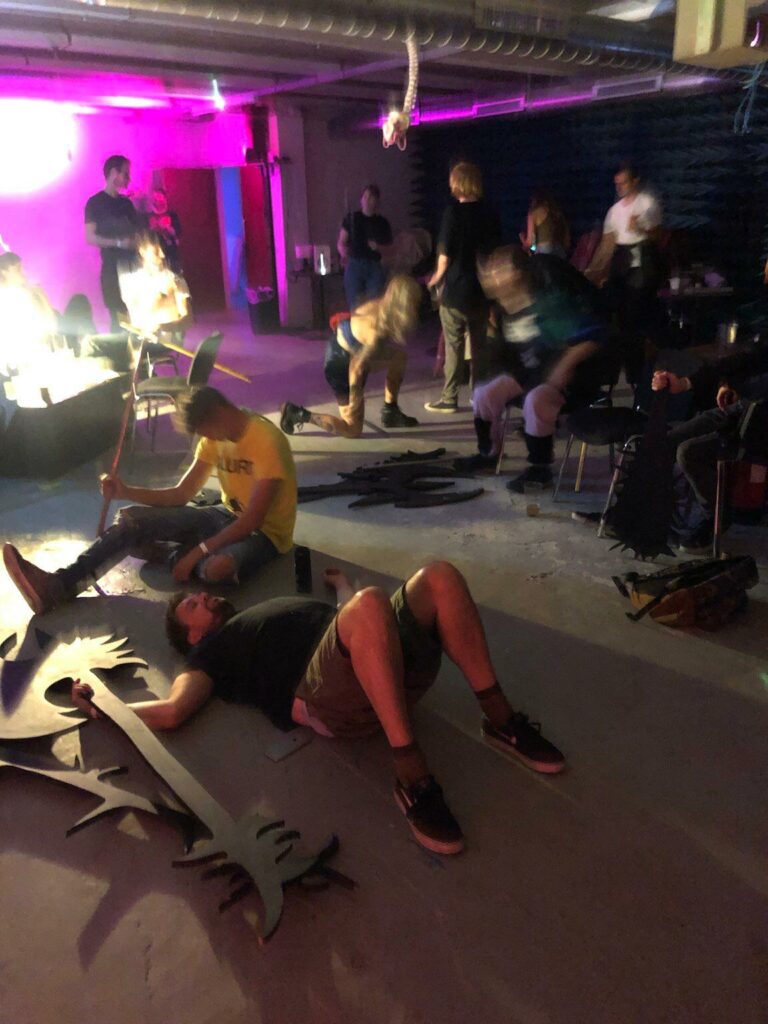 Out front, Anina & guest's burgeoning collaboration brought some uptempo heat to the night, while Alya L threw things wider open with an eclectic span of club sounds that stayed heavy on the low end and crooked on the rhythm. It felt like a pointed move by the Young Echo crew to create a more pronounced energy apex for their first trip back into the party, but there's a relaxed demeanour to the collective which offsets their creative intention. That canny blend fed into every aspect of the night, where being out amongst people felt easier than expected – where everyone had the same neuroses about mask wearing, bar queue etiquette and conversations over a system. Everything is weird, including us and the music, and that's OK.