Ulf Eriksson: Intonal incoming
Intonal began in 2015 as a quiet addition to the European leftfield electronic festival landscape. As the rise of the mega techno festival industrial complex was well underway, events like this and Meakusma seemed to offer an alternative, drawing on a supportive cultural funding climate and the increasing appetite and audience for experimental music to platform something more stimulating than 24 hour four-to-the-floor and mass marketed dancefloor experiences. Don't get us wrong, we love a rave and Intonal also offers quality beats in the midst of its line-ups, but in the face of full saturation of the festival circuit with identikit line-ups and aggressive DJ fees, it feels like festivals such as Intonal need to be celebrated as much as possible for adding to the culture and offering attendees something new and memorable.
The festival takes place in Malmö, the Swedish city situated just across the bridge from Danish capital Copenhagen. It was founded by Ulf Eriksson and the team he works with around the arts centre Inkonst. Eriksson was already established as a respected figure in leftfield techno when Intonal began, having steered the excellent Kontra-Musik label since 2005 and helping affirm the vitality of the 00s-10s Swedish techno scene. Kontra is still active – the recently released Porn Sword Tobacco (PST) 12" ELD upholds the label's quality control albeit as the first release in about two years. Most of Eriksson's focus these days rests on Inkonst and Intonal, and the imminent edition of the festival promises to be a special one.
The 2023 Intonal line-up is telling in its obscurity. Certainly, there are some names which will be familiar to clued-up musos, from Coby Sey's outsider grime variations to Fiedel's fierce, flamboyant kind of Berlin techno, Gavsborg's flag-flying for mutant dancehall and Laila Sakini's avant-classical experimentation. But there are a lot more names you might not be familiar with – rather than nodding at a tick-list of names you've followed and enjoyed for some time, isn't a festival more exciting when it promises discovery and the unexpected? Taking time to communicate the unique qualities of each of their bookings on the festival Instagram page, Intonal guarantees a degree of enlightenment (unless you're painfully up to speed with ALL MUSIC) in a more intimately sized, patient setting.
Organising a festival of any kind is no mean feat, but within the smaller scale operation of a team like Intonal, a lot is demanded of those who make it happen. As such, ahead of the event at the end of April, which starts on April 26 and runs over five nights, we thought it would be interesting to hear from Eriksson about the realities of running a festival like Intonal in the here and now.
While you're reading, why not spin some of the sets from the Intonal hook-up with radio partner Mutant Radio from Tbilisi?
How do you think Intonal fits in within the wider landscape of festivals in Europe / around the world right now?
Intonal I would say is unique in two ways. The program sometimes feels a bit freer than at other festivals. This is mainly because we are based in Malmö and our main audience is from here. This city is a very special place to work in. It is not a very hip place so to speak. I would say that trends happen here a bit later than elsewhere. Also, we should not forget that the modern music history of Sweden is mainly focused on pop and rock. This might sound contradictory, but the Malmö climate creates a certain curatorial freedom. Very few here will know the lineup beforehand anyway. Secondly Intonal is a small festival, much smaller than for instance Unsound. Still, we have kind of a big program. And most of it is presented in one house, divided on three stages. This creates a unique intimacy and a chance to really experience a lot of music. You can basically catch a little bit of everything if you plan your time well.
How do you view the general festival circuit? As someone organising a more niche event, I wondered if you have any strong opinions about the techno boom of the past decade or so.
I mean I am totally uninterested in the sound of big room techno. It is very dead music to me. Well made, but dead. When I started doing techno clubs in Malmö back in 2003, techno in general was considered very untrendy and of bad quality. And then over 10 years the genre has done a full circle. From unwanted, to super trendy and now I would say it is unhip, generic, and again considered as low-quality music. But this commercialization of the genre has also led to interesting new sounds that strive away from the generic. So, music will always survive and take interesting new turns.
Do you have a particular approach when it comes to selecting artists to appear?
We are not in a position to think or conceptualise. I wish. Intonal is a result of hard work, experience, and a lot of coincidence. Me and my college Emanuel usually joke about Intonal being booked and done with the left hand while working with other things. A joke, but there is also a lot of truth to it. We work hard to make this happen. On so many levels. What is brought to the public is only the tip of an iceberg.
When there are so many festivals competing and sharing artists on line-ups, who can you point to from the 2023 edition who is particularly special or unique to Intonal?
We do quite a few world premieres. For instance, this year, financed by the Shape+ Platform, we've invited two international artists to work in residency with two local artists each, then premiering their work at the festival. For instance, we have Brussels-based artist Vica Pacheco who will be working together with trombonist Maria Bertel (Selvhenter) and the percussionist Ying-Hsueh Chen.
We also do a project where Portuguese producer Luis Pestana meets local musicians Rivet and double bass player Gregory Martin-Foss.
I also think the Laraaji show in St. Johannes church will be very special. There is a lot more, but I will stop here.
With pandemics, rising costs and more, how have the past few years been for you running Intonal and Inkonst overall?
It has been quite a messy and complicated period, but of course the Swedish support system has been of great help. A few chunks of so-called Covid crisis money has saved us, but we're not back at the same position as we were before the pandemic. We are of course also struggling the inflation like everyone else. Our standard joke is that working in this business is like living the myth of Sisyphus. You roll that stone up the hill, and then something unexpected happens, and you are back where you started.
With the rising costs involved in touring, travel and production, is it getting harder to make something as ambitious as Intonal work?
The future is uncertain, and I think to keep the festival on the same international level as now, will probably not work next year. Anyhow, our small team is very ambitious and we work hard finding money on all levels – local, regional, national, and international. So, in that sense we stand strong. In a way, to survive in this line work, you need to be one hell of a hustler with a very thick skin.
Does organising Intonal take precedence over your work running Kontra-Musik and DJing these days?
Kontra-Musik is more of a hobby project these days. I do not have the same time and energy to be as active as a DJ and releasing records, but I like to keep it alive. Kontra is very much a family affair these days. Running a label is hard work with very little, if any, financial gain, so working with friends is very important to make it meaningful.
I also curate a bit for other festivals, but nothing major. I have plans to start a new venue in Malmö, an under the radar spot. The city really needs it and it would be fun get back to basics a bit, but we will see how it develops. Malmö is not what it used to be when it comes to underground culture. The police do not seem to see the difference between organised crime and underground music activities.
As Intonal reaches a certain maturity as an event, are there particular moments of the week you especially get to enjoy?
Last year we got some home brewed booze from the Mutant Radio crew. It was basically very good 'cha-cha' as it is called in Georgia. Throughout the festival the core team gathered in the office for strengthening shots. Moments like that with the team I really appreciate. The team effort is the best part of the festival experience for me. The collective effort where everyone brings this impossible project over the finishing line. The Sundays are also great. Then we chill and really enjoy the music.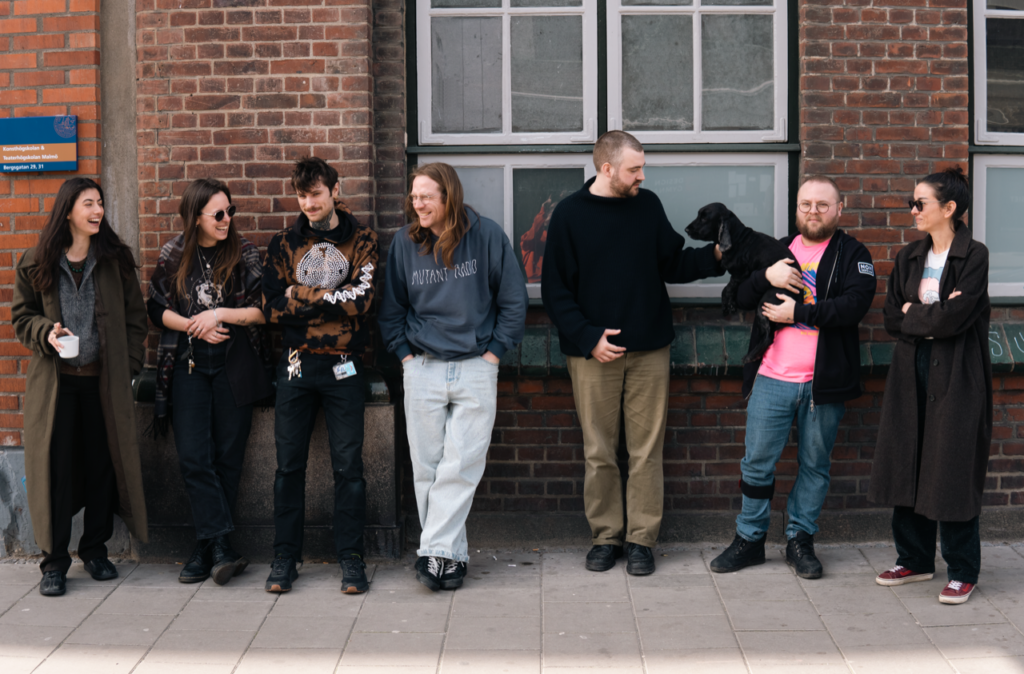 If you enjoyed this article please consider making a donation to International Orange