To The Bat Rave
Hanna Tuulikki and Tommy Perman have created Echo In The Dark – an art project that joins the dots between club music and the unique ultrasonic transmissions from bats. Claire Sawers sent out the signal to find out more.
The rave scene has always been a place for collective escape. Beyond the pleasure, hedonism and chance to unplug, it provides a space for community and optimism. From its roots in acid house culture in the late 80s, when unemployment levels soared and many grey industrial spaces lay empty under Thatcherism, raves offered a technicolour utopia; a liberating, euphoric realm. That rave space is one that artists Hanna Tuulikki and Tommy Perman want to explore in their art project Echo in the Dark, which they describe as "a love letter to dance music". The idea grew after British-Finnish artist, composer and vocalist Hanna Tuulikki was approached by Scottish arts centre Hospitalfield to study sounds made by bats. Hospitalfield has a lending library of bat detector equipment and was gathering echolocation sounds from communities in Arbroath, just north of Dundee, and around the UK.
Ultrasound signals from bats are too high pitched for human hearing, but once they've been converted into audible sound waves, Tuulikki found that the detailed rhythms, clicks and buzzes could easily be mistaken for samples of electronic dance music. "These natural sounds seemed to be echoing digital ones," she says. "I could hear these synthetic sounds in the recordings, like a Roland 303."
Tuulikki's previous work has focused on bird calls, seal songs and dances inspired by deer, often with a strong ecological theme. Being asked to make a new piece of music, using her voice fused with bat sounds, gave her an opportunity to revisit some green issues, this time in the context of raving.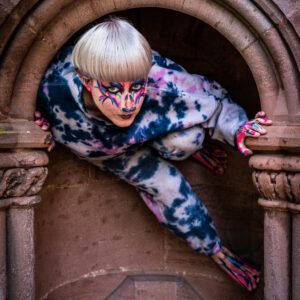 "It is argued by environmentalists that the pandemic was caused by our encroachment of habitats, causing coronavirus to jump, in a zoonotic spill-over, from bats to humans," explains Tuulikki, who says she welcomed the chance to create something joyful after spending a lot of time considering toxic masculinity and climate disaster. "Lost in the woods of a global pandemic and climate catastrophe, how can we transform our anxiety to collectively navigate the unknown journey ahead? Can dance music and raving offer a space to come together to harness hope for the future?"
Tuulikki approached Scottish producer Tommy Perman, who coincidentally had just finished a track called 'Pipistrellus', made using bat sounds recorded at his family's cottage in rural Perthshire. It features classical guitar from his friend, musician Morgan Szymanski and appears on their album Music For the Moon and Trees.
"There was some real synchronicity," says Perman. "I was deep in thought about all that as I'd just finished writing a funding application all about bats! I enjoyed how Hanna's Deer Dancer challenged toxic gender stereotypes and looked at different ways to be a man so I knew she'd be an excellent person to collaborate with. I don't identify at all with those old stereotypes. The first wave of rave music in the UK melted away those stereotypes – probably because of the drug use," he laughs. "But it needn't involve drug use. It no longer mattered what your identity was outside of that space, and that aspect is something I'm really excited about."
"It's interesting too that the origins of dance music come out of queer culture – Black queer culture," adds Tuulikki. "Dance music can be an amazing container for so many other things."
The project involved Tuulikki and Perman doing a residency at Hospitalfield, where they set up their laptops in the library of the 19th century stately home, a creative hub which has welcomed numerous artists and writers over the past century. They explored the samples and got to know more about different species of bats and the way they communicate. For example the brown long eared bat is known as the 'whispering bat' because of their very quiet echolocation sounds. They hunt insects by listening to their movements and have calls that sound like dry clicks.
Blending Tuulikki's voice with manipulated sounds from the bat recordings, they created an ephemeral human-bat hybrid world. An EP was launched on Blackford Hill in July, featuring a special guest appearance from philosopher Timothy Morton who has written extensively about ecological awareness and the 'anthropocene' era. "Timothy often speaks about how they get ideas about ecology from the club scene and raving," says Tuulikki. "We've sampled Timothy's words in our music and as a bit of a fangirl of theirs, I am over the moon!"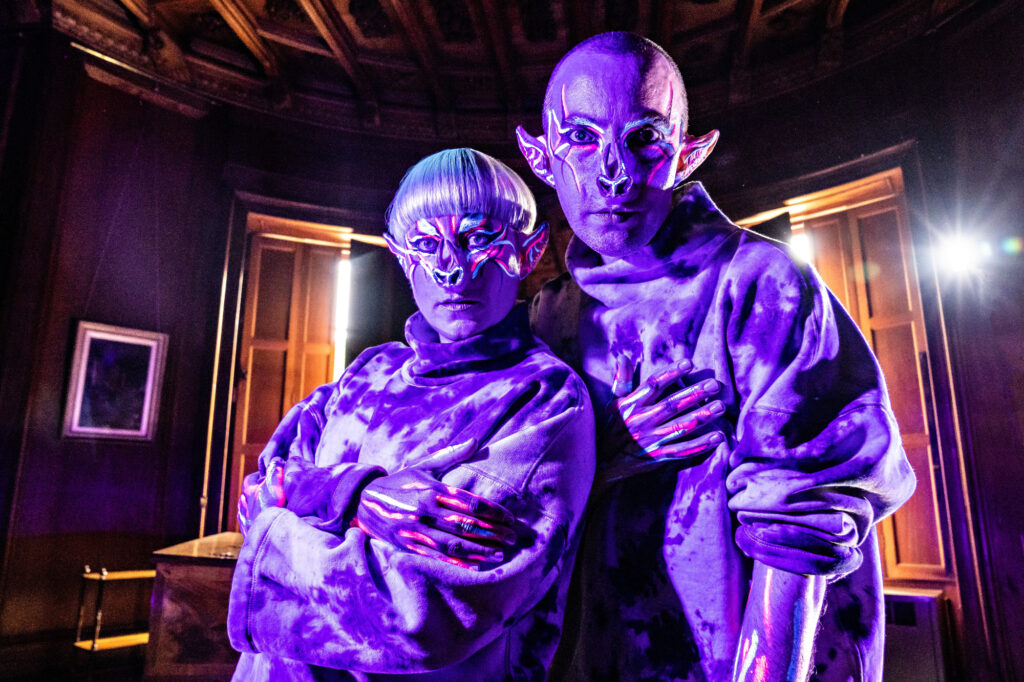 The sounds were always designed to be listened to by a live audience, and a series of Silent Bat Raves will take place this weekend at Hospitalfield. The raves feature dancers from Tayside and elsewhere in Scotland, and choreography from movement director Will Dickie who has previously toured his interactive work The Rave Space and worked on Tuulikki's Deer Dancer. Tie dye hoodies, light sensitive bum bags, laser beams and an outdoor dancefloor will all create a special atmosphere for the dusk events. Tuulikki and Perman will guide their audience through a selection of dance music tracks from Echo in the Dark on headphones and raving is encouraged.
"I love that notion of radical hope, or what the writer Rebecca Solnit called Hope in the Dark in her 2016 book," says Tuulikki. "We're considering some dark subjects, but creating work that's really rooted in joy." 
Echo in the Dark is a series of 'silent' bat raves taking place at Hospitalfield, Arbroath on the 8th, 9th and 10th September 2022. Click here for details. A 7" EP is available on Blackford Hill Audio.
If you enjoyed this article please consider making a donation to International Orange