Support thru sonics for Ukraine
Some labels and artists donating funds and offering advice on how to support Ukraine in defending itself against Putin's invasion.
It's still hard to fathom the horror of what's befallen the beautiful country of Ukraine in the past week. The idea that one despot can wreak so much carnage in opposition to the will of his own people, let alone everyone else, is truly terrifying. As the world observes from a distance, our means of helping are limited, but in these connected times we can at least funnel financial support to Ukraine in a variety of ways. With that in mind we're using this piece to platform a few labels and artists either running campaigns to donate Bandcamp fees or with useful advice about where to donate, including those from Ukraine and Russia as well. It's important to remember Putin's actions do not represent so many of the Russian people, not least our friends who remain part of the international music scene, and their courage to speak out comes with a heavy burden when living under a tyrant. No judgement from here to those who might not have spoken out so far. No doubt you've seen the footage of protesters in Moscow being dragged off by armed police. We stand with everyone affected by this senseless atrocity, and if any other useful moves present themselves, we'll speak up accordingly.

Worldwide unity above all else.
(thanks to The Quietus for some of the tips listed below).
Andy Stott – The Slow Ribbon

Manchester's maestro of artfully degraded techno and other less definable rhythmic thumps has pulled together a tape of unreleased, slow-moving jams from the past few years, on sale for just a week via Boomkat and with a limited digital release straight after, to raise funds quickly for Medical Aid Ukraine and the DEC Ukraine Humanitarian Appeal.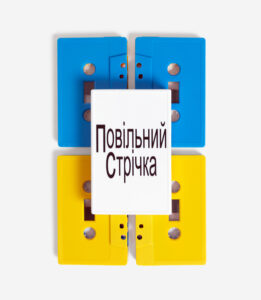 LNS – Misiats

As the wave of charity releases rises exponentially, this particular track has an added level of poignancy. Laura Sparrow, the Berlin-based, Canada-born producer recording as LNS has released her track 'Misiats' as a standalone download to raise money for World Central Kitchen and their Chefs For Ukraine initiative, ahead of its appearance on an EP later in the year. The reason for the specific track is really moving, and it lends the beautiful, Ukrainian folk-infused track a haunting power as Ukrainian's culture and very existence faces such hostility. Here's Sparrow's own words on her background in the Canadian-Ukrainian community:
"My Mother was born into an Ukrainian immigrant family in the rural Alberta community Derwent in Canada. This community was almost entirely Ukrainian, most who had come to Canada in the early 1900s on promise of land and to escape serfdom and later collectivism. They kept their language and traditions, remaining wholly Ukrainain. Despite being the second generation born in Canada, my Mother spoke nothing but Ukrainian until she was 6 years old.
I was raised with many of the same practices and feel more closely connected to the Ukrainian culture than any other. It is a distinct culture with roots thousands of years old that has survived countless invasions and attempts at erasure.
Slava Ukraini!
Heroyem Slava!"
Raves and streams

A host of fundraising events are being rolled out in the clubs and online, including:
Live right now (March 3, evening time until 10PM GMT) is a Streaming For Ukraine event featuring Fabio & Grooverider, Danielle b2b Parris, Jane Fitz & Carl Bacharach, Gilles Peterson & Jamz Supernova and more. Check it out and donate here.
A dance at Space 289 in London on March 11 featuring Giant Swan, Bok Bok (who crucially has family in Ukraine), DJ Bus Replacement Service and more – tickets and info here.
A party at Hidden in Manchester with a TBC line-up bringing together crews such as Homoelectric, Meat Free, Zutekh!, High Hoops and Kiss Me Again, taking place April 14. Tickets and more details of the causes supported here.
Berghain and Panorama Bar will be donating all proceeds from their grand reopening this weekend (March 5-6) to "grass roots organisations helping people on the ground in Ukraine & beyond with particular focus on LGBTIQ & BIPOC people" – find out more on their website.
Northern Electronics

Varg's Scandinavian techno bastion has pulled together a compilation entitled A Dove Has Spread Her Wings – Relief For Ukraine featuring 34 artists including Aasthma, Dasha Rush, Donato Dozzy, Chloe Lula. Also featured is Berlin-based artist Marco Shuttle, who has also released his own 4UKRAINE EP.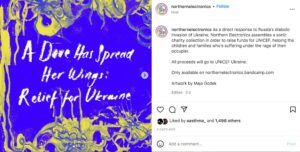 Skee Mask
The Ilian Tape-affiliated producer has pulled out a crop of 11 unreleased, unmastered archival tracks from 2015-2019 with all sales / proceeds going to humanitarian Ukraine relief organisations. Check them out on his Bandcamp.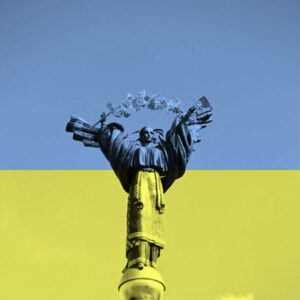 Erica Synths

The Latvian music production gear manufacturers are running a special sale on selected modules to raise money for Ukraine. "Erica Synths continues to stand with the people of Ukraine and will donate all of the income – both manufacturing costs and profit – from our sales of several instruments to humanitarian aid organizations helping in Ukraine and providing support where it is needed the most." So far they've donated nearly 20,000 euros.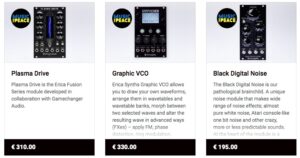 Monkeytown Records

Modeselektor's label is donating all proceeds from their sales on Bandcamp Friday March 4 to Ukrainian causes. Check their catalogue here.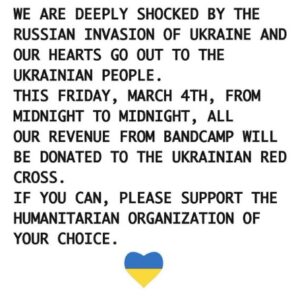 Buttechno

Pavel Milyakov, surely one of the leading lights of Russia's underground electronic music scene, has been forthright in his condemnation of the atrocities unfolding in Ukraine. All proceeds from Bandcamp sales for his Psyx label and his Buttechno project, as well as his own Patreon channel, are being donated to Ukrainian causes.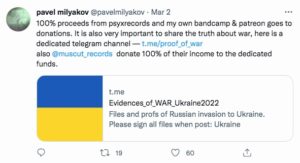 Gost Zvuk

The Moscow-based label have released the simply titled Stop The War! compilation – a 32-track name your price collection featuring artists from their circle such as S A D, Vlad Dobrovolski, Hoavi, Flaty, Perila and more. It's no mean feat for them to put their values on display like this, and it speaks volumes for the people running the label.
Muscut

Ukrainian label Muscut, run by Nikolaienko and dealing in tape-loop based experimentation, are donating all of their Bandcamp proceeds (and those from sub label Shukai) to Ukrainian causes. There's a rich world of music to explore in there – incredible compilations and stunning albums too.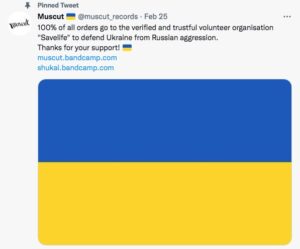 Dark Entries

Josh Cheon's West Coast label carries a monumental load of synthy seduction from across all manner of waves old and new, and they've announced a flash sale of test pressings from across their catalogue. In their words, "We've dug deep into the Dark Entries archives to offer one of kind test pressings from the past 11 years. Test pressings may include artwork, ephemera, photos, posters, badges and more! ALL sales go to Sphere based in Kharkiv. Working closely with queer community and young people, Sphere is actively engaged in queer organizing in the region and across Ukraine."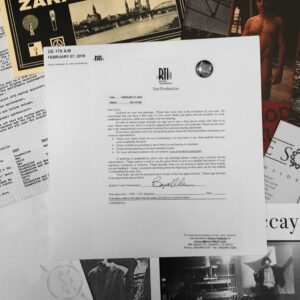 Industrial Coast

North Yorkshire's premier destination for uncompromising underground sonics is running a flash campaign to raise funds quickly, with over £800 already donated to two causes – The Red Cross Ukraine and Ocaleine (to help with the refugee influx in Poland). Today's sales will go towards the World Kitchen cause in Poland and Romania.
More

For a growing database of Ukrainian artists and labels you can support to send money directly into the country, check out this open-source spreadsheet. Jakub Knera also compiled a Buy Music Club list of recent releases from Ukraine.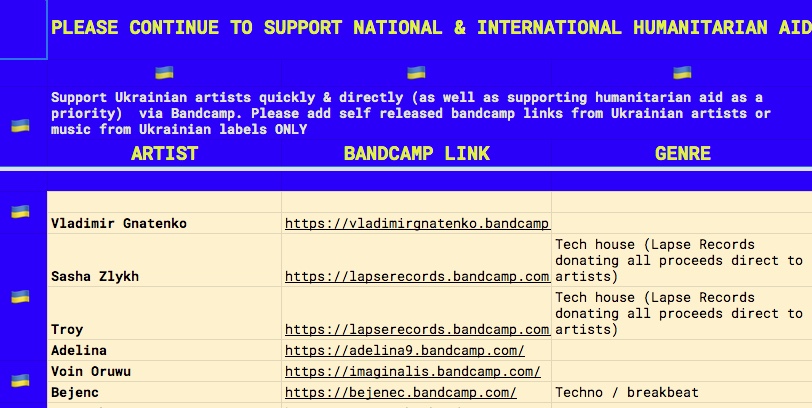 This is just a snapshot, and if we pick up on more causes and initiatives to shout about, we will do so in this news piece. For now, our hearts are with the brave people of Ukraine, and the hope for triumph over this barbarism.
If you enjoyed this article please consider making a donation to International Orange