New realities with Mars89 and Bokeh.tech
Bokeh Versions have branched out into VR to present Mars89's new album, New Dawn.
It's no secret the future of humanity lies in that bit of The Matrix where we're all chilling in slushy containers plugged into the mainframe via our cerebellum. Or wait… is that the bit that's already happening now? Either way, it's best to keep tabs on the operators with enough vision to embrace the possibilities of virtual realms, given we basically live on our sofas now. In the fits and starts of music culture entering into the simulated space, you might not have expected Bokeh Versions to be charging out in front. The Bristol-based label has displayed an affinity for the old-world charm of such quaint ephemera as dancehall mixtapes, cool t-shirts and dusted down psych-dub and heavy steppers repressed onto fat slabs of wax. They're also adept at flouting expectations. On that note, enter… Bokeh.Tech.
In its initial configuration, Bokeh.Tech is a virtual reality space being used to present Mars89's new album, New Dawn. The label calls this imagined Martian landscape 'a twisted advanced listening lobby', ahead of a release of the album via Bandcamp on March 11 (including a t-shirt and poster designed by regular Bokeh collaborator Patrick Savile.) The environment you can hear the album in was created by a team in Mexico centered around ZeYX Lab and Outside Gallery, and the release also features a poetic foreword by Horacio Warpola.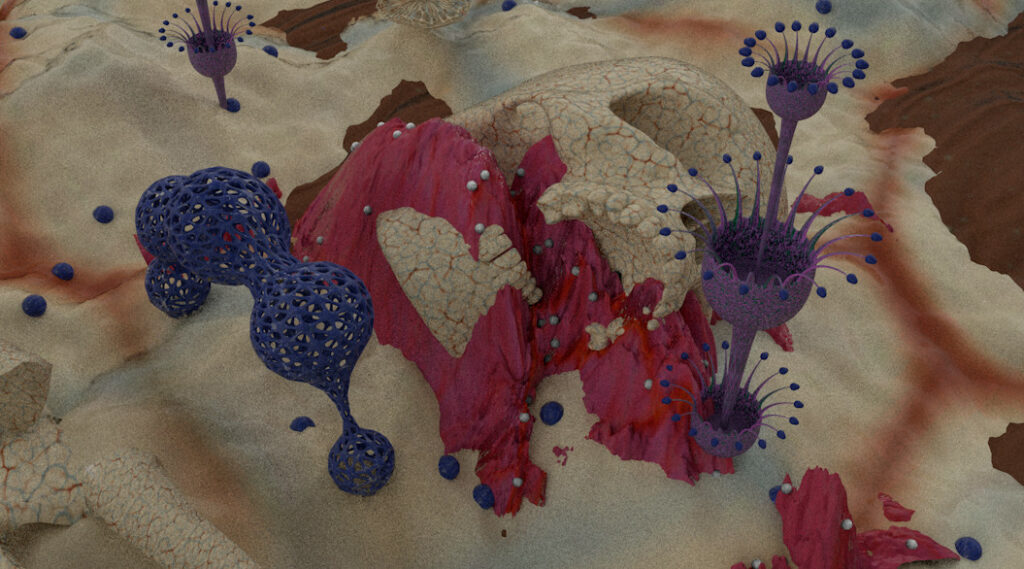 It's a bold step forward for Mars89, whose artistry and impact has been gathering pace since he first appeared on Bokeh back in 2017. He's become a presence in the Japanese fashion world thanks to a release for Jun Takahashi's Undercover imprint, and become a central figure in the Shibuya protest raves. Sonically, New Dawn finds him shaping up some of his most outré productions to date. His gift has always been in presenting new ideas within a soundsystem ethic, and the looming bass pressure and stark minimalism is still very much present, but now there's a more intense degree of atmospheric sculpting and cinematic drama which is perfect for the VR format.
Steps forward in the realm of interactive music presentation are being explored at a fervent pace right now. Berlin festival CTM have recently stepped up with Cyberia, their virtual 2021 edition which runs from February 13 – March 14, which operates as a multiplayer festival environment populated with digital artworks, "mercurial visuals and erratic sounds." For those not sporting hardware up to the cutting edge of immersive 3D environments, Andrew Pekler's Phantom Islands project from 2019 is an enjoyable demonstration of the merging between music and malleable environment that won't set fire to your CPU.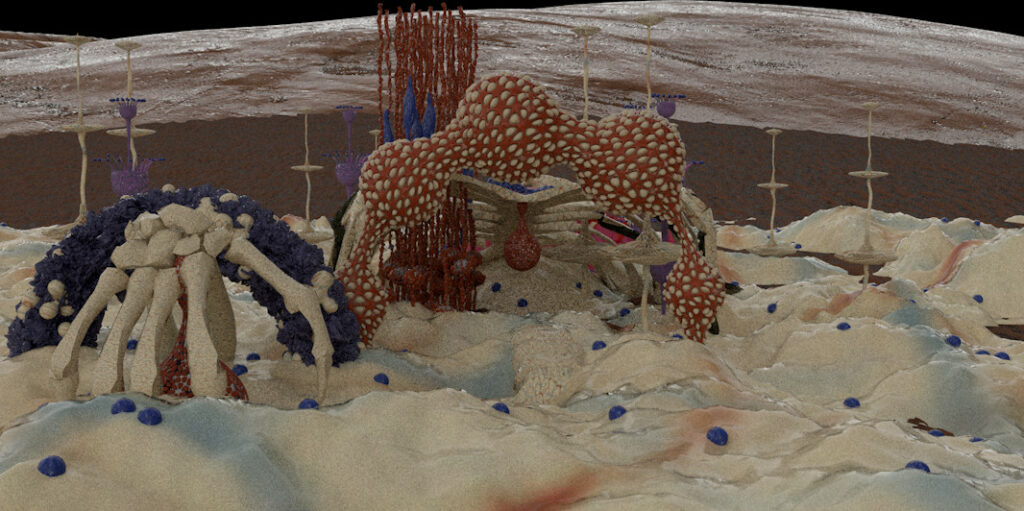 We tapped up Miles, 'Head of Research @ Bokeh Media Corp' to discuss the ideas behind Bokeh.Tech and New Dawn, and what it might mean for the future.
So, is Bokeh.Tech set to expand and encompass more releases and projects?
Yes, it's meant to act as a platform for Bokeh artists to explore 'non standard' ways of delivering their music, i.e. not tape/digi/vinyl/streaming/PR. While the first one was VR and we have a strong team for that now, we're also interested in 3D printing and making new musical objects. Wearable download codes?
What do you think is interesting about releasing music in a VR setting?
I think we used to be more immersed in music. I think VR is closer to this nostalgic listening experience of being a kid with a 2LP opened on the floor, reading the liner notes while I'm listening to the album and doing nothing else. Music had my full attention. Somewhere between then and now we lost our way a bit with tabbed browsing, 15s skippable audio and intrusive adverts. I think because of the time it requires, New Dawn will pass a lot of people by. But for people who want to escape a bit from this hyperADHD world, I think VR actually reclaims a deeper connection for music. It's something science fiction thought we'd have sorted by now!
Was the decision to push on with Bokeh.Tech inspired at all by the present pandemic situation and the lack of physical spaces to hear music? Or would it have happened anyway?
We started planning this about two years ago so it was more a response to Brexit to be honest. Physical media manufacturing and posting across borders was becoming a nightmare that's now reached its peak. Fuck you if you won't allow us to be together physically with our people from abroad, but if we can't even send them tapes in the mail any more, well that's war. Streaming and digi downloads also always seemed kinda soulless too. So what will fill this void? We had to try something, if only to keep Bokeh alive for our artists and interesting for another five years. On a positive note, it's also an act of wanting to do something bold and different and forward and future. It's definitely taken on an added meaning with the current situation, but I never ever want this stuff to replace physical spaces. I think there's a danger that 'digital culture' just encourages more detachment from sorting our problems in the real world. That's a sickness that social media started.
Image credits: CGI and 3D modelling by ZexyLab: Daniel Bautista, Joek Estrada, Emmanuel Martínez and Salvador Herrera.