MI-EL // AIRD Tapes Vol. 1.3
(KINDRED)
One of the most exciting DJs in London lays down a mixtape for KINDRED full of intention, identity and intensity.
Chatting on Instagram, MI-EL (Melissa Fund) prefaces her mix cassette to me in a muted, matter-of-fact tone. Her messages land in my inbox without capitalisation, showing she's disabled her stock phone settings. Small signals of personality like this will always reflect on an artist's creative practice. In MI-EL's case, it shows her refusal to be categorised, or to have any angle of her self-expression decided for her.
Of course, to come up so resolutely as a DJ, visual artist and co-booker for the seminal South London club Venue MOT Unit 18, one needs to show more than just a bit of independent thinking. On that note, I'm struck by how clearly little, if none, of MI-EL's promotion occurs in the PR cycle of hell. Her community is her own, and it stands on its own two feet, resting somewhere between Surrey Canal Road, Farringdon, and Instagram. This mix comes to AIRD Tapes, a new label set up by Scar, one of the co-founders of the also relatively fresh-faced Clerkenwell dance music emporium, KINDRED. MI-EL is a fierce proponent of what has become known as the "queering" of electronic music. In other words, she's part of reclamation of the body by queer, black and minority artists, via a musical palette that doesn't rest on a single sound or laurel. There is constant rotation in MI-EL's music, much like how the healthiest systems through history have relied on principles of fluidity, not rigidity.
"i got asked to record this at a point when i had just made the decision to start using mixes as a way of expressing myself honestly and more deliberately – by which i guess i mean committing to playing from a place of feeling," says MI-EL. "it features some field recordings from my time in my ancestral home in bukavu, interview excerpts with nina simone and productions from some of the most exciting artists on my radar right now (slikback, grove, locked club, 4str0, diessa, nazar)."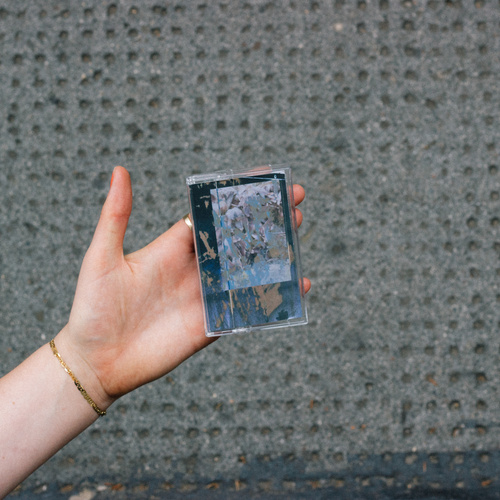 Unlike the generally fast pace of her DJ sets (you can usually find her residently disc-whirling bootylicious heaters at MOT), MI-EL's mix paces itself with the patience of an ox. From the off, rather than jumping straight into bodybass Batu bangers like 'I Own Your Energy' or apocalyptic post-grime bits like Diessa's 'The Belfry' (tunes which do come later), we're more locked into a sense of enamourment. And that's thanks to a nearly 10 minute cavern of looming ambience: the gusty haze that is Om Unit's 'Rolling Stock'. Plunging us into this ambient soundworld, offshooting from the murky world of halftime, implies MI-EL's more danceable fruits are only worth biting into if we're willing to ground ourselves, or lose ourselves, in the soils below.
The mix is emotionally heavy, blending bass interludes, spoken word snippets, and ambiences from artists adjacent to her scene of choice (think Keep Hush, Big Dyke Energy, Late Night Shopper). While there are no end of bangers – take 'Not A Crossing' by Giant Swan, or 'Shadow' by Southbound rapper Grove – there are moments of fantastic downtime. The whispered mutterings of "179" open into LCY's 'Decay', which contains the mournful stringwork of fellow artist Opus. It reminds us more of sublime landscape music, than the enclosed four-wallses of MOT, Ormside or The Cause.
But its ominous, bass-heavy tones eventually match the gloomy vibe of most of these ramshackle yet remarkable clubs – all spaces in which MI-EL has become a local staple. These venues are facing constant threats amid London's cost of living crisis, not to mention the lack of decentralized governance models that allow creative hubs like them to thrive. MI-EL's tape, on that view, is a rallying cry for hope for safe spaces like them – her homes.
A Bukavu prayer appears on the A. When we imagine it as a prayer for England, it cuts through our collective psyches, a scythelike chant for change. The B, meanwhile, cycles through an array of absolute mind-melters: Slikback's 'RUKIA', Locked Club's 'Memphis Mumbai Tool' and Simo Cell's 'Balandbeat'. With their ballys and muscles, Locked Club are emblems of the brawny vigour dance music needs. But this is still tempered by a sobering recording of Nina Simone, to round off: "Everybody is half dead. Everybody avoids everybody… all I'm trying to do all the time is just open people up so that they can build themselves and let them be open to somebody else."
It's easier said than done to find the sort of openness MI-EL and Simone promote in a city like London, but MOT is where it's still at. The last straight-up club tune she includes is by Ploy – '5G Bats'. Ploy's night Deaf Test found its home at MOT, and stays there, despite the producer having gone deaf in one ear. There's a nice symbolism in that; even though he has one of the worst kinds of disabilities a musician can face, he can still call London his home for music. And the natural push-pull of '5G Bats' – with its pressurized batida and dancehall influences – fits well with MI-EL's queering.
And that's what makes her first mixtape special. There's not just thought, but real emotional intent informed by MI-EL's sense of place, poured into every selection.
If you enjoyed this article please consider making a donation to International Orange