IOMix006 // Brunson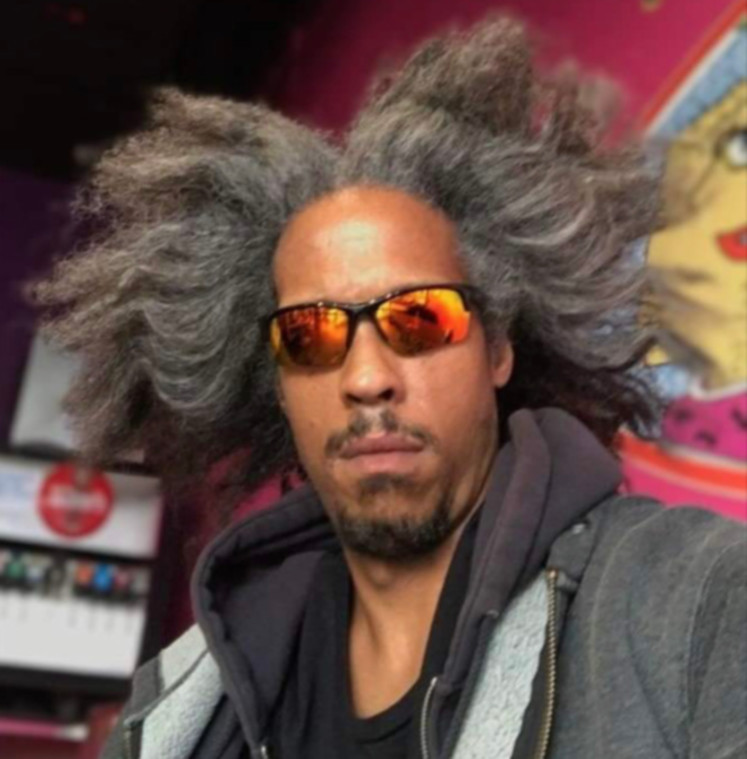 Strap yourselves in for a blistering two-hour masterclass in US rave-minded techno done the true-skool way, beaming from Denver via distant nebulae and straight into your cerebellum courtesy of recent Tresor signing Brunson.
There's an infinite number of different ways to approach playing techno, depending on the energy you're seeking to transmit. As Gerald Brunson demonstrates on his mix for IO, one such way is the blistering high-tempo quick mix assault – something synonymous with the fabled Midwest rave scene in the US and parties like Drop Bass Network's Furthur (where Brunson is a regular feature).
Immersed in the culture since the mid 90s, Brunson is perhaps best known these days as The Acid Jakal, running the Dance Sacred label and agency (which also looks after Aux 88's Keith Tucker, Suburban Knight and other such legends). As he prepares to release the Hug Your Friends EP on Tresor, we hit him up for a mix and he shelled down this absolute monster workout. A mix of two halves, it gives you a serious shot in the arm of hi-octane techno with oodles of classics slammed in with true underground oddities. In the art of the rapid blend, nothing sounds like you've ever heard it before. Read on below for some insight into the world(s) Brunson comes from, and fire up a heavy dose of rave-ready firepower from a DJ that can absolutely be called the real deal.  
Thanks a lot for sending the mix in. It's pretty intense. Can you describe the situation when you were recording it, because it sounds like a battlefield…
Interesting you say that, I actually recorded this when the USA was balls deep in riots and COVID due to the George Floyd protests igniting across America. The mix is based around the Underground Resistance track 'Riot'. I felt it really encapsulated the vibe at the time when I mixed it like that. I also have the second part that deals with healing and new growth from old decay, which hints at some of the reform that came afterwards. No work, lots of friends dying and civil rights unrest with the possibility of global catastrophe is the vibe here. Also, 'The Seawolf' is not 'Free Bird', mix that fucker like your life depended on it.
Is your style always turned up to 11 or do you have slow jams in your repertoire as well?
Yeah I'm pretty much 'all gas, no brakes' all day everyday, I'm actually opening for Wajeed July 8 in Denver, Colorado and I can only play uplifting Detroit house vibes, whereas I usually play anything I want from Jim Reeves to Nasenbluten. I've got other modes, but those modes are also dialled into the 11/12 setting in their own right.
Whereabouts in the Midwest are you? Do you get much opportunity to play this sort of set out at parties or raves?
I don't play out too much in the States, mainly EU/UK, but I do fuck with Drop Bass Network. I headlined one of their Furthur festivals and our set was a complete and utter failure, but we're family so I've DJ'd for them several times after and they love it when I go harder than this mix and play gabber and jungle.
Have you historically been connected with the Midwest rave scene? What's the wildest thing you ever saw at an illegal party?
I've been raving in Colorado since 1995, started throwing parties in 97. I've seen some shit, but the wildest thing… I'd say my rave I threw in my town after Biden passed the anti-rave act, the sheriffs were really blown away by my anti-drug, extremely serious nature. I explained, 'I open portals, this ain't no bullshit candy raver OD situation.' The officers later came up to me and shook my hand, saying they'd never seen a party like it. The next day it was described in the local paper as, "rave runs without hitch." That was wild as fuck to me.
What's your preferred scenario to DJ in?
The room is full of techno / D&B enthusiasts and newcomers interested in the sacred craft of mixing or dance. The space is what it needs to be, whether it's packed or open. I'll DJ to an empty room as I'm only here in my body form – I'm elsewhere when I DJ or play live. Everyone is ready to teleport to neither here nor there, preferably not on cocaine or ketamine.
It's fair to say the influence of Underground Resistance looms in your craft – when did you first receive the signals from Mad Mike and co?
The first UR track I heard was on a DJ II tape I got in 1996. It had 'Electronic Warfare' on it, but it was mixed with West Coast breaks, East Coast garage and a hint of trance. I was not very aware of UR back then and never knew who made that track until like 2008 when I met Mike! We just did not get a lot of techno here in Colorado until Preston started being about Detroit and had Stacey Pullen for his Norad club opening in 2012.
What other Midwest techno legends would you like to give a shout out to?
Freddy Fresh, Kurt, Aaron Carl, Doman, Suburban Knight, Michigan Synth Works, ravers in general. Zana Smith though is the unsung life and soul of Detroit – she has not only opened doors for several people but created whole structures that included doors that could be opened as well, since before 1984. Zana also owns Spectacles in Detroit – I encourage everyone to drop in and say hi.
What's your recommended dietary intake before an Acid Jakal / Brunson acid techno marathon?
Lots of water and stretching. If you're seeing me at a Drop Bass party I'm gonna be playing until I have to catch my flight, so lots of carbs, plenty of rest leading up to my set. I think you should consume as many hugs as possible from friends and strangers around you before, during and after the set. I suggest making strong eye contact while smiling, exclaiming excitement and hugging during high points of the set as well, so you really remember what was happening at that point.
What would you rather play – pinball or Pac-Man?
So cool you asked – Pac-Man. I'm a Pac-Man freak. I've been playing since I was three years old. I found a VR Pac-Man in Las Vegas and played that for 18 hours straight. I'm not violent, but did get into a brawl in 99 with this shit-talking hip-hop DJ. I was DJing, and to meet his standards I put my Aphex Twin 'Pac-Man (Ghost Mix)' on 33 RPM and did hip-hop tricks with it, and he was still talking shit and went to break my record, and it turned into a giant house brawl.
DJ gig challenge: would you rather have four decks with stripped bare wires on a dodgy multi-plug extension in a rain sodden tent or two decks but one of them can only play 'Barbie Girl' by Aqua?
So I missed one Richie Hawtin set at Club Beta and he seemed to not be vibing it as it was a Chad bottle service club. He played 'Barbie Girl' and I think if I would have been there I would have been negatively affected and lost interest in techno. In my youth I would have picked the rain gig but after playing a Model 500 show in Kiev and getting electrocuted by 240v I'm gonna pass on both… I just don't have anything to prove and really only play if the set up is meeting my bare requirements. I can't damage my records or my hearing.