EP/64: Fleeting Disorientation
EP/64 is the improvised, psychedelically charged industrial monster of Dali de Saint Paul's making. It's a perpetually changing band that will play only 64 concerts, and with each new collaborator a new head grows. Bella Spratley met with de Saint Paul as the project careered towards its conclusion.
EP/64 were well-described as "high stakes" by Bristol promoters The Grey Area, who hosted episode 61 at The People's Republic of Stokes Croft in February. The gig saw the core members – vocalist Dali and drummer Dan Johnson – joined by local band The Evil Usses for a jump down the rabbit hole of psychedelic jazz-rock. It was a sonic shift from EP/64's event one year earlier at The Island, which was a cranking industrial trip lined with unnerving cackles projected from Mat Knight's 3D speakers. Episode 62 of EP/64 happened on April 17, 2022 with Tom Bugs at D-unit, Ashton Gate, and the penultimate episode 63 takes place May 2 at New River Studios in Harringay, North London. The grand finale will take place at the totemic Arnolfini from Friday to Saturday May 27-28, promised to be two days of mischief to please Dionysus, the Greek god of the party.
In its final form, EP/64 will welcome as many collaborators as possible back who have joined the changing band over the six years since its inception in 2016. The community around the project, born out of consistent anarchic improvisation, will create new groups. Everyone is invited, and whilst some past collaborators aren't able to attend from France and Greece, it promises to be a busy line-up. Dali and Dan will open on the Friday night, while Saturday workshops will be run by artists including the videographer from episode 61, local sound artist Matt Davis and instrument inventors Copper Sounds. As DIY as the events before it, this micro-festival finale sports all the characteristics of Bristol's independent music scene – a scene which EP/64 very much emerged from..
True to its name, the highly ephemeral project takes living in the moment to the extreme, hurtling into each performance with no prior "calculation," as Dali puts it. Characterised by sonic disorientation, ritualistic drums and guitar or synth drones overlaid with circling vocals that often descend into screams, this is not for the faint hearted. In its first edition, the vocalist called out in her trance-inducing tone, "I don't know where I'm going". EP/64 can feel like walking blindfolded but Dali smartly reminded us: that's what life is. In the supportive hands of the Bristol music scene though, it's a journey we can enjoy.
Talking about her beginnings at the Cube Microplex improv nights that finally gave her the confidence to pick up a microphone, Dali poignantly shared, "[Here] you are made to understand that no matter what you do, it will be good, it will be accepted". Yet EP/64 has been more than just accepted, with a cult following that sees the events sell out regularly as Bristol's underground scene clamours for the fleeting moment of noise submersion at the heart of the project. In her improvised screams and lyrics Dali carries a glint of kick-writing, taking the baton from the Beat writers who in turn likely received their knee-jerk technique from French surrealist écriture automatique. In a previous interview Dali shared she started making music for the first time in Bristol because she felt welcome to create without thinking, but interestingly, writing without thinking still relates to her roots in France.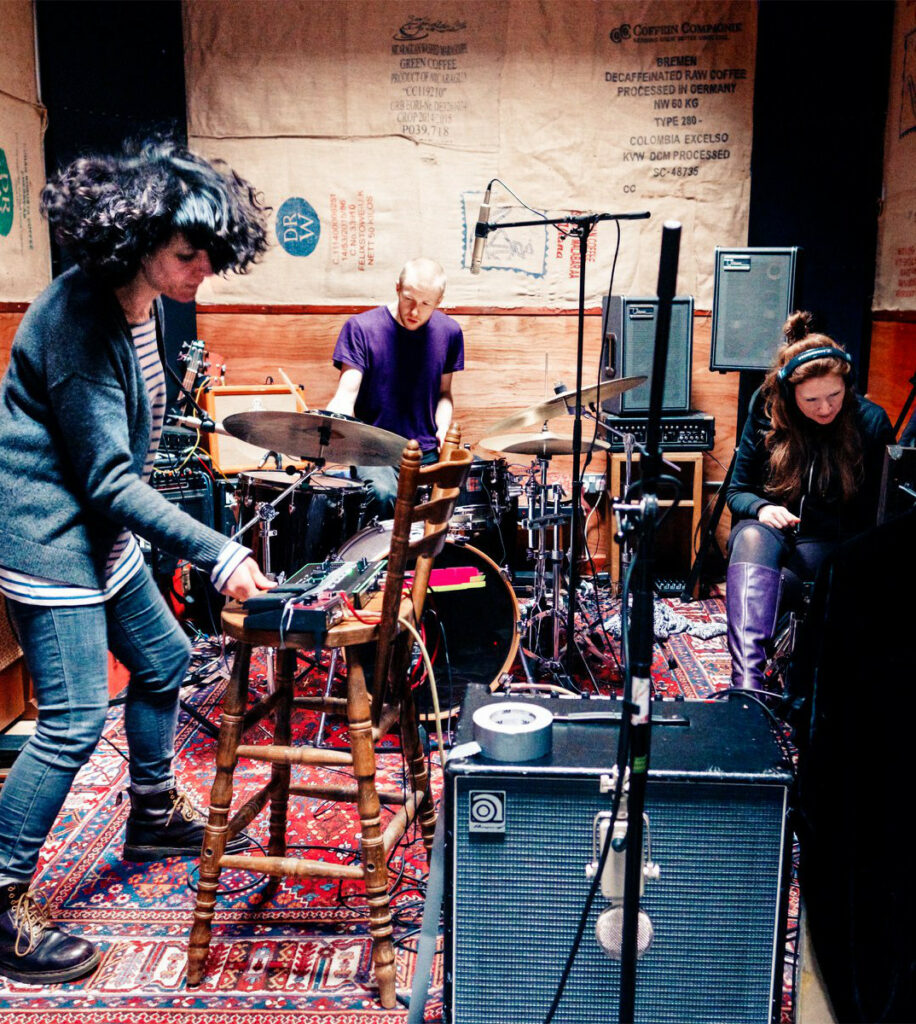 The musician grew up in Lyon, singing for fun as a child with her sisters and visiting relatives in Morocco where the percussion at events like weddings became an enduring inspiration. She enthused, "I guarantee you, if you go to a wedding there, you'll go out of your mind. Listen to the traditional music, it's so edgy."
The lilting quality of Moroccan music comes out in Dali's vocals, warped through synths stretched out like a string. Trance is a common theme too. Whilst her Bristol contemporaries in Avon Terror Corps might reference the local legends such as the giant Goram in Franco Franco's EP Fat Come, Dali taps into ancient eastern rhythms. She giggled, "For me, contrary to others, I don't research mythology since maybe I am actually part of it."
Far from egotistical though, Dali is a fierce defender of a horizontally structured band that doesn't want to put itself physically or ideologically above the crowd nor one another. Collaborators like drummer Dan extend the percussive core of the band by entering thumping trances during EP/64 shows that step the line between ancient and contemporary. Furthermore, Dali avoids being centre stage – which harks back to her early performances hidden behind a curtain in The Cube Orchestra due to a serious case of shyness, now overcome after more than eight years of performing. Instilled with confidence from the scene that supports her, she makes a strategic choice to never mark herself out as a band leader, leaving the door wide open for anarchy.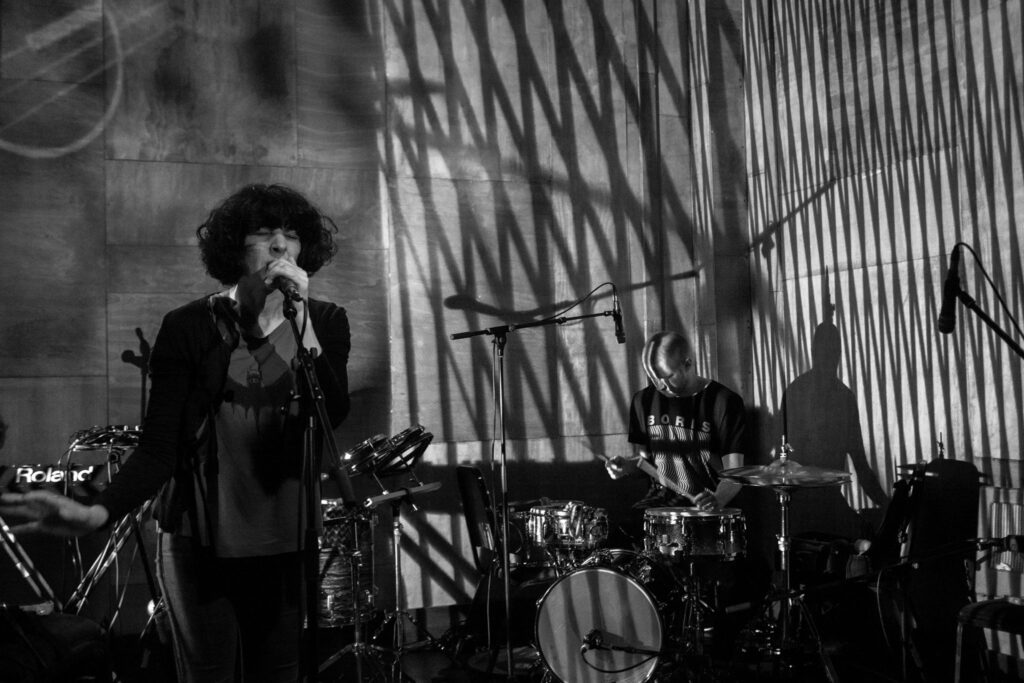 Dali's other projects include Harrga with Miguel Prado, whose albums Héroïques Animaux de la Misère (Avon Terror Corps) and Femmes d'Intérieur (Takuroku) respectively deal in issues of migration and domestic abuse against women. Viridian Ensemble is a womxn's collective exploring feminine tropes and improvising in response to Laura Phillips' 16mm film projections. By way of contrast, EP/64 is a place for collective joy and catharsis. Dali remembered at the end of their last show (episode 61) everyone – crowd and band – started screaming together. The moment of release even left her with a lost voice. It was the first day of the war in Ukraine and it was on everyone's minds, as it continues to be. Whilst not intentionally political, Dali remembers "in any art form it's hard to be completely detached from the political experience of living together. It goes back to the Greeks; the etymology of the word politics comes from the word for living together."
So, how does the community of EP/64 propose we live together? In band structure they draw an anarchic vision of uncompromising equality. In sound, Dali's powerful shouts and screams makes like the feminist author Virginie Despentes to prove feminine self-protective violence exists and is essential to cultivate. For those of us looking on in astonishment, the fleeting whirlwind reminds us to take a breath and be in the moment around us.
All EP/64 live photos by Simon Holliday (except the last one, which is by Owen Chambers).
If you enjoyed this article please consider making a donation to International Orange