Ekoplekz's Deluge of Grandeur
Even before 2020, over-saturation was a looming elephant in the room of modern music culture. Whether you're a streaming heathen or a righteous Bandcamper, there is no escaping the sheer excess the digital landscape provides in terms of music to listen to. It's a beautiful problem, of course, but especially in a year when gigs dropped to net zero, musicians have uploaded material to their own platforms as a desperate lifeline to help make ends meet. And let's not forget sheer accessibility means there are a lot more people making music and releasing it than there would have been 20 years ago.
Nick Edwards is no exception to this conundrum. As Ekoplekz, he's released a staggering amount of work across tapes, 12"s and the like. His early work displayed an affinity for noisy distortion and dubwise processing with an improvisatory feel – you can practically sense the releases spooling out of his studio at a steady rate. That's no sleight on the quality contained within, and Ekoplekz has evolved over time to encompass more pronounced synth parts, not least on wonderful LPs for Planet Mu such as Unfidelity and Bioprodukt. He can't help his productive rate if he has a studio system that works – in 2019 he released no less than four LPs.
"This year I fell into the 'Bandcamp Friday' wormhole, self-releasing digitally to increasingly diminishing levels of interest," he announced to his mailing list last week. "Despite putting out four albums and an EP on Bandcamp this year, I still have nearly 70 unreleased tracks recorded in 2020. I can honestly say I feel more creative and inspired now than ever."
But Edwards himself acknowledges the futility of constantly releasing more and more albums and EPs. There's a point at which even the best music loses all meaning through sheer volume. I might be an ardent Autechre fan, but their monolithic NTS Sessions, myriad of live recordings, Elseq 1-5 and godknowswhatelse are just too big to contemplate conquering. Just look at this for recent recorded output to wade through. I've quietly filed them away for retirement listening. Edwards' solution to the problem is a simple but brilliantly effective one – Landfill Electronikz.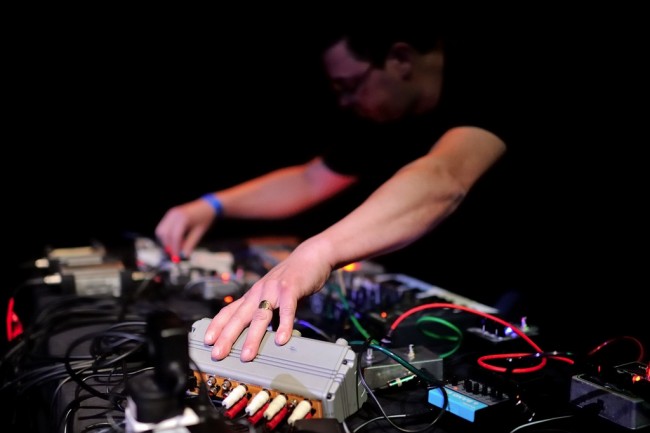 Set to transmit from January via Jonny Mugwump's new digital radio station The Neon Hospice at 9pm on the last Saturday of every month, Edwards' new monthly hour-long show will be made up of nothing but new, unreleased Ekoplekz productions. It's interesting how much the subtle shifting of context for the music changes the way the quantity of it is perceived. Perhaps removing the 'album' or 'EP' title takes away a little of the pomp and ceremony – radio has a tendency to be more background fodder after all – but it feels approachable and rooted in the present rather than expecting everyone to set aside three days without sleep to chomp through every sound.
"Do I need to explain the name?" Edwards posited. "Aside from the fact this will be a glorified 'sound dump', it recalls the term 'Landfill Indie' used to [denote] a wave of sound-alike guitar bands a few years ago. In 2020, unsigned electronic music is so prevalent across Soundcloud, YouTube, Bandcamp etc. that, regardless of merit, it's pretty much all landfill… and I acknowledge my own complicity in this."
It's certainly not the answer for everyone, and Edwards points out he's fortunate to not rely on music for his income. He simply wants an audience for his art like most other creative souls. Either way, in the rush to stay afloat not many people are addressing the issue of over-saturation in such an open and honest way, so kudos to the man like Ekoplekz for that. And, no doubt, the show will be full of fantastic music too.
You can keep up to date with news about Landfill Electronikz via Twitter and Instagram, and catch the first Landfill Electronikz show on January 30 at 9pm.