Controlled Chaos: in Dialogue with ASTRYD
Claire Sawers talks to ASTRYD, the duo behind queer-centric techno night Dialogue, about their journey creating a cosy and inviting space for themselves and their community.
Over the past five years, brothers Jo and Tomáš Kašpar have been putting on joyous, experimental, DIY parties in scuzzy venues in Bristol, London and beyond. Their queer-centric techno club night Dialogue is all about creating safe, inclusive spaces. They are both passionate about finding exciting alternatives to a straight, white, cis dominated scene that in the past they have found at best, uninspiring and at worst, toxic and threatening.
Past guests at Dialogue have included object blue, Akua, Giant Swan, Loraine James and Machine Woman. Celebrating under-appreciated LGBTQ+ acts and promoting and giving a platform to artists of colour has always been central to the existence of Dialogue. Over the years the project has evolved into a label with the brothers recently releasing their debut EP, Blind Summit, a gently banging collection of four dark, atmospheric techno tracks as the duo ASTRYD.
In March they launched the EP with an online party, a collaboration with the queer collective OPULENCE. This event blurred the lines of dancefloor culture and queer theory, with online talks and discussions followed by a virtual club night. ASTRYD streamed a live set alongside resident madison moore and AYA. In the future, the label plans to build a platform for sharing music from its core artists and residents. Dialogue is also developing ideas about creating a residency project to give artists access to affordable studio space. I caught up with them on Zoom to talk about activism, sex dungeons and new music . . .
What led you to set up the Dialogue nights?
Jo: After finishing school and an Art Foundation, I moved to Bristol with my close friend Joe Craven. At the time, we were playing together and gigging regularly as the duo Body Clocks. Joe and a few friends worked at this tiny cafe in Stokes Croft with a scuzzy basement, so we started putting on regular parties and decorating the whole place. Those were the early Dialogue nights really and they quickly began selling out. The scene was small but supportive and thriving. It was a really exciting time to be in Bristol. Howling Owl, Thorny and Timedance were all throwing amazing parties and Giant Swan were just starting to make a name for themselves. We took inspiration from a lot of these parties as well from collaborating and working with London collectives Tang, Siren and Berlin-based queer collective Room 4 Resistance.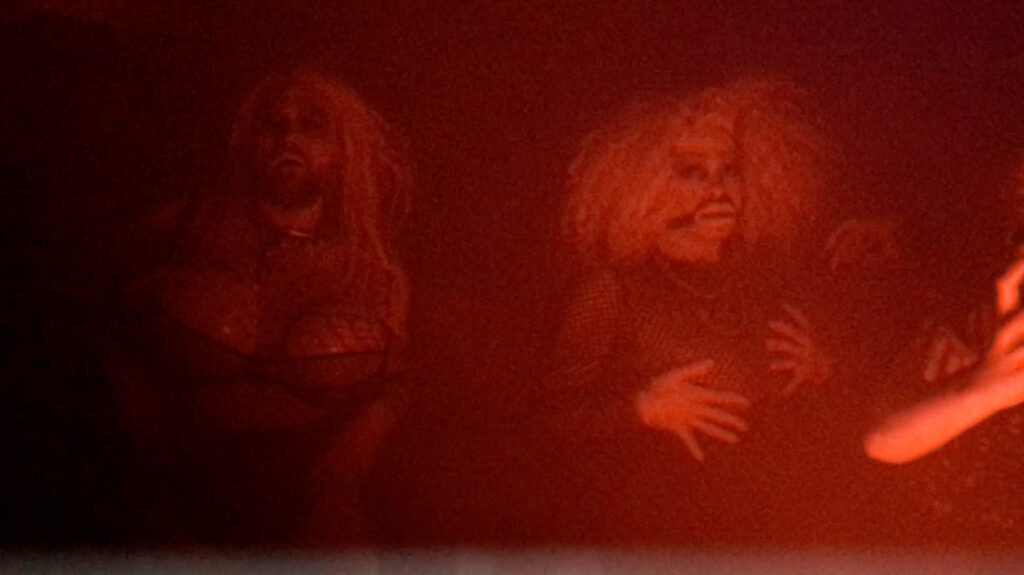 Can you describe what those early nights were like?
Jo: Some of them were pretty wild! We've always wanted to push ourselves and experiment with what club nights can be. As things evolved we moved to bigger venues. Unusual ones — art galleries, churches, small warehouses. We'd black out the windows and do projections, ask the audience to put on blindfolds, decorate the place with mannequins. It was about setting the tone, being playful and making it obvious that people weren't there just to get smashed.
Tomáš: Neither of us were into the laddie, macho vibe of mainstream techno nights here in the UK. We wanted to do something where people felt welcome, a safe space where we could create community. From the beginning we wanted to create these spaces. By booking exciting, queer and diverse acts, we quickly attracted an exciting crowd too. Jo always put so much love into the decor, the lights, everything.
What steps did you take to make it a safe space?
Jo: We'd speak to the bouncers at the beginning of the night and have signs throughout the venue explaining our zero tolerance policy to harassment. The toilets would all be unisex and we'd communicate venue access needs in advance for anyone with disabilities. Anyone involved in the night would be keeping an eye out for anyone getting too pissed or being disrespectful. But all these steps meant that the crowd we had were wonderful. The venue owners were always shocked by how lovely the extended Dialogue family was.
Tomáš: Running parties for us is about creating a sense of freedom and collective joy. Ensuring safety and respect is vital, and that can be missing from lots of nights. It's so important to have a framework in place for when boundaries are crossed.
In 2018 you moved into a new venue and things really kicked off, can you say a little more about that?
Jo: Joe came across this swingers club in an industrial estate in Bristol called Dare 2 Swing. The owners were wonderful. And people from the local queer/trans community already went there so it was familiar to some people. Sometimes we'd get in two or three days before a party so we could decorate everything and install all the sound systems. We'd show up with boxes of material to cover the walls and staircases, put strobe lights in, dot metal sculptures around the space. There were tons of little rooms and the corridors felt like a bit of a maze. There was a sex dungeon which was our Room 2 and we sometimes turned the kitchen upstairs into a third stage. We would have live acts/DJs on between the dungeon and main room as well as poetry, performance art and queer porn screenings hosted by The Palace International Film Festival in the kitchen. It was very queer and very open. And all in this scuzzy little venue on the edge of town.
It sounds a bit like spaces in Berlin, where there is a lot of freedom and trust, the opposite of some UK spaces where Boris Johnson has proposed to put plain clothes police officers into bars and clubs . . .
Tomáš: Exactly. We were definitely inspired by the atmosphere and freedom in Berlin clubs. It comes down to respect. Trusting people rather than being overly constrictive. People just push against that. It ruins things when there are bouncers crawling everywhere flashing lights in people's faces, and lots of rules about leaving drinks here, how to behave in the smoking area, that kind of thing. Finding a venue that had a very different ethos to that was really important for us.
Jo: We were aiming for 'controlled chaos' I guess.

Any particular highlights from the parties that you want to share?
Jo: Haha yeah! At our first party in the new venue, Bristol duo Bad Tracking blew the subs on the sound system in the dungeon. Our amazing sound engineer jumped straight in his van with Tomáš to find a replacement and within 30 minutes we had the new soundsystem up and running to continue their set. They ended up performing naked wearing ball-gags. That was stressful but definitely up there in my highlights. Seems like a different world to where things are at now.
You were obviously building up a good momentum when the lockdown hit – how has that affected what you've been doing with Dialogue?
Jo: We've stayed busy, but in different ways. We had been performing live as the duo ASTRYD, and the pandemic gave us the space to think and develop that project from a different angle. As the world imploded and live sets were no longer possible, we were able to write loads, working towards the EP that we released back in March. We've been able to put loads of studio time in and really deepen the tracks. Obviously the recorded form is really different to playing live, where we'd set up synths and drum machines in front of an audience. Now we've been rethinking things, and considering what dance music should sound like when there are no spaces for dancing.
It seems to be an almost anonymous project. Your faces or identities aren't really in the artwork and there isn't much info about you online — was that deliberate?
Tomáš: Yeah, it was a conscious decision. We're not trying to make it all about us. We keep our faces out of it or play around with veils or stay hidden. But we wanted a name that reflected something almost androgynous, maybe slightly non human or space like, I guess it's a bit like astral or asteroid.
The aesthetic for ASTRYD seems very different from Dialogue; one is very polished and the other is more grungy and DIY. Was it important for you to explore different styles with the two projects?
Jo: Yeah, I'm glad you noticed! For us ASTRYD is almost like a stylised character and we enjoy exploring the presentation and concept of the project. Our friend Elisa Cucinelli collaborated with us filming the video for 'Blind Summit' in an open mine in Austria, with the dance sequence filmed in Berlin. The thick mist and the desolate, stone landscape is a big contrast to the surreal, playful look and feel of our club nights. The Dialogue events are way more messy and chaotic and it's fun for us to explore both those sides.
Your EP launch party also incorporated a panel discussion with two black trans activists, the Virginia-based academic and burlesque performer Aurora Higgs and London-based sound and video artist Danielle Brathwaite-Shirley. How did it go?
Tomáš: It was a really amazing talk, we learnt so much! The discussion and Q&A explored themes of othering and the need for archiving the black trans experience, a history which is so often ignored. The speakers talked about how a lot of white people write about the trans experience in a reductive and often homogenising way. Events like this are important for creating a space for learning and situating what Dialogue and OPULENCE are about; far more than simply club nights. We have been involved in activism in various ways for years; climate activism, refugee support work, anti-austerity movements. Engaging in politics is a really central part of what we do and so linking that with Dialogue and using it as a platform is really important for us. The talk felt like another way to engage with and provide a discussion and learning space around some of the structures we disagree with and hope to change.
Jo: Livestream zoom parties can be pretty sterile but we made a big effort to make it a weird and silly experience. Lynks hosted the whole event and by the end had everyone with their cameras on and dancing. It was very surreal and strangely emotional to be dancing in our living rooms with Dialogue regulars who we haven't seen in years, as well as friends locked down in different countries around the world.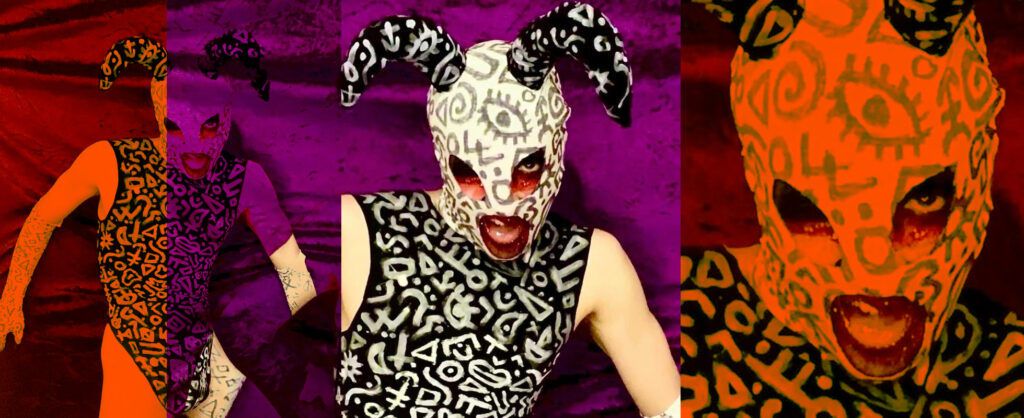 Any future plans you can share with us?
Tomáš: We have so many plans coming up for Dialogue and ASTRYD – we just remixed a local Bristol act Poisonous Birds, there's a remix EP in the works, a big party in London collaborating with our friends The OS Community, continuing our monthly radio show on Threads Radio. We're in the process of planning a big comeback party in Bristol — I imagine it'll be pretty overwhelming but totally euphoric when we can dance together again!
//
Follow Dialogue and ASTRYD to keep updated with future parties and releases.
All profits from sales of Blind Summit support Misery, a London-based harm reduction collective and sober club night centring healing for queer/trans/non-binary BPOC.
ASTRYD header photo by Ilme Vysniauskaite.
If you enjoyed this article please consider making a donation to International Orange