Butterfred // LP4
(Butterfred Productions)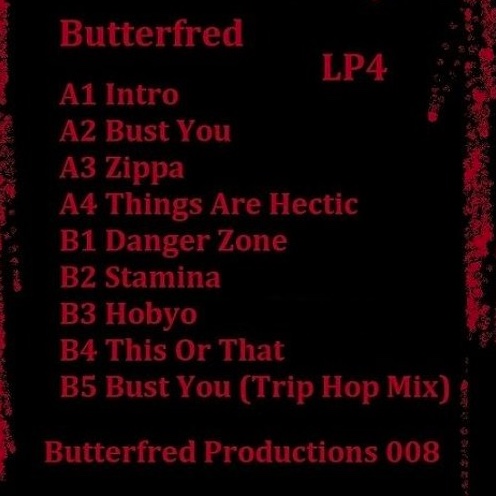 Coming on with a blunted pressure which sounds like long nights basking in the monitor's glare and an ash-tray half-full outlook, Butterfred is quietly marking out his space. At this point the low-key beatsmith is four years deep on his Buttterfred Productions label, a self-steered operation taking in 12"s, 7"s and LPs loaded with moody constructions that carry the torch from 90s trip hop and its dub affiliation through to the modern age. It's definitely not throwback, but rather a continued commitment to the dank, noirish ambience of dusty sampling, subdued hooks, downtempo rhythms and blown out bass. If you ever found yourself vibing out to a Headz compilation but wondered what a 21st Century update might sound like, Butterfred may just be the murky figure you need.
There are plenty of hip hop snatches woven throughout LP4, more often than not pitched down for that woozy chopped and screwed flavour, and you might catch the odd artful jazz lick here and there, but you're just as likely to hear hints of grime, dancehall and trap folded into the mix. Given the blend at work here, it's no shock to get reminded of dubstep at its most creative, albeit without any 140 dogma setting the boundaries. Butterfred glides through his self-defined space freely, embodying the solitary beat junkie in sound. And sure enough, throughout LP4 the emphasis is placed on space, even when there's a world-weary pad blowing through the track, filling up the middle distance.
Clearly he's not lacking self-awareness either – the trip hop tag is like kryptonite to a lot of artists, but bookending the album with an alternative 'Trip Hop Mix' of opening track 'Bust You' tells you he knows exactly the field he's operating in. With no digital release and a minimal, functional online presence, zero affiliations and this singular, moody sound, Butterfred could be seen as playing the anonymity card for effect, but to be honest these kinds of beats were never meant to be fronted by a personality. In the same way Burial was more of a wraith-like figure embodied by his music, Butterfred suits the mystique, and doggedly self-releasing wax without playing the promo game speaks to a conviction in the art that he's crafting, which is more than held up by the results carved into these plates.