Love Di People – Adventures in Dancehall with Duppy Gun
What started as a chance meeting at a yard recording session has become a vital channel for forward-leaning dancehall and a self-reliant studio in Spanish Town, Jamaica. Oli Warwick takes a trip into the world of Duppy Gun.
If you keep up with I Jahbar on Instagram, you're as likely to see him sharing his latest crayfish haul as showcasing a new riddim out of the Duppy Gun / Roolings studio and food shop in Spanish Town. Spliff in hand, mic in reach, and surrounded by a revolving cast of MCs, I Jah broadcasts his world with intense pride. It's a world he's built for himself and his community, which tracks back to his earliest endeavours producing beats and looking for vocalists in Jamaica as he developed his Roolings Muzik stable while also playing football for Waterhouse FC.
As a nephew of Ashanti Roy from JA legends The Congos, it makes sense that music plays a big part in I Jah's life, and it was through a chance meeting at his uncle's studio in Portmore that his music started moving more urgently. At that time The Congos were finishing up their recording sessions with Cameron Stallones (Sun Araw) and M. Geddes Gengras, which would form the mind-melting Icon Give Thank album for Rvng Intl.
"I met Cameron and Ged in 2011 when they visit the Congo studio in Portmore," explains I Jah, "and they finished do their session and had some leftover rhythms, so I asked to do a song which was 'Spy', one of my first singles with Duppy Gun, and we keep a strong connection."
—
Stallones and Gengras had been paired with The Congos in the spirit of experimentation. The majority of their work up to that point hadn't hinted towards an obvious affinity with Jamaican music, even if dubwise space and shuffling rhythms manifested in some of their psyched-out sonics. The angle they took when working with The Congos was brilliantly off-kilter – one listen to Icon Give Thank tells you all you need to know about that – but at heart their music has always been flexible and freewheeling, hence primed to respond to the cultural impetus of Jamaica while offering up previously unthinkable directions for the music to head in. As well as throwing the possibilities wide open for their collaboration with The Congos, this open-hearted creative spirit set the scene for the emergence of Duppy Gun.
"For the first week or so [working on Icon Give Thank], we were recording so many tracks, trying to cover our bases," explains Stallones. "By the end of the process, we had plenty of little bits left over that weren't gonna be on the album. Recording sessions in Jamaica have a pretty vibrant yard-culture, musicians and friends hanging pretty thick around the studio, so it was only a matter of time before it started to make sense to see if people wanted to have a go on some of these riddims. Really the whole thing just sort of happened spontaneously, but once we tracked a few tunes, it was clear to us we had to keep it going, it was too good.
"The riddims that became the first Duppy singles were ones we had basically discarded for being 'too out' for the Icon record. The first tune we tracked was 'Earth', where we played that riddim and immediately Early One jumped on it with such a vengeance we had to scramble to get it recorded. So it was pretty instinctual, despite the fact that it was a pretty out-there collaboration. There was just an immediate eagerness, which was really exciting to us."
Duppy Gun grew from these spontaneous yard meetings, with I Jah a keen early collaborator. After the initial Multiply / Earth 12" drop from Dayone and Early One in 2011, a run of singles followed in 2013 featuring I Jah, Lucani, Fyah Flames, Bookfa and G Sudden, all ported to the world via the Stones Throw label in LA. The sound was wild and non-conformist, exactly how dancehall should be. From Steely & Clevie to Ward 21 up to the more recent styles of Equiknoxx and the like, from 'Sleng Teng' to the 'Playground' riddim, experimentation has been intrinsic to the evolution of dancehall since it splintered from roots reggae in the 70s and 80s. The nascent Duppy Gun sound was gathered together on the Multiply: Duppy Gun Productions, Vol. 1 compilation in 2014, which blew the project open from that initial flash point in Portmore.
"In the beginning there was a lot of artists when the guys come to Portmore," explains I Jah. "All the first guys are on the Multiply Volume 1 album, but many of those artists branched off to their own music venture. Well, I know and believe, so I stick around."
"I recorded my first song for I Jahbar's label Roolings Muzik production when I was just 15 years old," explains G Sudden. "I am a day one Duppy Gun Productions artist. I first heard about Duppy Gun Productions when I Jahbar told me about dem from the inception stage, the beginning of something great. The riddims was just different from regular dancehall. I Jahbar, my mentor and friend, introduced me to Cam and Geds, so I heard riddims from Genesis Hull and recorded 'Girls Dem Need Mi', so it started."
As well as the vocalists brought in on the Multiply compilation, production duties expanded to include other West Coast experimental alumni such as Alex Gray, the late Ras G, Matthewdavid, Peaking Lights' Aaron Coyes and San Gabriel (aka Butchy Fuego). As part of the same scene Stallones and Gengras navigate, they were logical artists to reach out to, but it's worth noting they're all hidden behind aliases. The emphasis with Duppy Gun is not on the producers, but rather the vocalists.
"At the start I think our aim was as simple as 'let's make some really special music and it's probably going to be weird so let's just put it out ourselves,'" says Gengras, nodding to his and Stallones' roots in DIY music. "What it has grown into is a way that we can make a difference in the lives of the artists we work with by getting them paid! It always will be a slightly crazy labor of love for all involved, a gesture of faith between a bunch of artists who want to make good stuff happen. Getting to take people like Aaron Coyes, Smurphy, Seekersinternationa and Ras G and link them up with these amazing vocalists, it feels like a blessing and a huge responsibility too."
"We never wanted to centre ourselves or any of the producers really," says Stallones. "The idea has always been, we produce and gather tracks from all over the world, and send them to JA for vocals, and the goal has been to centre the vocalists. So there's been a lot of pseudonyms and mystery producers coming and going. The spirit of the label is really neighbourhood dancehall, helping I Jahbar and the crew get a proper vibe going in Spanish Town. Recently, Miles from Bokeh Versions has come in and really helped me and Ged with the label side of things, which we definitely needed help with."
—
As Duppy Gun has grown, the focus on the vocalists has come through more and more, especially with the release of Sikka Rymes' Love Di People EP in 2018. The appearance from the breakout dancehall star, who has worked with Vybz Kartel no less, suggests Duppy Gun's profile is blooming within the Jamaican dancehall scene. Dropping the same year as the Miro Tape collective mixtape, Rymes' EP heralded the link up between Duppy Gun and Bristol's Bokeh Versions, the perfect cohort to help support experiments in Jamaican-rooted music and platform them internationally. More than just releasing and promoting the music, Bokeh has actively engaged with I Jah and his peers' creative mission, not least by helping co-ordinate fund raising for I Jah to establish the Roolings / Duppy Gun recording studio and food shop in Spanish Town. The funds were raised primarily via tape and tee sales on Bandcamp, and while the beginnings might be humble, they're sincere and free from interference – DIY music culture setting its own terms without big money polluting the water.
"I did have a small studio in my room in my house," says I Jah, "but now we have Bokeh Versions from UK, he's the one who make a dream bigger right now. He looked for funds for us, now we have a very good recording studio, we have a smoking area anna marketplace with fresh fruits and vegetables, we have Macbook computer, we have good SSL program. We might need some more improvement, but we give thanks for what we have right now. Bokeh Versions is the best thing that happened to us, now we can see brighter future here in Jamaica."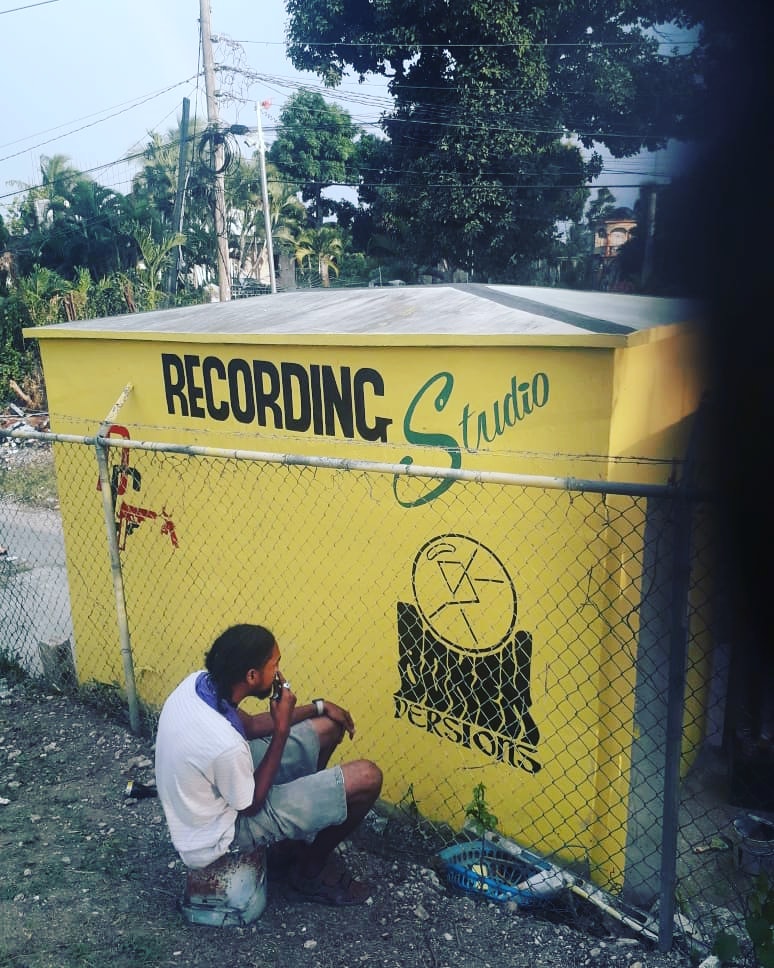 The funds to build the studio were raised through Bandcamp and merch sales, and now I Jah's regular updates from Spanish Town highlight the reality of the studio as a hub for a growing community of artists led by their gravelly-voiced godfather. The results are continually spilling out too, with a pronounced uptick in releases over recent times. RDL Shellah is the latest, dropping a rich pop steez lacquered in autotune and maddeningly catchy hooks that deserve to be crossover hits. 'PartyNice' is a call to vibes if ever you needed one, but crucially it's still unhinged where it counts, this time with Canadian-Filipino collective par excellence Seekersinternational on the buttons. Compared to their woozy, psychedelic instrumental productions, this is the sound of Seekers delivering straight up riddims for the MC, but it can't help but be off-kilter. Just check out the video for 'Bad Wine' and tell us this shouldn't be a worldwide hit. Remember, the right dancehall anthems have cracked the charts outside of Jamaica plenty of times in the past.
Previously, Mexico City's Smurphy offered up the stellar 'Summer Riddim' and 'Montegod Riddim' beats for the likes of G Sudden, King Kush, RDL and of course I Jah to run the mic over. Smurphy's own scattered legacy of productions fits right into the strange pool of sound swimming behind Duppy Gun, just the right kind of misfit to bring something fresh and unpredictable to the dancehall playing field. Alas she's since announced her retirement from music production, but she bowed out with a formidable contribution to the Duppy Gun story.
What the studio offers is a focal point for Duppy Gun in Spanish Town, a hub where the music can progress on its own terms, whether the riddims are being brought in by international artists or being cooked up locally.
"It's a different vibe [in the Duppy Gun studio]," explains G Sudden, who also takes care of public relations for Duppy Gun in Jamaica. "It's not paid for sessions, and you can record any time you want as soon as you ready. It's not a 'rushing you to record' type of thing, you are comfortable in Duppy Gun production space, because sometimes it's I Jahbar and one or three artists recording at a time in the studio alone, not crowded, so the focus is right."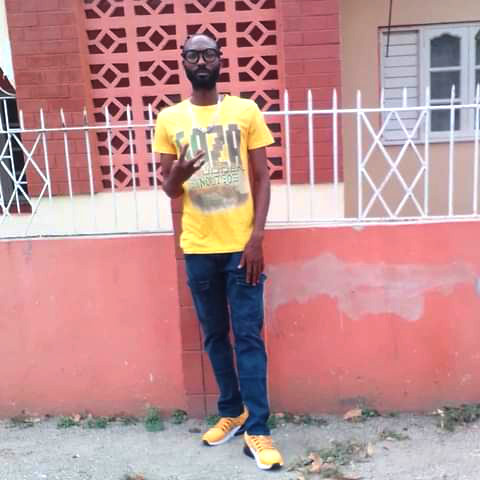 With the studio established and a growing family of vocalists including Dark Child, Dark Blood, Prapa Star, King Kush and Tokeeno, attention has now shifted towards the Roolings Muzik / Duppy Gun guest house, a new project which Sudden says will offer visiting artists and friends of the label an affordable place to stay in Spanish Town, in the heart of Duppy Gun's natural environment. What started as a chance encounter soon turned into an opportunity for something fresh in Jamaican music, and the international impetus from Stallones, Gengras, Bokeh Versions and the other producers is being balanced out by a grassroots culture helmed by I Jah, which continues to grow in potential, exponentially.
"Duppy Gun is a new generation of dancehall," says I Jah. "Something different something for the future. I think we're doing something no one ever done in dancehall. Our songs are unique. The greatest thing is we have different producers who send different beats to us in Jamaica, so we always find new songs, new style, so we become different. I believe we are going to create history with this style."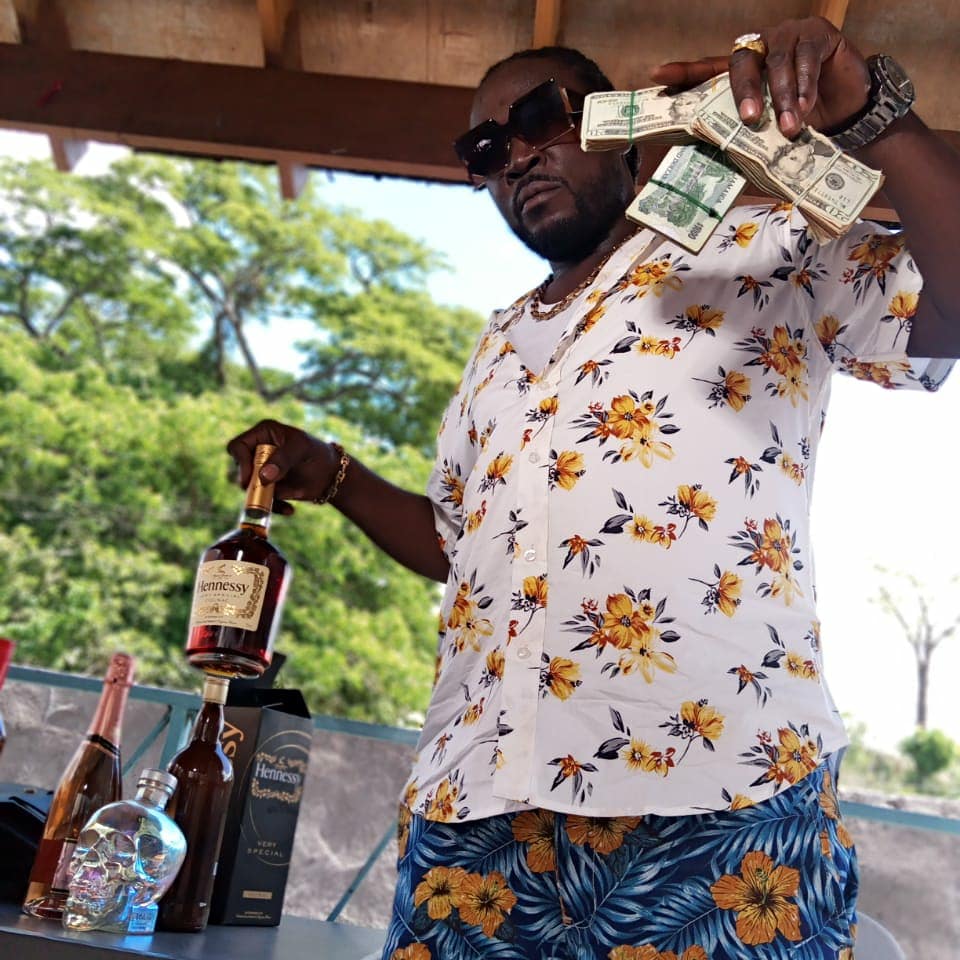 If you enjoyed this article please consider making a donation to International Orange