ADI // Basic Moves 14
(Basic Moves)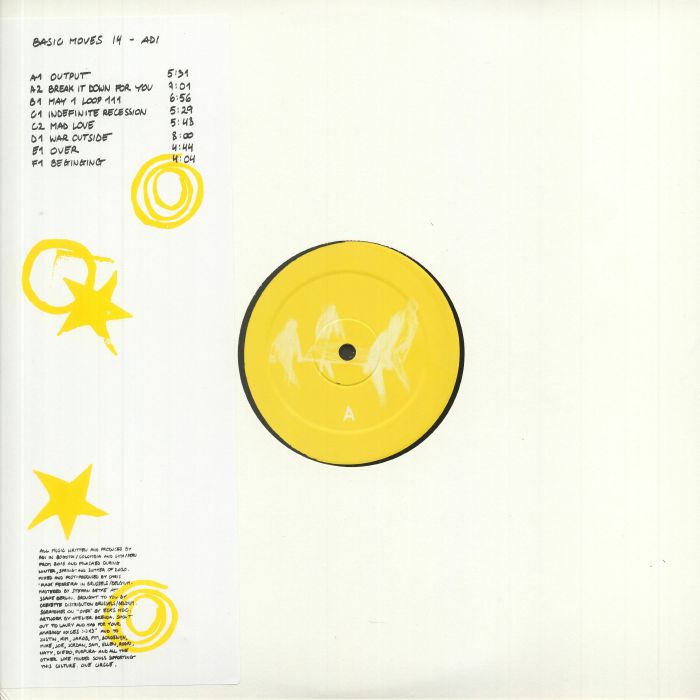 Hailing from Bogota and with very little else to her name thus far, ADI is the kind of artist whose music makes you stop in your tracks to pay serious attention. It's telling that Belgian label Basic Moves saw fit to carry her first serious release as an ambitious double 12" and bonus 7" release. There's not an ounce of filler on here, and anyone with a shred of appreciation for dusty beat construction abstracted from the hip hop tradition will find themselves nodding in satisfaction from the get go.
It seems like ADI has found a signal chain that works for her, whether that be through the genuine grit of an MPC or a crafty in-the-box process, but there's a distinct crunch to the beats from opener 'Output' to closer 'Beginning' that feels utterly timeless. But there's no specific throwback touchstones guiding the compositions across this release – 'Output' is mainly defined by a bugged out lead line that wobbles like the melody was played on a broken pitch fader. Perhaps it actually was. The mood of the track, on a laid back but impactful broken beat tip, suits the weird slant of the synth, capturing dreamy, non-conformist energy and distilling it in style.
There's an overall sense of restraint that also holds a lot of charm on Basic Moves 14, where a simple beat and looming bass will suffice. The melodic elements tend to be light and airy – slight chord drops in the middle distance, pads further out, and keeping the rhythm section up front. That also affords space for some playful elements to keep the mood bright, such as the excellent Fugees dice up on 'Break It Down For You'. When things do get denser, as on the sublime broken house beatdown 'Mad Love', there's still a light touch that stops things getting overcooked or tiring. It's an album you come out the other side feeling refreshed and energised by, but without all that new age guff. A frankly stunning debut from an artist with an undeniable gift for speaking profoundly through her chosen tools.
This review was originally published as part of Juno Daily's Albums of the Week round-up.