700 Bliss: I'm the fuckin agitator
As their triumphant Nothing To Declare album drops on Hyperdub, Bella Spratley linked up with Moor Mother and DJ Haram to dig deeper into the themes that drive 700 Bliss forwards with breathtaking force.
Experimental club classics in the making, this is 700 Bliss. Moor Mother's powerful rap vocals meet DJ Haram's driving beats. Whilst DJ Haram's high-pitched voice might admit, "sorry if I shook you up," on 'Totally Spies', the album Nothing to Declare is far from apologetic. Nor are the duo here for anyone's approval. The angular production invites us to party and the drill-inflected raps rally us as a self-protective army or resistant agitators. It's a challenging album. Luckily, if you don't like it, they don't care. In fact, the self-proclaimed 700 Bitches already parodied their critics on this album and the previous. Confident, artistic and noisy, Nothing to Declare creates solidarity among happy outsiders.
Having met in the live DIY noise scene – specifically The Afrofuturist Affair 2012 – in Philadelphia 10 years ago, they have DJed, MCed and jammed together, laying the foundations of their sound on improvisation and friendship, and whatever they have to hand. The features on Nothing to Declare are international, welcoming, in order of appearance, Lafawndah, Orion Sun, Muqata'a, Alli Logout, M Téllez and Ase Manual, who are friends of the pair first and foremost. They met at home or at festivals. Palestinian electronic artist Muqata'a met DJ Haram on a line-up in Dubai and Moor Mother in Athens. Even the synths they work with are referred to as friends – but ones that conversely can break and be easily replaced. The album gives a sense of joy that saturates the warped beats and growls unique to their partnership. 700 Bliss infect spooky metallic noises with confidence and mestiza power. Plug in and spin out.
Moor Mother and DJ Haram, the pseudonyms of Camae Ayewa and Zubeyda Muzeyyen, dial in from the afternoon Philly sun and white lights of NYC, smoking a rollie and an e-cig respectively. They explain Nothing to Declare was built on live improvisations specifically from shows touring their first EP Spa 700 between 2018 to 2020, and then developed from separate moments in home studios during lockdown. 'Capitol', 'Sixteen' and 'Nothing to Declare' were particularly workshopped extensively. Less polished than Spa 700, the artists intentionally bring in Moor Mother's live tangential rants and DJ Haram's fierce experimental side on production. Spa 700 didn't sound like it does on Bandcamp. "It's going to be a lot noisier and like fucked up and live." This album feels like that, more layered.
Some of these all-important live shows would have taken place in the warehouses of Philadelphia where Moor Mother lives. It's one of the poorest parts of America and that impacts her access to equipment. DJ Haram agrees that her relationship to technology and production kit in NYC is fully a class-based relationship. Yet pictured their warehouses are like any other: cavernous and industrial. It figures then Nothing to Declare can be similarly untethered from geographical specificity, in an industrial drone or polyphonic rhythm talked over by ironic jet setter accents or urgent militant barks. Whether you're at a warehouse rave in Barcelona, London or Paris, the spaces always look the same and feel the same. It creates a universal sense of identification with the danceable beats. Despite the different struggles we face, the world is still violent.
The beep of a bakery van reversing outside Moor Mother's home is a sound duplicated internationally, and warped playfully on 'Capitol'. DJ Haram's fridge hums noisily too, on a frequency that its siblings share across the world. This album is a moment to stop, think and focus on those types of sound, rather than filtering out or ignoring them. Metallic sounds feel universal. Airwave fuzz sounds the same wherever you tune in from. Personal and political, homely and international, Nothing to Declare's electronic pulses extend beyond their American home. However it is uniquely personal. Moor Mother emphasises, "We make the work, we live the work!" These theoretically geography-less mechanical noises, which persist throughout the entire album, are a direct product of class experience living in a noise-polluted place.
On the visual side, the creative director Isha Dipika Walia designed an album cover that gives the record an anthropological feel. Its worn lead-grey sleeve, complete with polaroid photos, resembles historical documents displayed in museums, lain out to investigate. DJ Haram explains, the rocky moon crater pictured, "is the surface of the planet that we are landing on to play our first show after our album drops. It's intensely ambiguous, so that we can have a constantly evolving set of goals for a constantly evolving future."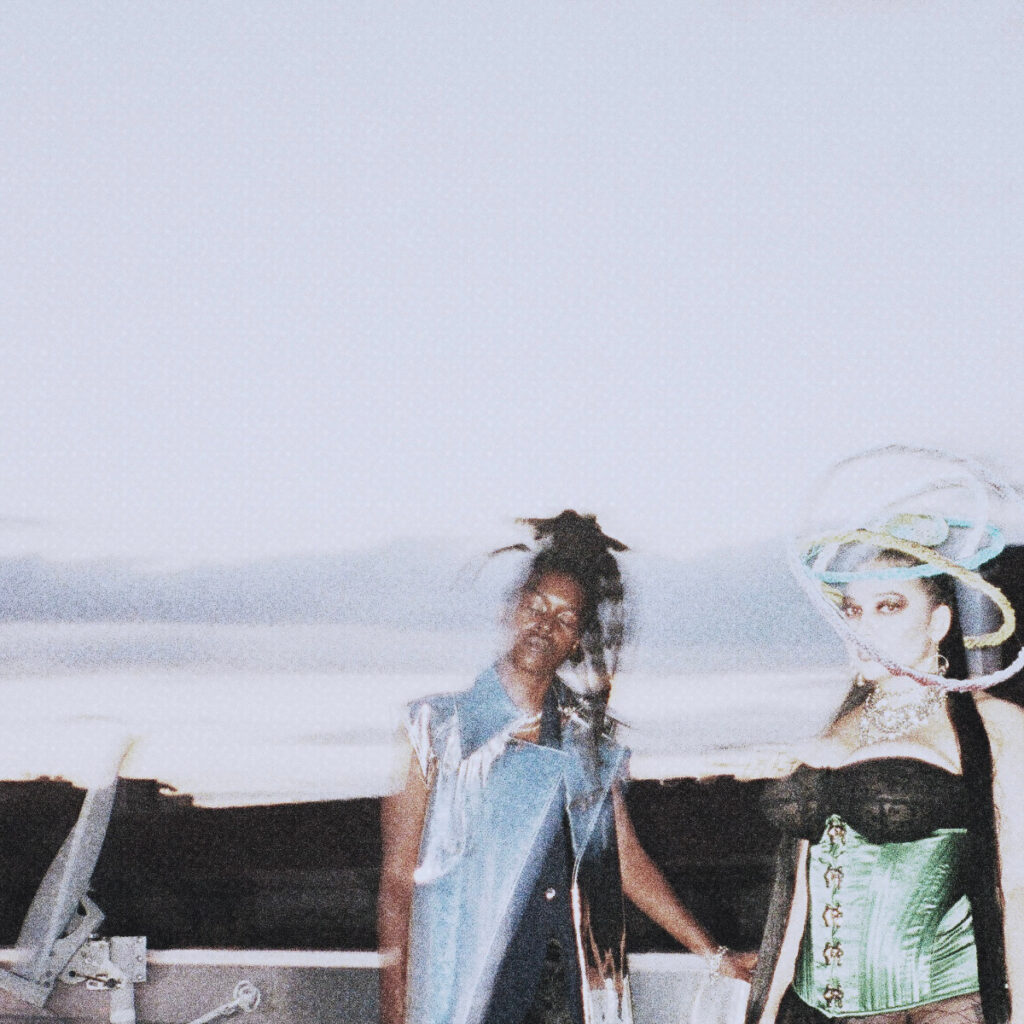 The album's Afrofuturist sci-fi tones peal out on the soundscapes 'No More Kings' and 'Capitol' featuring Alli Logout. The tracks carry alien gunshots backing an opera that leaves Star Wars eating dust as it races down its own cinematic tangent. 700 Bliss say Nothing to Declare is a fast car chase of an album, robbing banks unscathed and never getting caught. They imagine all Rhianna's scenes on Ocean's 8 stuck together to make a standalone movie. Far from the upset visual world of Moor Mother's solo album Emotionless Present, which she described as the equivalent of American Horror Story's mental institution episode, Nothing to Declare looks to the future happily whilst diligently capturing the contemporary moment.
Addressing the future, collaborator M Téllez the mestizx cyborg on 'More Victories' performs a surreal sci-fi monologue intertwined with pounding kick drums. They describe a day out in a parking lot; "A cacophony of vendors yelling orders, stainless steel chopping against hot griddles, people laughing, drinking." The characters "open mouth smile" to each-other in response to a pony brought to the lot by two horseback riders, whose whinnying horse mingles with the refurbed cars. Even if the "world [is] on fire," phoenix-like, these happy lyrics contrast with the knee-jerk association of industrial noise with dystopia. In fact, DJ Haram finds city noises on the street reassuring, "the soothing hum of life." Apparently, they are better than the ominous silence of the countryside.
"I think the whole thing is positive," adds Moor Mother. It's a loudspeaker for Black, Middle Eastern, femme, non-binary, queer, Palestinian and Parisian-Egyptian-Iranian-English musicians. Furthermore, the album's mechanical production and steely language remembers revolutionary Zimbabwean author Dambudzo Marechera. His The House of Hunger reads at a similarly urgent pace, tearing at the colonial English language in a way that is unintentionally shared by Nothing to Declare. Marechera recognises the chopping of language – whether sonic or written – as a feminist defence weapon too. Moor Mother agrees sound is a form of resistance. The uncompromising blasts of vocals her are feminist, chopped and warped with anologue mechanical sounds. Marechera describes fleshy humanity with the mechanical physical reality of his surroundings, for example "the tinfoil of my crinkled soul". 'Capitol' does this in a happier way, feeding the lyrics themselves into mechanical noise. Alli Logout, another voice of Nothing to Declare, spells out on 'Capitol'; "I'm the fuckin' agitator," crunched through vocal effects DJ Haram usually saves for live performances. The songs hybridise human voices with mechanical processes. They brim with life and resistance to outdated sonic rules, like singing in an easily digestible way.
Despite the hybrid-mechanical approach 700 Bliss come across as tech pemimissts. They admit they're waiting for the plot to thicken over the highly class-based experience of technology. Moor Mother says, "I guess on consumerism, capitalism, technology. It's waste. My opinion is it's just waste." She loves synths but hates how they are marketed, saying, "aren't they all the same with just a different label?" I don't have the expertise to comment. DJ Haram echoes concerns with capitalism, "automation taking jobs, Uber Delivery robots and sentient Androids." Mechanical production echoes reality rather than a fantasy. There are no sci-fi heroes on Nothing to Declare, no gimmicks, "just regular people struggling for agency," interested in getting out of loops of false change. Produced at home or in bedroom studios on Haram's two purchased pedals and a menagerie of gifted synths, plus Moor Mother's modest setup, the album was made with the tools they have. 700 Bliss don't create hidden away. Technology is defined in their terms.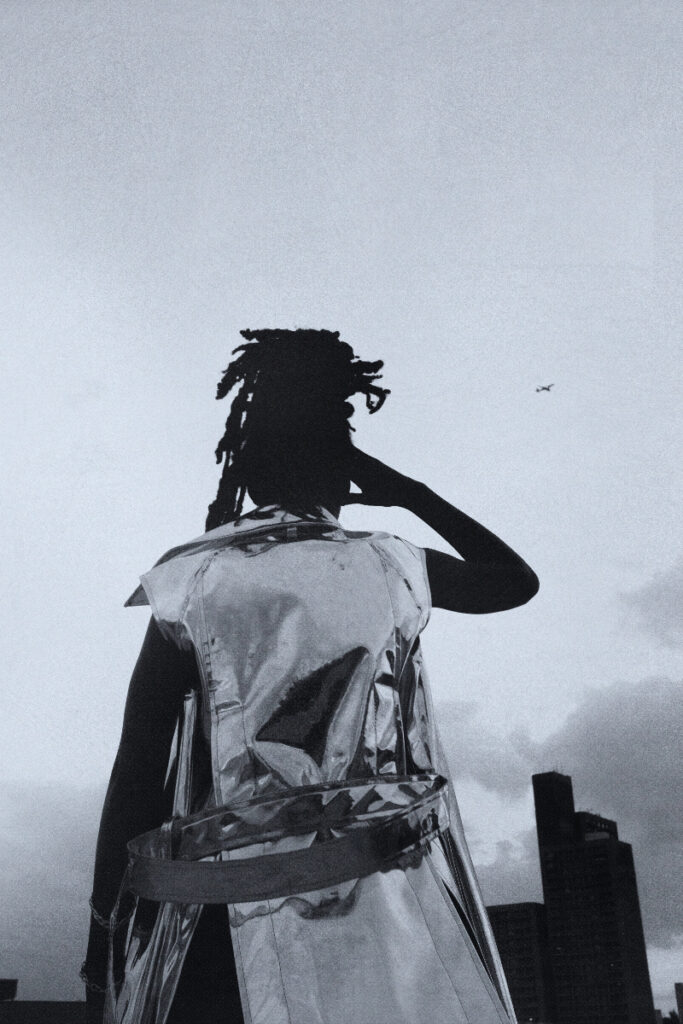 "Everything qualifies as technology to me," breathes DJ Haram. Perhaps tech is an extension of the artist's body, the primary instrument: a hand to write with, a synthetic hum or sigh, a tireless megaphone to broadcast work through whether the media takes notice or not. But it's all about access. Moor Mother adds, "I'm not too impressed with technology. Technology is a class system. I resonate with what Zubeyda said about redefining what technology is for oneself. What technology is to someone in Philadelphia is not technology to someone in California, you dig me? We all have our points of access. In Philly, we don't even have the scooters. We got to put our whole life on the machine just to get a bicycle. Some communities think technology is equal – it's not equal. Some people have it, some people don't." Unlike the TikTokers who use 12 devices to do a task they could otherwise do with a wooden chopping board and a pan, Nothing to Declare streamlines production into short bursts of sound. The opposite of all the gear, no idea.
Stainless steel, chairs scraping the ground and jazz fanfare that warps with slow vocals are all notes we hear. Nothing to Declare really descends with the last tracks into experimental noise with R&B vocals. It's extreme. Dance tracks like 'Anthology' sit alongside experimental soundscapes. That track's joy is juxtaposed with the more sinister, drill-inflected 'Discipline'. Sometimes, Nothing to Declare feels like an endurance sport. Sometimes, it's about celebrating an actual sportswoman: 'Candace Parker', "champion, gold medal winner, Mother." 'Nightflame' featuring Orion Sun is the pinnacle of uplifting music on the album. It's very danceable. It's breathtaking, uplifting, commanding: "imma dance ballroom, bitch make room," Moor Mother spits. The song pants for breath and so do we.

This curation made me think of how spaces like Spotify, Tik-Tok and Instagram create unexpected parallels that leap between different sonic contexts, genres and timelines. Nothing to Declare is timeless. In response to any criticism of their four-years-in-the-making masterpiece, 700 Bliss let us know; "Some people are trying to put timelines on how long we was able to finish something and how long we took a break from this and that. We don't subscribe to those kinds of timelines. We make the work, we live the work! This is not something that just came so we could make the album for Hyperdub. They gave us the contract, yes. This is something that we continue to do. There's no stoppage." Long may it continue.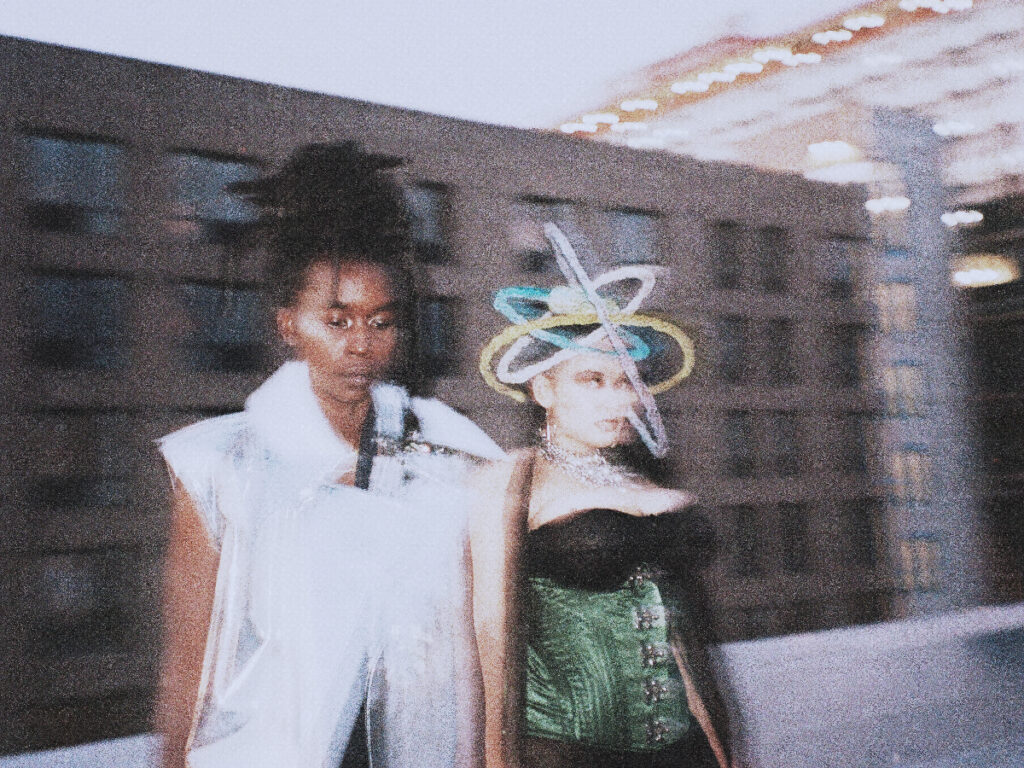 Photos by Isha Walia. Styling by Michael Umesi. Haram's hair by Sean Bennett.
If you enjoyed this article please consider making a donation to International Orange